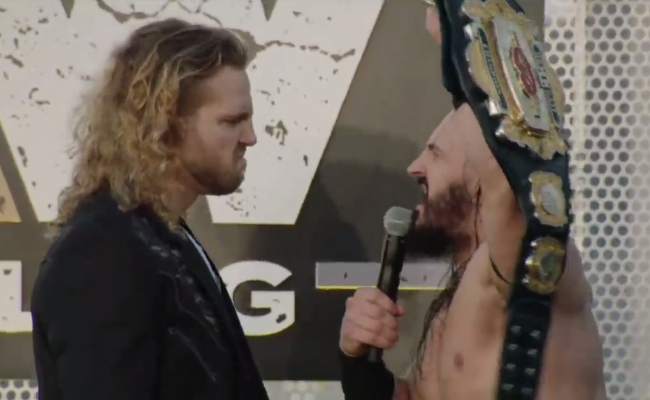 The biggest story in the American pro wrestling scene in 2019 so far has been the announcement of All Elite Wrestling. Since the announcement on New Year's Day of the promotion's existence and more announcements to come at the Double or Nothing rally on January 8, we learned a little bit more about AEW.
We learned that the roster includes Hangman Page, Brandi Rhodes (who is also Chief Brand Officer), and Cody and the Young Bucks, who are also Executive Vice Presidents (along with unnamed others) of the company. Britt Baker was reported to have signed with AEW, the SCU trio (BTE regulars and on the poster for the rally) was reported to have signed, and it was rumored Goldberg could be involved. With Kenny Omega's announcement that he was leaving NJPW, which has yet to be confirmed by the company, speculation abounded that he might join AEW.
Earlier on January 8, Tony and Shad Khan released statements about the promotion. Shad confirmed he is the lead investor, and his son Tony will be the president. Tony spoke about his lifelong love of wrestling and encourage people to support he and his father's business venture by saying, "I urge everyone who believes in what we're doing, or wants to believe in dreams coming true, to support AEW by spreading the word and passing the wrestling bug onto someone else. My message: Get in on the ground floor with AEW today and help lead our movement to grow the wrestling community and ensure that the voices of the wrestling fans, their creative minds and their remarkable ideas, will always be heard."
The rally took place at 5 PM Eastern at TIAA Bank Field in Jacksonville, Florida. Before the event started, Conrad Thompson, aka Conrad the Mortgage Guy, declared "I haven't felt like this since the nineties. It's great to be a wrestling fan again" and "wrestling history is going to made today" and encouraged people to get lapsed fans to tune in. Also before the rally proper, Billy Gunn was revealed as an AEW producer.
Conrad Thompson and Alex Marvez first introduced SCU (Christopher Daniels, Frankie Kazarian, and Scorpio Sky.) Kazarian showed off their new t-shirt in the Jacksonville Jaguars colors, and Daniels announced that they are "officially part of All Elite Wrestling." SCU was backed by Jaguars cheerleaders shaking pom-poms as they make their announcements.
Cody was then welcomed to the stage, complete with pyro. A "thank you, Cody" chant went up from the crowd as an "Elite" flag waved before he started to speak. He spoke about keeping "the fire going" from All In. Cody said, "We have a saying in the Elite: change the world. So to do that sometimes you have to change the world that you live in, and since my first breath, I have lived in the world of professional wrestling. It's all I know. Hell, it's all I really want to know."
He ountlined what he says will make AEW unique:
"Pro wrestlers are always the least paid" compared to "sports stars of comparable influence." But AEW is going to "change the wrestling economy" because "happy wrestlers means happy fans, and fans come first."
"Wins and losses will matter like they've never mattered before."
"There's not some predetermined grid that says you have to cheer for this guy or you have to boo for this guy," and people are allowed to be fans any way they want.
Cody then welcomed the Young Bucks to the stage. Matt Jackson emphasized that they are a promotion that "welcomes all gifted talent. We don't care about race or sex or gender or religion. If you're an elite athlete, we want you."
Jackson said this led to the announcement of "his get" for AEW. "I have some friends in China… Circ du Soleil meets kung fu meets lucha libre," he said, and announced AEW will "give… a spotlight" to wrestlers from Chinese promotion OWE, Oriental Wrestling Entertainment. OWE is the international branch of Dragon Gate led by CIMA, and has also been making appearances recently in DDT. If you're not familiar with OWE, you can check out some of their wrestlers and matches on their YouTube channel.
After banter about who is really the true Vice President of AEW, Nick Jackson delivered the second announcement, that they will run the MGM Grand Garden Arena on May 25 in Las Vegas, Nevada for Double or Nothing, the sequel to All In. Later in the rally, a second show for an unspecified date was announced in Jacksonville, with proceeds going to an unspecified charity to help victims of gun violence.
Thompson and Marvez then welcomed Brandi Rhodes to the stage. Rhodes addressed that she had been asked about whether AEW would have a women's division. She said they would have "a strong women's division with the best female wrestlers in the entire world. In order to do that, you gotta cast a wide net…"
She referenced her tour in Stardom and work in Australia and the UK, where she said she worked with "some of the best women's wrestlers out there" and last week "sat down with the top Japanese wrestlers in the world, so more on that to come."
Rhodes added that, "We care about our women. They are top talent, so they will be paid equally. There's no sliding scale."
She then called back to her "cast a wide net" phrase and said "sometimes you don't have to cast a net that far," and welcomed Britt Baker to the stage as the company's first female signee. Baker made a speech, and was followed up by Thompson again stepping up to the podium.
Thompson was interrupted by wrestler MJF, who cut a heel promo on Thompson that included calling him fat and diabetic. (When asked for comment about AEW by With Spandex before the rally, MJF said, "I think whatever Cody and the Bucks touch will be wildly successful.") Maxwell Jacob Friedman told the audience he is "the fastest rising star in pro wrestling today" and cut a promo on Jacksonville. He was later interrupted by Jaxson de Ville, the Jaguars mascot.
Joey Janela and Penelope Ford interrupted the confrontation between MJF and the mascot to shoot t-shirts into the crowd. They announced that they are also part of All Elite Wrestling.
Thompson and Marvez then welcomed Hangman Page to the stage. Page's speech included the statement that "This has been my favorite first day on the job because my boss is you… and for that reason, I will work harder than I have ever worked in my life to make this a success because you deserve it!" Page pledged to become the first All Elite Wrestling Champion.
This prompted PAC (fka Neville) to come to the stage, made more dramatic by pyro and smoke machines. PAC said that he is here at AEW and is already a champion (PAC is currently Dragon Gate's Open the Dream Gate Champion), while Page doesn't have what it takes. It looked like the two men might brawl, but PAC left the stage after Page took off his jacket. Page said, "If that's some kind of challenge, I accept."
Cody and the Young Bucks, now backed by cheerleaders, returned to the stage to seemingly close the rally.
However, the actual ending was after Chris Jericho, to the strains of Fozzy's "Judas" and with the most pyro and smoke of all, came to the stage. Jericho said he is "all in with All Elite wrestling. Surprise! I think we just took things to a different level, didn't we?"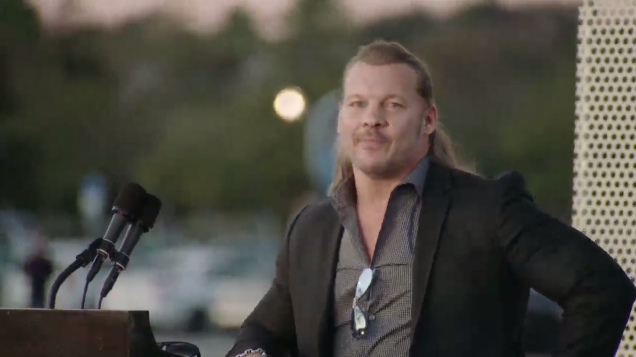 Jericho said he was here not for the money, but "because I believe in doing something different. I believe in doing something new. It's what I've always done my entire career. I am a maverick, I am an outlaw. I am a pariah. I am Chris Jericho, baby." Jericho told the audience to remember this historic day, and that he will be at Double or Nothing in May. He said, "I'm not here to just change the world. AEW is not here to change the world. We are going to change the whole universe!"
The rally ended with fireworks above TIAA Bank Field.
Jericho's involvement makes it seem like a relationship of some kind between AEW and NJPW isn't out of the question, since Jericho expressed interested in an IWGP Heavyweight Championship match after his loss at Wrestle Kindom 13. NJPW also promoted an interview Jericho did for their website around the time of the rally. Dave Meltzer of the Wrestling Observer Newsletter also reported that though Jericho's NJPW contract expired after WK13, both the wrestler and the promotion are still interested in working together and want to make a match with Tanahashi happen.