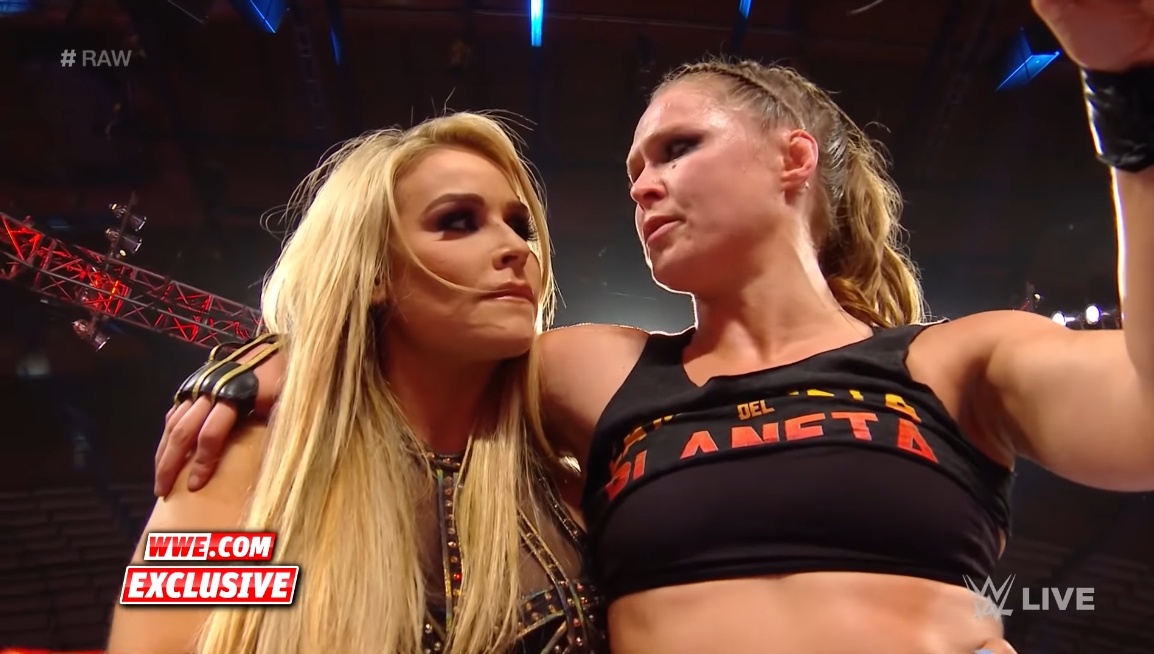 Raw Women's Champion, WWE 2K20 cover athlete, and The Man® Becky Lynch will defend her title against Natalya in a submission match at this Sunday's SummerSlam event in Toronto.
Natalya has the home country advantage, but she has an additional, unspoken connection to Lynch: she was on-screen best friends with and the trainer of Ronda Rousey, whom Lynch unseated as Raw Women's Champion in the main event of this year's WrestleMania.
At Friday's media junket for SummerSlam, we had a moment to ask the champ about the possibility of Rousey returning in some way, shape, or form to help out Nattie, either during or after the match. Rousey was sidelined with an injury she suffered at Mania and has been away from the company since April, but lately she's been filming table-themed Dudley Boy horror movie parodies, so the second biggest show of the year would be as good a time as any to show back up.
Here's what Lynch had to say, via roving reporter Danielle Matheson:
"Oh no, that never even entered the periphery of my mind. I suppose you always have to have eyes on the back of your head, especially when you're me, especially when you're the champion, especially when you're The Man, especially when you've accomplished all that I have accomplished and continue to accomplish, all that I will accomplish. Everybody wants to be taking me down a peg or two.

"So yes, there's a possibility. If that happens … Look, there's nothing that I haven't come back from before. I started off my journey jigging in a freaking bright green spandex outfit and I went down to main event WrestleMania, so I can overcome anything. I never really thought about that, really, but look, I don't put anything past Natalya. I'll tell you, she's a sneaky little snake. Whatever act she wants to put on front of the world, I think. I think there's more pressure on her, though, than there is on me. She's gotta be the one to go out there in front of her home country, in front of her friends and family, and let them down once again."
If Ronda does show up on Sunday, we hope our nerdy, assumptive fantasy booking has at least given The Man something to look out for.