As we mentioned last week, former Raw Women's Champion Ronda Rousey reportedly broke her right hand "throwing punches" during the main event of WrestleMania 35.
Per an update from Fightful, Rousey's set to have surgery to repair the injury on Tuesday. No word on the severity of the break, exactly when it happened, or how this correlates to her reported plans to take time off after WrestleMania anyway.

While we're unable to pinpoint exactly when the break occurred, the note that she broke it "throwing punches" corresponds pretty well to the final strike sequence between Rousey and Lynch. If you watch the GIF, you can see the last punches she throws with her right hand, and how she stops to put her arm around Lynch's neck and punch exclusively with her left. She's throwing worked punches, though, so the injury could've happened sooner.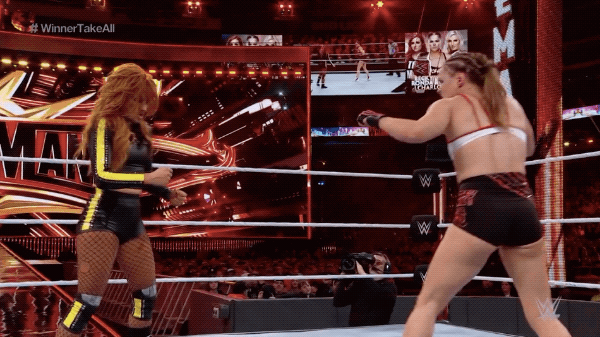 Fightful also mentions that Rousey was backstage for last week's Raw but not used due to the injury, and that WWE is "hopeful" that she'll return later this year. The current rumor is that she's done as a full-time performer, but will show up in a limited capacity going forward, like John Cena or The Undertaker. Becky Lynch's response to the injury news last week was, predictably, extremely Becky Lynch:
This will make three announced post-WrestleMania surgeries to repair injuries, following Big E's meniscus tear on Smackdown Live and Nia Jax taking time off to have double knee surgery.