Previously on NJPW: Zack Sabre Jr. won the New Japan Cup, Cody decided to ruin the lives of everyone around him, and Hangman Page took his singles push into his own hands.
You can watch New Japan Pro Wrestling shows on their streaming service, NJPW World, which costs 999 yen (about 9 USD.) They have their show schedule on the homepage. They also feature a new free match on the site every Monday and you can do a free trial month, so it's a pretty easy service to test drive. You can also watch certain NJPW shows with commentary by Jim Ross and Josh Barnett on AXS. Strong Style Evolved is a rare case where the AXS version of the show and the English commentary NJPW World version are one and the same!
Don't forget to follow With Spandex on Twitter and like us on Facebook, if you haven't deleted it yet. You can also follow our home site Uproxx on Twitter, and even follow me on Twitter @emilyofpratt. Please remember to share this column on Facebook, Twitter, or whatever social media you use! Also, leave a comment with your thoughts on the show and/or article! All feedback is appreciated and will help us keep up the NJPW coverage.

Best: The Partial NJPW Live Show Experience
Here's a disclaimer right at the top: my review is definitely tinged by how exciting it was to be at this show in person. It was my first time at a New Japan show, and it was such an unexpected privilege to see most of these extremely talented people perform live for the first time.
However, I did not actually watch all of the matches live because I was running back and forth from my seat and the press room. Brandon Stroud and I worked the press conference/grand opening at the new New Japan L.A. Dojo the previous day, and based on that experience we thought we'd be taking part in scrum interviews of each wrestler along with the other media people. It turned out that the wrestlers (mostly just the winners) made post-match statements in a press conference setup, and our questions were part of that.
So my question to Takahashi about whether Flip Gordon is a cat is going to be in the official post-match statement video, I think. Anyway, once that material is out we'll have a whole thing about the dojo/New Japan press experience. It was a trip.
Because of the press stuff, I did watch only the AXS TV version of a few of the matches. Going back to watch those and get screencaps from other matches made me realize that the crowd sounded hot on TV, but nowhere near as hot as it was live. Every single name on the card got a huge pop (including appropriate boos for Cody) when that opening video played in the Walter Pyramid.
When the ring announcer said "Nine matches … no intermission," there were cheers specifically for the lack of an intermission! We were all ready to inject New Japan live content directly into our eyeballs for as long as possible. I'll talk about specific instances where the difference between the live and TV experiences stood out to me as I get to them.
Best: Roppongi 3K Vs. Local Talent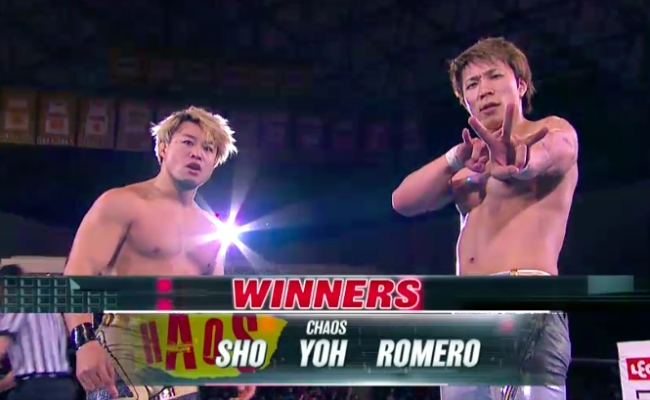 Roppongi 3K vs. the current ROH Six Man Tag Team Champions SoCal Uncensored was a nice choice of opening match. Everbody got their local pride on as SCU entered, but this was quickly overcome by the powerful babyface goodness of Yoh, Sho, and Rocky Romero. (Plus, Rocky's from L.A., so cheering them was still getting our local pride on a little.)
SoCal Uncensored played their heel parts well and helped the New Japan team shine. Yoh's fired-up babyface dropkicks are still super fun and Sho's German suplexes are impressive, especially on the larger Scorpio Sky. We got to see that Roppongi 3K has become smarter and stronger since their debut, which is exactly what I've been wanting to happen with them.

Best/Worst: Filling Out The Card
After a fun opener, we got two tag matches that were enjoyable, but left you wanting more. The more and more frequently occurring team of Finjuice was the clear highlight of Juice Robinson and David Finlay vs. Gedo and Hirooki Goto. All their team interactions are very charming and seem to stem from their shoot friendship/travel-buddy-ship. Finlay especially is stronger for interacting with the more flamboyant (have you heard he's flamboyant lately?) Juice. His character has gone from "bland" to "straight man," which makes a huge difference in how invested I am in watching him wrestle.
This info technically isn't out at the time I'm writing this (unless you read my tweet about it last night when I didn't realize it would be a spoiler, sorry), but this match became more satisfying after I found out what it was building to. It turned out to be significantly more relevant than it seemed at the time! And that's all I'll say about that right now!
Chuckie T and Toru Yano vs. Killer Elite Squad also had more potential on paper than we saw. I think everyone expected Chuck and Yano to be an amazing comedy tag team, but Taylor played it straight throughout. Still, Yano was funny as usual and the clear star of the match, as he had an existential crisis about Lance Archer looking at him and had to be urged by the crowd to overcome his cowardice and get back in the ring.
Best: The Case Against Being A Smark At Wrestling Shows, AKA The Case For Having Fun At Wrestling Shows While Respecting The Performers
This match was pro wrestling at its most soap opera/pantomime, and it was so much fun. I've said it before, but I'll say again: Cody is the best heel in the world right now. Everything he did got the nuclear heat it was designed to. He responded to "F*ck you, Cody!" chants with "I'm sorry, were you saying 'Team Cody?'" and the entire crowd was offended. What a future legend.
Everyone else played their parts effectively, too. You can only sort of tell on the TV version of the show, but the dramatic tension of Cody trying to put over the Guerillas of Destiny and Tama Tonga just standing completely still and staring at him, looking every inch the Human Version Of Uncle Scar From The Lion King (but also, as always, Sexy Jason Mantzoukas), was incredible. The atmosphere was one of everyone leaning forward in their seats, waiting for the death of the American Nightmare.
The match that wasn't supposed to happen was solid too. Marty got to show off a bit of his chain wrestling, but was overpowered by the heavyweights of the G.o.D. Tanga Loa got a good tough guy moment when he opened up his bicycle vest thing, which I would not have guessed opened up from the front, for more chops. Tama had the rare chance to play babyface, getting beaten up and then coming back to save his brother. Cody got more perfect heel moments as he robbed us of a Chickenwing after everybody had already yelled "Chickenwing!" and showed ass by getting knocked out of some show-off pushups. And we got that Superplex Party to remind us, oh yeah, this is Bullet Club on Bullet Club violence.
This segment/match was so much stronger for the crowd fully committing to kayfabe. I was so relieved everyone pretty much booed Cody the character rather than cheering him as a performer like they do in ROH, because it made the story so much stronger.
This was all accentuated for me by the fact that halfway through the match, people in the section behind us got super obnoxious and/or drunk. It started with a guy yelling, "F*ck WWE!" which kind of worked since ex-WWE employees Cody and Tanga Loa were in the ring at that time. However, in the vein of an anti-LGBT politician getting caught with an escort of the same gender, this group of people proceeded to yell WWE-referencing chants throughout the night. In this match, we got "Where's Goldust?" and a nerfing of the extremely good moment when Tanga Loa speared Cody out of Rise of the Terminator by some unbelievable douchebags starting a "F*ck you, Roman" chant that thankfully didn't last long.
These people really only plagued our section and weren't audible on TV, but they made me realized how spoiled we were to experience a minimal-irony wrestling crowd for most of the night. I obviously support holding pro wrestling to a certain standard, like all art, but it's way more fun if you suspend your disbelief, at least in the moment. I'm not sure how intentionally disengaging with TV show/piece of theater you watch regularly makes someone a smarter or better fan. Wrestling isn't that complicated.

Worst: The Inexplicable Treatment of Los IngOVERnables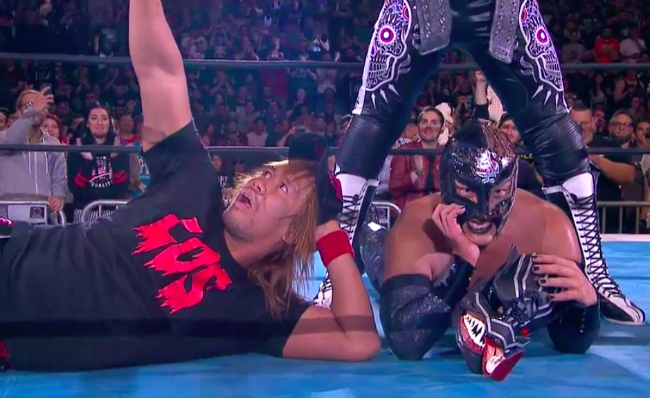 Los Ingobernables de Japon (Naito, Sanada, Takahashi, and Bushi) vs. Taguchi Japan (Taguchi, Tanahashi, Kushida, and Dragon Lee) was another Tag Match To Get Everyone On The Card, but it bugged me in a way the others didn't.
The match in itself was decent. The opening effectively introduced Naito and his squad to those who might not know them, with Naito managing to be super charming directly after spitting in Tanahashi's face. We got a nice continuation of the Hiromu/Dragon Lee rivalry, and the Sanada vs. Tanahashi sequence made me really want to see a rematch to their 2016 G1 Climax bout.
You could hear the crowd was pro-LIJ on the TV version of the show, but they were so much more into them live. I didn't see the entrances in the arena, but I swear the cheers I heard from the press room were louder than what you can hear on the feed. The pop for the Destino for the win was huge — people were really psyched to see that finisher! And the crowd chanted "LIJ," for a significant length of time after the match and the always great Breakfast Club pose, and none of this overflow of hype made it onto AXS. You would have no idea how big this faction is from how they were booked at Strong Style Evolved and how they were portrayed on television. It felt like a missed opportunity.
You'll see this when the press conference video comes out, but Naito talked there about how NJPW does not realize how popular Los Ingobernables are in the United States. He said he felt disrespected by having the fifth match on the card rather than the main event. It reminded me of how he said he felt about his Wrestle Kingdom 12 match being changed from main event to half of a double main event because of Omega vs. Jericho.
The rule with pro wrestling is to assume everything is a work, but this one works particularly well because it feels like it has some basis in reality. Naito pointing out his WK12 main event situation last year furthered his disrespected underdog story and possibly set up his since-aborted feud with Chris Jericho. Pointing out LIJ's card placement here helps his incredibly popular faction keep their anti-establishment cred. Still, LIJ could and probably should have been used better at Strong Style Evolved, and there's no good reason this loveable, talented group shouldn't be prioritized more as New Japan expands. Naito brought the cape suit all the way to Long Beach, goshdarnit!

Best: Legends and Birds Only
Another huge pop AXS missed was the one for Rey Mysterio's surprise entrance. Absolutely everyone marked out when his name showed up on the screen. It was super classy and unnecessary of him to show up and apologize for his injury – except, wait, just kidding, he did need to be there to set up MULTIPLE QUALITY FEUDS.
After Will Ospreay defeated Jushin Liger, he got on the mic to declare himself something of a legend killer and challenge Rey Mysterio, which should absolutely happen ASAP. I thought we might have missed the opportunity to see Rey in New Japan, given the rumors of his involvement with Aro Lucha and his possible return to WWE, but now we're going to see him compete for New Japan at least TWO TIMES? Be still, my booyaka-ing heart.
The beloved Villain managed to actually get booed during his surprise attack and unmasking. (I'm glad we as wrestling fans can still unanimously agree that these two things are unquestionably evil and worthy of boos: 1) disrespecting a luchador's mask and 2) surprise attacking someone with a chair from behind.) Now we're set up for Scurll vs. Ospreay right when Marty could use a good singles feud outside of ROH, and we got a Masked Legend Game Recognizing Masked Legend Game moment between Liger and Mysterio to assure us of their eventual clash.
Ospreay vs. Liger was very good, but didn't have the legend vs. legend appeal of the match it was replacing, or any real rookie vs. legend novelty, since Ospreay just faced Okada at the anniversary show. It was only about 12 minutes long, but it showed that Liger can still hold his own against a young guy who isn't a Young Lion. The whole thing mostly just made me excited for the future, which isn't a bad thing at all.
Best: Ishii Ichiban
Ishii and Okada vs. Suzuki and Zack Sabre Jr. won't go down as the greatest match of any of these people's careers, but it was quality and it worked for everyone. We saw ZSJ face the challenger for his RevPro Undisputed British Heavyweight Championship match at Wrestlecon next month, and, of course, the man he's challenging for the IWGP Heavyweight Championship at Sakura Genesis.
Okada struggled against the New Japan Cup winner he'll be up against. Suzuki looked like an evil mastermind, and he and ZSJ had a wonderful master-apprentice dynamic. A sadistic submission specialist tag team might actually be the scariest possible duo in wrestling.
Although Sabre got some AGGRESSIVE dueling "F*ck you, Sabre" vs. "Let's go, Zack!" or "Let's go, Sabre," chants, Ishii was the real standout of this match. The Stone Cold Pitbull got the second-biggest babyface reaction of the night. During the brutal strike exchange with Suzuki you could feel the collective drumroll shaking the bleachers. It's amazing how the way he's been booked for years has built up Ishii to be so intimidating and yet simultaneously such an underdog.

Best: Nothing But Respect For My IWGP U.S. Championship Match
Okay, yes, I admit I am on the record as being doubtful of the Strong Style Evolved second-to-main-event. Switchblade Jay White is an eighth grader whose parents just divorced and Hangman Page somehow has way too much going on with his gimmick and yet nothing at all.
But I got into this feud yesterday when I saw Hangman cut a decent promo at the contract signing at the dojo, and then get absolutely destroyed by White. Afterwards, Brandon turned to me and said, "Do I love Jay White now?" and I just nodded. This dude is making the most of every second of his initially-inexplicable push.
White and Page fought like they had something to prove, which, especially considering their place on the card, they did. The outcome was predictable, but the intense, brutal-looking spots were not. Page throwing White from a fireman's carry into the ringpost, White suplexing Page over the top rope, the many moves to the floor, and more all looked legitimately painful. The two men had very much earned the dueling "Hangman"/"Jay White" chants by the time they got them.
After the match, a very casually-dressed David Finlay, soft-looking lion's mane flowing behind him, attacked Jay and challenged him for the U.S. Title. I know I just buried his hair and clothes, but he legitimately looked the toughest I think I've ever seen him. Once again, I said I wasn't into White vs. Finlay when it started in the midst of those tag matches a while back, but I think it would be an engaging feud now. Why does New Japan keep making me look like I don't know my own wrestling predilections?
Also, Switchblade Jay White's theme playing as he rolled hurt out of the ring was hilarious. I need him to get beaten up while his music's playing like 10 more times, please.

Best: Connected By Love
In theory, Golden Lovers vs. Young Bucks was a dream match. In practice, it was a dream come true match. No, I will NOT quit my day job!
The Lovers were the undisputed heroes of the night. Even the pre-match Titantron video made people emotional as it recapped their reunion along with highlights of their singles careers so far. Two throwaway observations from seeing these men in person for the first time: Kenny (like Okada) looks bigger than he does on TV, and Ibushi looks so perfect in real life that I'm unclear how he's even a real living person. Could he be an angel? Is that what the One Winged Angel has secretly been referencing this whole time?
This match was great on so many levels. First, it was an achievement in wrestling storytelling. Ibushi entered the ring first because Kenny was still reluctant to fight his the Elite, (the the Elite) bros, even when they urged him. The Golden Lovers' implied relationship added extra significance to every tag team partner save and double pin through the match. On the Bucks' side, Matt was heelier/more eager to fight Kenny than Nick, which made sense because he was the one convinced by Cody's nefarious video edit in that BTE episode. The Young Bucks are obviously extremely popular, especially in their home state of California, but Matt managed to get heel heat by spitting in Ibushi's face and whipping his opponents with his weightlifting belt.
Kenny holding the belt, contemplating whether or not to retaliate, was one of the match's many great visuals. He got mixed "No!"/"Yes!" chants from the crowd, but I think we all would have felt he was justified. Still, choosing against it was a great heroic moment. How often does a wrestler get us to cheer them by being less violent?
Kenny's performance here, acting-wise, was on another level for wrestling. He looked understandably super emotional the whole time, and, from where I was sitting, I honestly thought he might be crying when he had Matt up for the One Winged Angel. It sounds like, for a lot of people, Matt moving Kenny's arm there was an "I'm sorry; I love you"-tier emotional moment. Ibushi was incredibly intense throughout the match, too. Every instance of his directing Kenny to do specific moves, yet never looking frustrated with his partner about this, was a heart punch for me.

And then there were the spots. We got moments of the Elite knowing each other so well — Kenny flipping one Jackson into the other and the counter to Rise of the Terminator (not at all a protected move at SSE). We got a very concerning botched Cross Slash. We got the Young Bucks teasing a Golden Shower (phrasing), which was countered into the scariest double superplex ever. Ibushi seriously saved a life/career by altering his footwork there.
Chekhov's Table was one of my favorite things about this match — there were three teased spots before it was finally used. It was a smart move, and the payoff was way more satisfying than if they had just used the table right after they got it out. And tag teams doing their opponents' moves is always fun, but the Golden Lovers busting out an Indietaker was especially exciting, partly because the Young Bucks' signature moves are all so cool in the first place.
The Golden Trigger double knee strike to the double pin finish was underwhelming after all that insanity, but it wasn't bad. The crowd got on their feet and stayed there, and you could feel everyone waiting for Cody to show up as Kenny checked on Matt and Ibushi. When Kenny chased his Supercard opponent off, it seemed for a moment like maybe Bullet Club, or at least the Elite, would actually be fine. It turned out the Bucks are still divided on the Omega issue, but they're united about putting their own tag team above all else. It made sense, but was also a little heartbreaking.
Kenny's subsequent promo was more businesslike (he was more emotional in his post-match statements to the press.) I was surprised at how much his Promo Voice sounds like Steve Blum in person. One moment you can't hear on the TV version of the show happened right at the end: Kenny says he suspects he has a broken orbital bone and Ibushi has "a busted lip … that's no good," and something about the way he said it made the audience respond like a group of six-year-olds who just realized These grown ups are talking about kissing. Now, I have no idea whether or not Kenny was actually referring to kissing! But it was a weird, adorable moment the likes of which I have not experienced as a wrestling fan before. The Golden Lovers really are changing the world!
And somehow, after all of that, life goes on! We've got exciting title defenses coming up at Sakura Genesis, ongoing Bullet Club drama at least through Supercard of Honor, and hopefully Mysterio vs. Liger sometime relatively soon. It's a great time to be a wrestling fan. I'll see you back here for another Best and Worst after ZSJ tries to break the our invincible champion with his absurdly long limbs.