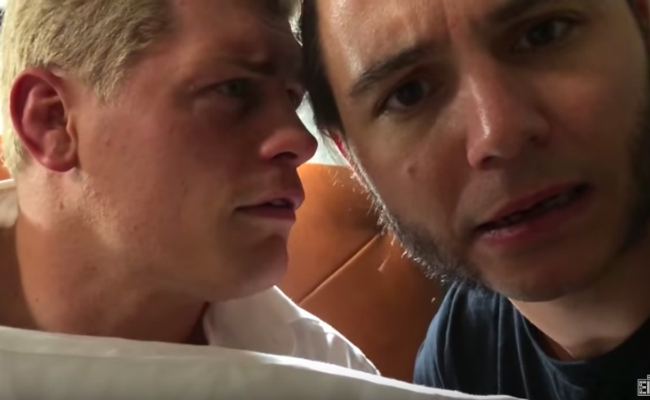 After the success of All In, wrestling fans have been speculating nonstop about what Cody, the Young Bucks, and their core Being the Elite castmates will do next. A combination of the popularity of these wrestlers, the widespread knowledge that their Ring of Honor contracts are up in 2019 and their stablemate Kenny Omega's NJPW contract is up on January 31, 2019, and Cody and the Jackson brothers' skill at generating hype and speculation has fueled the theorizing. With new statements from figures in and associated with this group over the past few days, let's look at what we know about the future of the Elite.
The Elite have already appeared to be separating from New Japan Pro Wrestling for the past few months. On social media and the Jericho Cruise, they announced their split from the Bullet Club faction, a brand which is the intellectual property of NJPW. They've also been effectively phased out of NJPW programming apart from Cody and Omega currently holding IWGP titles set or presumed soon to be set to be defended on January 4, 2019, at the Tokyo Dome. (Hangman Page and Yujiro Takahashi are currently performing in World Tag League, but it looks very unlikely they will win the tournament and then the tag titles at Wrestle Kingdom.)
The group is more clearly departing from ROH. The Wrestling Observer Newsletter reported that Cody, Hangman Page, and the Young Bucks have not signed new contracts with the promotion. An insider source confirmed to With Spandex that the Bucks are leaving ROH when their contracts are up, and Cody tweeted that his ROH World Championship match against Jay Lethal at Final Battle on December 14 will be his last for the company. (Some of his stablemates are also challenging for titles on that card: Page for the Television Championship held by Jeff Cobb and the Young Bucks for the World Tag Team Championships in a ladder match with Scorpio Sky and Frankie Kazarian (c) and The Briscoes.)
Recently filed trademarks suggest their involvement with a new wrestling promotion, Cody Rhodes has said a 2019 WWE return is possible, and the group released an episode of BTE in which Cody is exorcized of a WWE demon. So with all that in mind, do we actually know what these guys are up to next year? Not exactly, but they've recently dropped some hints.
First, at a meet and greet with fans in Melbourne, Australia, Cody (per WON), told a fan who asked about the rumored new promotion to wait for an announcement in January which will be "bigger than anyone expects." Additionally, the Young Bucks told Petey's Wrestling Perspective Podcast that they filed those All Elite Wrestling trademarks because, in Matt's words, "we're in a situation now where we don't exactly know what we're going to do, but we do want to protect ourselves in case we decide to do something." The tag team claimed they've received offers from investors and every major wrestling promotion in the world, and according to Nick, "We haven't said no, really, to anything, so we're just keeping our options open and protecting ourselves at the same time."
It should be noted that the "we" who filed the trademarks for AEW Double or Nothing, AEW All Out, AEW, and All Elite Wrestling is not Killing the Business, the Young Bucks' California-based company that registered the trademark for All In. These new trademarks were filed by All Elite Wrestling, LLC, a company with the same mailing address as TIAA Bank Field, home of the Jacksonville Jaguars. The original report that Jim Ross, Chris Jericho, Cody, the Young Bucks, Hangman Page, and unnamed others were working on a new wrestling promotion said this "project is being financed by" the family of billionaire Shahid Khan, owner of the Jaguars.
In this new podcast interview, the Young Bucks seem to definitively link themselves to Khan for the first time. Well, for the first time beyond Cody tweeting in support of his football team and Jaguars co-owner Tony Khan following Cody, Marty Scurll, Kenny Omega, both of the Young Bucks, Young Bucks Merch, Jim Ross, Dave Meltzer, Starrcast organizer Conrad the Mortgage Guy, and Frankie Kazarian on Twitter. (It should be noted that Khan also follows Dash Wilder, Ric Flair, Titus O'Neill, Stephanie McMahon, Charly Caruso, and wrestling media figures not immediately associated with the Elite.)
Jim Ross addressed the rumors of he and Chris Jericho's involvement in the new promotion on the latest episode of his podcast The Jim Ross Report, entitled "7-Star conversation with Wrestling Observer Newsletter's Dave Meltzer." He said (transcript from WrestleZone) that he thought the report that he and Jericho were behind the venture was "really stupid," and that "We're not involved at all. It's these other guys that are really the movers and shakers. There ain't nothing to move here, folks. There ain't nothing to shake. Am I dodging all the issues here, Dave or is there something that I'm not addressing that people don't understand?"
Meltzer added his take on the situation, saying that "Obviously, Cody's made it's very clear that it's serious talk. Until everything's intact, if it wasn't for the trademarks I don't even know if I even would have reported it, but once the trademarks are out then it becomes, okay, there's a viable story here… It could be a giant story and it could turn out to be nothing, and we'll know in due time… I think if there's a viable TV deal, I think there's enough names and talent that we kind of do know a nucleus of who could be there, but even so it's a few people, and obviously it's a great group to start, but you also need more than that… We're going to start knowing stuff I would say early next year, one way or the other."
So it looks like nobody outside the Young Bucks, Cody, and co., knows exactly what they're doing in 2019. We could say they might not even know, if we decide to believe some pro wrestlers are being one hundred percent shoot honest in interviews. However, legal documentation and recent statements point to Khan and the Young Bucks working together on something related to professional wrestling. It'll be interesting to see what their next move turns out to be and how this affects outcomes at Final Battle and Wrestle Kingdom 13.