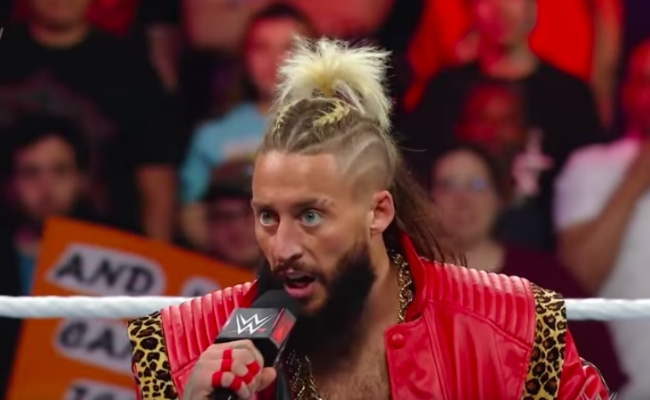 Since he signed with All Elite Wrestling, Joey Janela's most notable accomplishment has been main-eventing the new company's second show against Jon Moxley, getting tacks stuck in his bare feet in the process.
Since his release from WWE, former Cruiserweight Champion Enzo Amore's most notable "accomplishments" have been getting kicked out of Survivor Series and, alongside the former Big Cass, taking part in a run-in angle at the ROH/NJPW G1 Supercard show that, according to what sources in both ROH and NJPW have told Uproxx, led to their planned ROH run being scrapped due to poor fan reception and almost no one in either company knowing it was going to happen.
At a Blink-182 concert last night, these two forces of chaos in the wrestling world collided in what turned out to be an anticlimactic shoot fight.
The story of the altercation started spreading on Twitter last night after Amore tweeted, "I'm glad you introduced yourself cause I couldn't pick you out of a line up. You don't want no smoke. And now I know it, there's only two things that smell like fish. Ones fish. @JANELABABY straight pussy," and Janela quote-tweeted it with "At least I said hello…."
The two continued to go back and forth on social media for about forty-five minutes. Amore subtweeted Janela, "Don't try & play that wrestling shit with me. You'll end up on fucking world star," called him a f*ckboy, and accused him of running away from a fight. Janela responded to that last part with, "I'm in belmar right now, let's go bud!"
The former 205 Live star, whose popular burial by Simon Gotch included Gotch revealing that Amore can't fight at all, then sarcastically thanked Janela for, "bringing credibility to the biz," said he was, "clout chasing in public," and called him, "not a good human," for causing a scene at the concert.
Janela soon gave his side of the story and ended the social media bickering for the night. First, he explained the incident as, "Not a work, So i saw the dude and walked up and said "Hi I'm Joey Janela" at the blink-182 show and we proceeded to have (I'm not lennox lewis) to have the shittiest fist fight of the year, I'm not a pussy but we had fun!" He followed this up with, "I will have no chance to wrestle or 'fight' Enzo with my exclusivity starting in October but I saw it to introduce myself! That's all!" So Enzo going to AEW doesn't seem likely at this point – not that it did in the past.
This morning, Amore posted the aforementioned video of the altercation. Sadly or happily – depending on your perspective – it doesn't actually include a physical fight. The men square off and Amore advances on Janela while a woman he identifies as, "Angela my homegirl" yells at him to stop. If the two actually threw hands, it either didn't make tape, or that footage has yet to be released.
This may more may not be the end of the Enzo-Amore-Joey Janela feud given that Janela just took a crack at Amore's taste in hats. And because this is wrestling, there's always the possibility/conspiracy theory that this is all a work! After all, Janela did offer to train MMA with Josh Barnett in order to fight Amore at the next Bloodsport after the G1 Supercard incident.