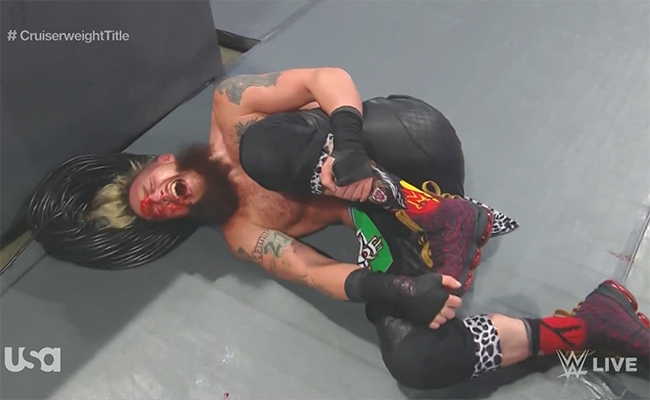 Last week, WWE Cruiserweight Champion Enzo Amore was unable to defend his title against Cedric Alexander as scheduled, due to a bout with the flu. He was also pulled from the upcoming Mixed Match Challenge as a result of his illness and replaced by Apollo Crews. But on Monday night, he was finally back in action, and Alexander finally got that title match against Amore that he had earned.
Unfortunately, the Zo Train went off the rails once again, in a couple of extremely unexpected ways. Things first went awry in the match when Amore caught a kick flush to the eye, which legitimately busted him open and looked very ugly.
After that, a dive to the floor from Alexander buckled Amore's leg and ankle, and Amore opted not to make it back into the ring at the referee's count of 10. Thus, Alexander won the match by count-out, but Amore retained his title due to the storied champion's advantage.

Here is the kick that busted Enzo open:
After the match ended and Raw came back from commercial, they showed replays of the kick and the dive that wrecked Amore's leg, and then went straight into a backstage segment where doctors talked about needing to reevaluate Enzo shortly.
That sure looks like it might well be a legitimate ankle injury, although it's possible Amore might just be exceptionally good at his job. Either way, we're hoping this is nothing serious, and that Amore will be back in action very soon. It's just tough luck all around to be Enzo Amore these days, it seems.
(Check out our must-listen McMahonsplaining podcast with WWE superstar Braun Strowman. Subscribe on iTunes or Google.)