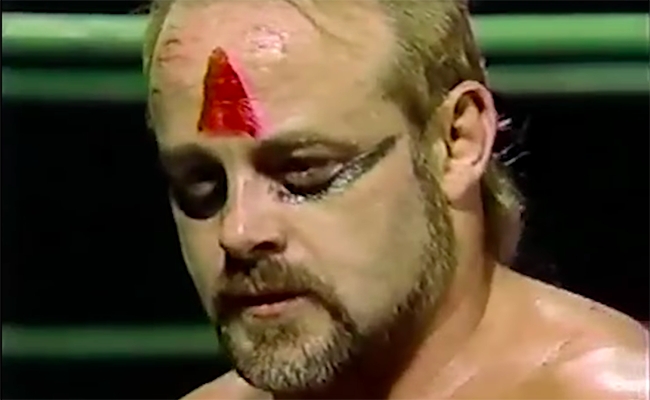 We recently had the unbelievable good fortune to sit down for the better part of an hour with Taskmaster Kevin Sullivan, thanks to the good people at PCW Ultra. We spoke to him about a whole bunch of things (including a lot of WCW talk) for McMahonsplaining, the With Spandex Podcast.
You can find that entire conversation on the latest episode of the podcast, but one thing we wanted to get his take on was the recent decision by WWE to announce, and then withdraw, the Fabulous Moolah Battle Royal from WrestleMania 34. The women's battle royal match will still take place as advertised, but public backlash and sponsor pressure forced WWE to change the name. All things considered, that was probably a pretty good decision.
Since Sullivan has seen it all and done it all during his time in pro wrestling — and is pretty much universally regarded as one of the finest minds to ever be in the business — we felt it necessary to pick his brain about this topic.

When we brought up WWE changing the name of the battle royal, the first thing that came to Sullivan's mind was an anecdote from his time in Championship Wrestling from Florida, when his valet — who was a Moolah trainee — was having a big cut taken from her by Moolah. Which is pretty much in line with the allegations against her that fans have heard over the years.
"I had to deal with Miss Lillian [Fabulous Moolah], okay, because I had Winona Littleheart, The Lock, when I was in Florida and she would call me every other week and Lenora was on a very nice guarantee back in those days, and Moolah would say to me, 'She needs to get a raise, she needs to get a raise.'
"Well, [Lenora] was an intricate part in my stable at the time, and we used her to turn [Superstar Billy Graham] babyface against me. And that's when she started to getting on me, and I asked Lenora, 'Do you get all the money?' 'No.' And then what she told me was she got — I don't know if it's true, but it was a big slice she was giving up, like 45 percent, and she was still paying [Moolah] rent."
Upon hearing this, Sullivan went to booker Eddie Graham and arranged to get her extra pay for her work. "I would go and get her some extra money on the side," said Sullivan. "They would cut her an extra check, because the checks went through Lillian and Lillian kicked the money back and so I would go and get her some extra money because, I mean she was doing all the work and maybe Lillian broke her in but those girls paid their dues, so … "
But Sullivan had to admit that he himself broke in a whole lot of wrestlers over the years, and he never took it upon himself to take a 45 percent cut of their pay. And then he said he had to give WWE a lot of credit for making the tough decision to change the name. "They could have said, 'The hell with it; we're going to do it.,'" he said. "'We're the WWE; we're going to do it.' So now they listened to their audience. Why don't we start listening to the audience on some other things? I mean, if you caved for that why don't you listen to what the fans [want]?"
You can listen to the entire conversation with Kevin Sullivan on McMahonsplaining, the With Spandex Podcast.