Previously on Job Opportunities, Brandon looked back at present-day wrestling stars when they made appearances in WWE, WCW, and NXT earlier in their careers, usually jobbing out to people who were more important than them. This installment of Job Opportunities is the closest thing to a New Japan Pro Wrestling equivalent, but with a twist: NJPW doesn't really have jobbers in the same way WWE has jobbers.
New Japan rarely has squash matches and doesn't enlist Local Talent from the location of the night's event, at least not for shows in Japan. However, if you've watched enough New Japan, you can often tell who will end up jobbing when you look at a card full of eight-man tags and six-man tags and two-on-two tag matches. Getting pinned or submitted is a big deal, so unless a new feud is kicking off, the guy who loses the match for his team will usually be either someone who is rarely near a title picture, the one junior heavyweight in a match full of heavyweights, or, most of all, a trainee in the New Japan dojo, aka a Young Lion.
In the spirit of Job Opportunities and in honor of the Young Lion Cup, here are twenty NJPW stars back when they were either Young Lions or way lower status in the company than they are now (and ate a lot more pins.)
Tomohiro Ishii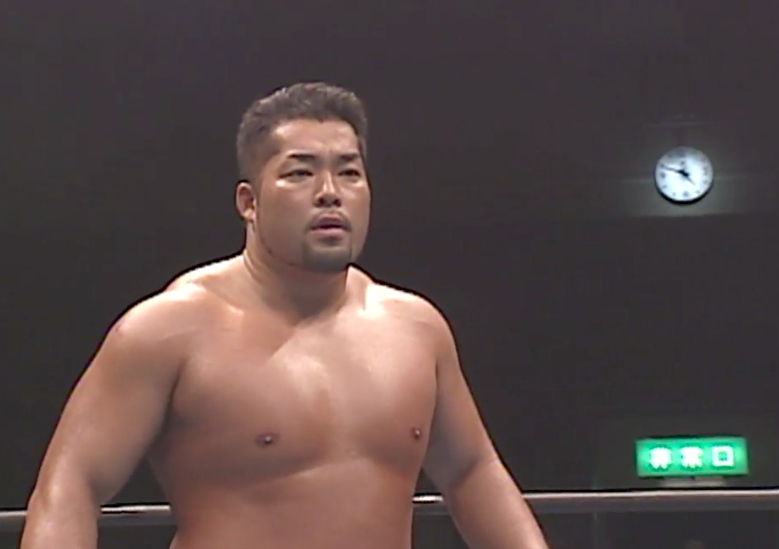 Tomohiro Ishii started wrestling regularly for NJPW in 2006, ten years after his career began on the indies. Before that, he made some appearances representing Riki Pro, like in this match from Fighting Spirit 2005 in which he tags with his mentor, Riki Choshu. The 30-year-old Ishii is built like a mini-fridge and has hair! It takes about eight years and, coincidentally (I think), the loss of that hair for him to really break out as a singles wrestler in NJPW.
Tetsuya Naito
Tetsuya Naito's 2006 debut match is on NJPW's Japanese YouTube channel, where it's prefaced by footage of his tryout for the company in 2005. He had started training at Animal Hamiguchi's gym about five years earlier and clearly stands out from the crowd, killing it at drills with which others struggle. The 24-year-old shows even more promise in his first NJPW match, which he loses to Takahashi Uwano. In his post-match comments, his charisma and personality already stand out about a decade before he goes Ingobernable and ascends to the level of stardom he has today.
Yoshi-Hashi and Sanada
NJPW may not have jobbers, but Yoshi-Hashi is about as close as it gets these days (unless he and Ishii win the tag titles this weekend.) His earliest appearance for the company is in this footage of the tryout that earned Naito a spot in the dojo. It takes Yoshi-Hashi two more tries to be accepted.
This tryout is also a 17-year-old Sanada's first crack at NJPW and he doesn't get in either. Instead of continuing to try for New Japan, Sanada gets accepted to the All Japan dojo and eventually made his way to the King of Sports in 2016. Now he's a fan favorite and the current number one contender for the IWGP Heavyweight Championship, so that worked out pretty well for him.
Evil
You can see some clips of New Japan's beloved King of Darkness, Evil, back in his Young Lion and excursion days in this hype video for his 2015 Power Struggle match. Takaaki Watanabe looked like such a nice, normal young man! What did ROH and/or America and/or Naito do to him? Clearly not teach him how to do hair and makeup really well because it still took him a while after he became an L.I.J. pareja to get that figured out.
Kazuchika Okada
Kazuchika Okada is one of the few NJPW wrestlers for whom you could easily point out the most significant match of their Young Lion days. Before he went on his excursion to TNA in 2010, he has a farewell match against Hiroshi Tanahashi. The way Okada disrespectfully keeps his back turned to Tanahashi during the Ace's entrance works as a little preview of NJPW's highest-profile feud of the decade. This is about two years before Okada returns at Wrestle Kingdom VI as the Rainmaker and quickly wins the IWGP Heavyweight Championship for the first time, but it's already clear that he and Tanahashi work really well together.
Hiromu Takahashi and El Desperado
While everyone waits and waits and waits for Hiromu Takahashi to return from injury, here's his debut match against Kyosuke Mikami, the not-so-secret man behind the El Desperado mask. This is from the first NEVER show in 2010, back when NEVER was a brand meant to highlight promising talent rather than just a word in all caps at the beginning of two of NJPW's titles.
Seeing Despy's face is always an experience, and so is seeing Hiromu so new to the dojo that his head is completely shaved! He might be the youngest looking of all the wrestlers on here despite not being the actual youngest. It took until his CMLL excursion for him to really come into his own as a person who could fit the nickname "Ticking Time Bomb."
Bad Luck Fale
The future Despy was also half of a significant match in another of his dojo classmate's careers when he was the losing end of Bad Luck Fale's first NJPW win. The former rugby player instantly stood out from the rest of the promotion and got to wrestle under something besides his real name (as King Fale) and the right to wear something besides black trunks (blue trunks) pretty quickly.
Tama Tonga
The other remaining Bullet Club OG in NJPW, Tama Tonga, made his debut as a junior heavyweight in 2010. He gets his first actual gimmick by the end of the year, but during Best of the Super Juniors, he is in full Young Lion mode. His match above is with Taiji Ishimori, who is representing Pro Wrestling NOAH in the tournament back when other Japanese companies used to put some of their guys in BOSJ. Ishimori had been wrestling since the turn of the century and would join NJPW and Bullet Club eight years later.
Gedo
Another junior heavyweight who joined Bullet Club last year, Gedo (wrestler, manager of the Switchblade, booker of NJPW) made his first New Japan appearance as a representative of WAR in the 1994 Super J-Cup. His first New Japan match was the opening match of that historic tournament. He beat Dean Malenko and made it all the way to the semi-finals and he did it all in gear that I will probably never understand.
Kota Ibushi
Kota Ibushi had been wrestling for years in DDT and on the indies when he did his first NJPW tour, Best of the Super Juniors 2009. The skinnier, floppier-hair-having version of this year's G1 winner makes it as far as this semifinal match with Prince Devitt (now WWE's Finn Bálor.) The following year sees DDT's Golden Lovers start occasionally performing in New Japan, with the G☆Ls vs. Jado & Gedo Kenny Omega's debut match for the company.
Hirooki Goto
Hirooki Goto and the Naofumi Yamamoto, the man who would become Yoshitatsu and the owner of the greatest personal website in our reality, both debuted in 2002. By 2003/the time they've both grown their hair out a little, Goto is still hardly recognizable as the samurai dad and perpetual bridesmaid of NJPW he is today. No facial hair? Less beef? What??? As soon as the match begins, though, it's clear from the short-haired wrestler's mannerisms that this is Goto.
Hiroshi Tanahashi and Togi Makabe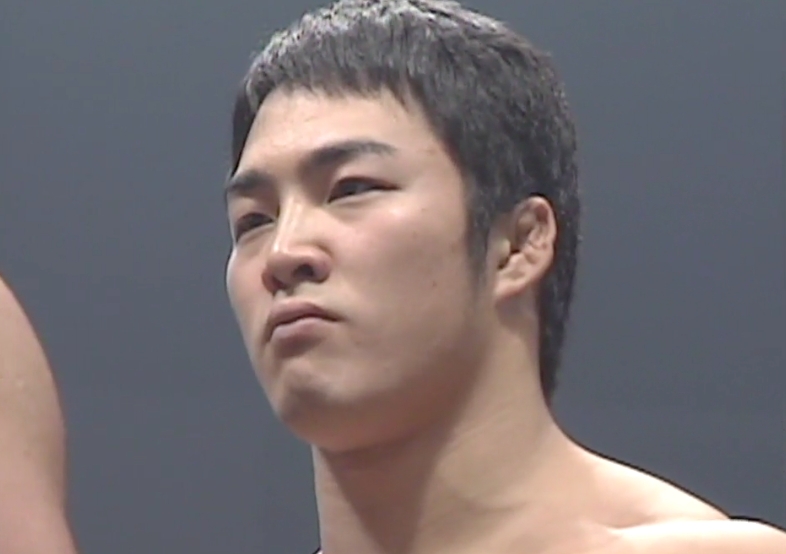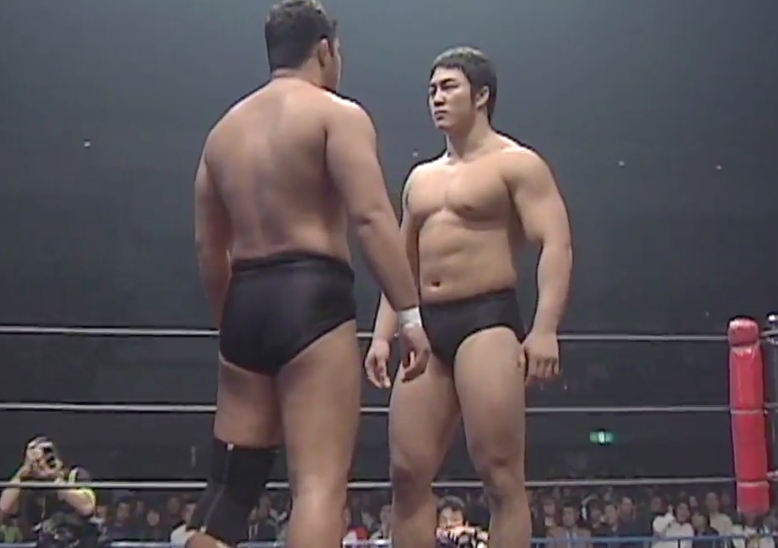 Hiroshi Tanahashi's debut match was against Shinya Makabe (now Togi Makabe) in 1999. Tanahashi is days away from his 21st birthday and somehow less buff than he is right now at age forty-two – but still very buff, especially for a Young Lion. He is soon pegged as one of the company's future stars and dubbed one of the "new Three Musketeers" along with Katsuyori Shibata and Shinsuke Nakamura and gets to start both winning more and having higher-maintenance hair.
Makabe, who had debuted in 1997, has a slower rise and never reaches ace status, but becomes a top tier NJPW star in the 2000s and has an IWGP Heavyweight Championship reign in 2010.
Katsuyori Shibata
Shibata was one of the few NJPW wrestlers to get a weird, jobber-like gimmick early in his career. He's Makai #4 – the guy in the blue mask – in the match above, one of the masked goons of Makai Club, a group of MMA fighters and very tough wrestlers who basically worshipped Antonio Inoki.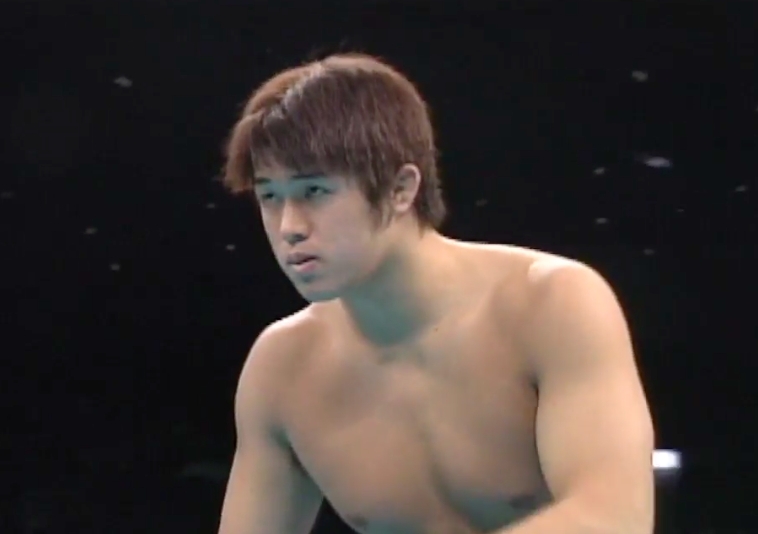 Makai Club was around for 2002-2004, and Shibata made his debut a few years earlier in 1999. The earliest match of his on NJPW World is from Fighting Spirit 2000, in which he teams with Makabe against Wataru Inoue and Masakazu Fukuda.
Toru Yano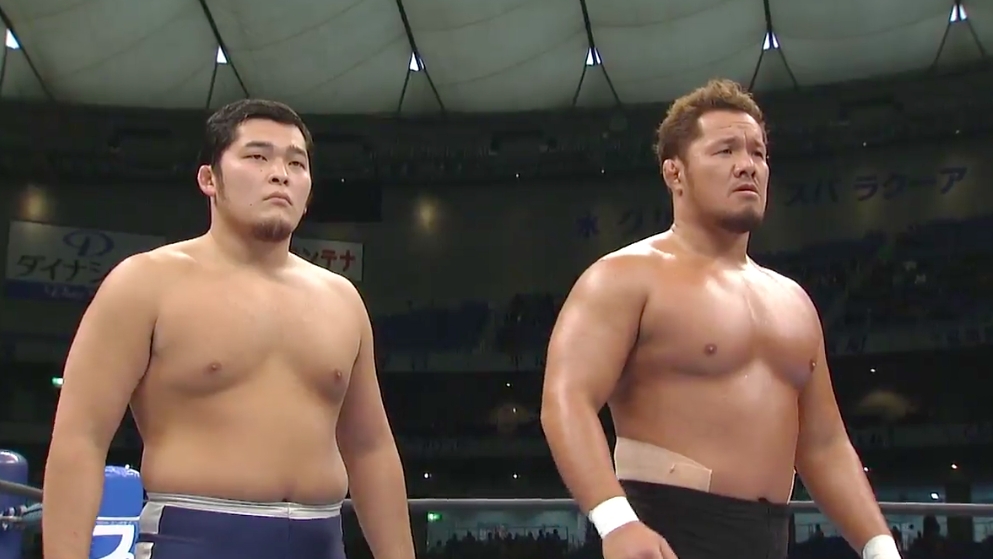 Before he became a genius clown wrestler and the secret true ace of NJPW, before he was a bleach-blonde menace, Toru Yano was a promising rookie with a background in amateur wrestling. He looks like a nice, normal guy here, teaming with Makabe at Wrestling World 2004, but we now know the madness beneath the surface. (I will write a serious, origin-story movie in the style of Joker [dir. Todd Phillips, 2019] about Yano for upwards of two million dollars.)
Satoshi Kojima and Manabu Nakanishi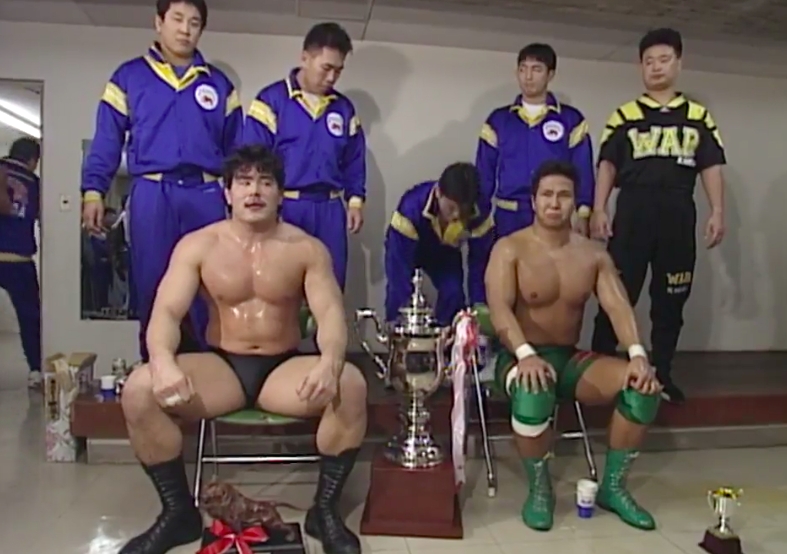 To bring this back to the Young Lion Cup, here are Satoshi Kojima and Manabu Nakanishi after their 1994 YLC final. Afterward, Kojima is so emotionally overcome by his win that he can't stop crying backstage and it's very endearing in the same way everything about Cozy has been for like twenty-five years. Nakanishi is a former Olympic wrestler with a mustache, so he's a lot more stoic about his loss. He gets to win the following year's tournament.
Jushin Thunder Liger
The 1985 Young Lion Cup final is between Shunji Kosugi and a small, intense wrestler named Keiichi Yamada. An injury pushes Kosugi to an early retirement later in the decade, with this tournament win his biggest pro wrestling accomplishment. Yamada, who had debuted in 1984, goes on to win the next year's YLC. In 1989, he re-debuts in a mask and bodysuit with a name that becomes much more famous: Jushin Thunder Liger.
There are a lot of impressive glow-ups on this list, but the Beast God might have the best one.