[protected-iframe id="81830409533e3ba30e85f8e27178c4cf-60970621-24613583″ info="https://teamcoco.com/embed/v/94057#playlist=x;eyJ0eXBlIjoicmVjZW50IiwiaWQiOm51bGx9″ width="640″ height="360″ frameborder="0″ allowfullscreen=""]

John Cena's currently recovering from shoulder surgery, which means he's got plenty of time to make the talk show rounds, dance to Salt 'n' Pepa, and eat expensive-ass steaks after fielding serious questions about concussion risks in WWE.
On Wednesday night, he hit up Conan, where he taught the audience how to properly tell him he sucks to the tune of his theme song. He also talked about his awkward love scene in the Amy Schumer romcom Trainwreck, because nobody ever gets tired of talking about his stunt penis. Well, actually, his coworker and girlfriend Nikki Bella might.
As Cena told Conan and Andy, she wasn't exactly thrilled when he finally revealed, you know, what he'd be revealing in the film:
I didn't think I'd get the part, and I kept putting it off, not telling Nicole and not having the discussion of 'hey, there may be some graphic scenes.' So I got it, and I couldn't say no, so I kinda walked in one day and said 'hey, I'm kinda just doin' this' aaaaand that was the wrong approach.

She has such beautiful brown eyes and they glowed with red hell fire. And she has such a great smile, but she turned into, like the Alien AND the Predator at once?
For the uninitiated, Conan provided a moderately safe-for-work shot of the scene in question: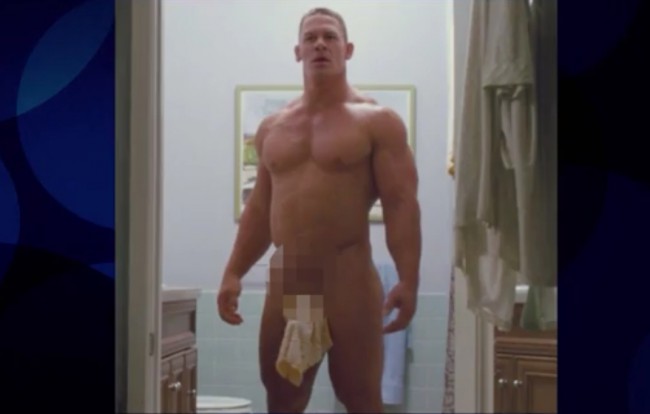 Big ups to Conan for another reason my mom gets to be totally proud of me and my chosen profession.