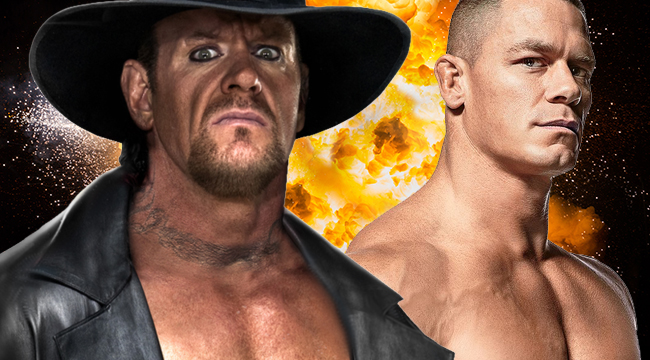 One of the major stories for this year's Road to WrestleMania coming out of Monday's Raw was John Cena drinking a fan's beer, sarcastically cheering for Roman Reigns, and formally, enthusiastically challenging the legendary Undertaker to return to action and face him one-on-one at WrestleMania. While we can't guarantee what the Undertaker will say, history tells us he'll first say "no," but then something will happen and he'll mean "yes."
To prepare for this match, we decided to go back and chronicle the history of two of WWE's biggest-ever stars and their rivalry dating all the way back to 2002, and John Cena's first night on the main roster. By the time we get where we're going, we'll have really gotten somewhere.
So. Let's start at the beginning.
2002: The Undertaker Appreciates A Little [Pregnant Pause] RUTHLESS, AGGRESSION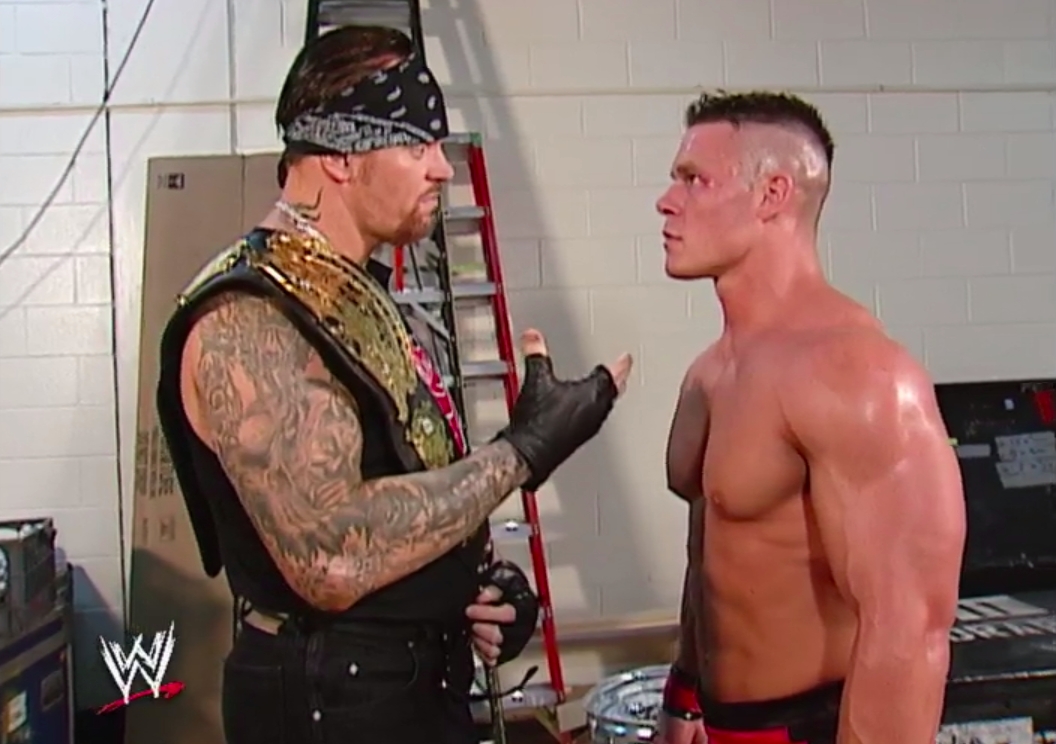 John Cena's first night on Smackdown saw him run into two WWE legends. The first, thanks to an open challenge, was Kurt Angle. The second — not counting Ron Simmons, Rikishi and Billy Kidman — was The Undertaker, stopping by to offer the Rookie with Ruthless Aggression™ and the highest, tightest high-and-tight of Cena's career a handshake and a "good job." Watch it here.
While they never became a full-fledged tag team, the early respect saw them quickly forced to team up against Angle and another legend, Chris Jericho, in what was only Cena's third match in WWE. It was well put-together story telling as Cena lost his first two matches to Angle and Jericho, and teamed up for his third AGAINST them, with the guy who gave him respect on his first night having his back.
He'd win, too, pinning Jericho with an Oklahoma roll after an assist from one of The Undertaker's soup bones®. Those are his hands, it was a thing. Don't ask me to explain that or Booger Red.
2003: Cena Gets A Chip On His Shoulder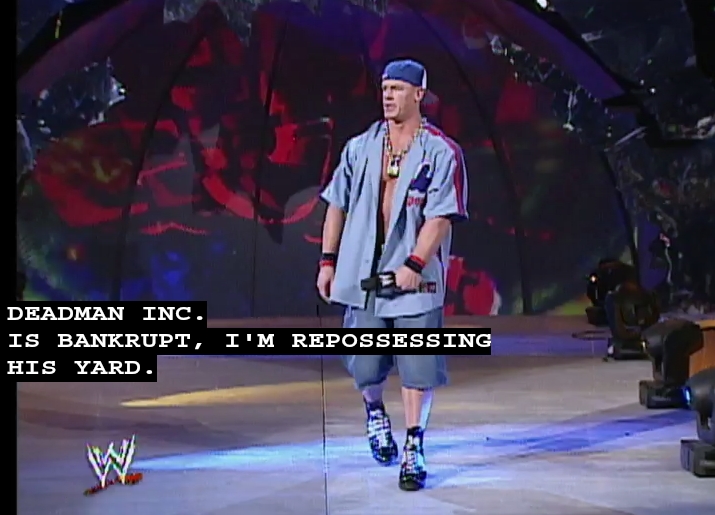 By the time 2003 came around, Cena had been completely transformed into a rapper thanks to a Vanilla Ice costume worn to a backstage Halloween party — not literally — and was looking to turn the noble "ruthless aggression" into the more common and successful but less respected "actual aggression." Gone were the boots and bicycle shorts in team colors, replaced by sneakers and those legendary jorts.
Cena, now a full-on rapper in throwback jerseys and hats who tried very hard to get the catchphrase "oh … KAY, oh … KAY" over, came face-to-face with the Undertaker again during the semi-finals of a Smackdown tournament to name a new number one contender for the (then) Undisputed Championship. Undertaker seemingly had the match won with a Last Ride, despite being distracted by the legal woes of his protege Nathan Jones, but was attacked by the Full Blooded Italians while the referee was down. Cena took advantage of the attack, crawled onto Undertaker's unconscious body, and pinned him to score one of the biggest (and cheapest) wins of his young career.
As an interesting note, Cena won that tournament by defeating Eddie Guerrero, The Undertaker and Chris Benoit. That's impressive, especially since he wasn't really "John Cena" yet. This was all to get a shot at Brock Lesnar at Backlash, which John … definitely did not win.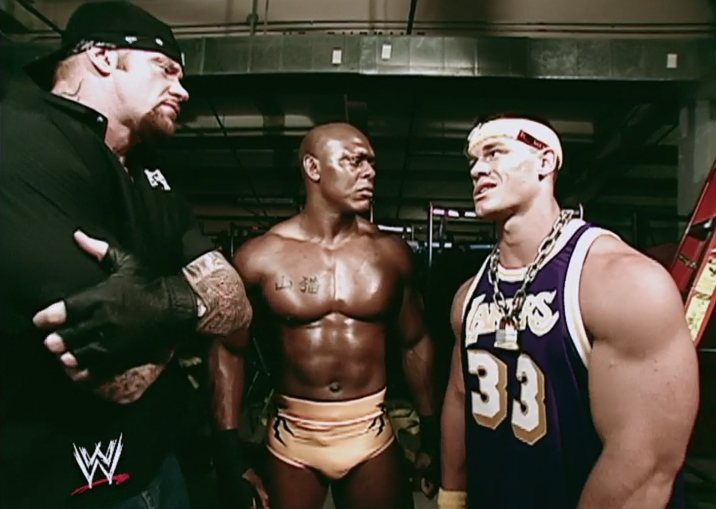 By June, Cena was on a roll and convinced he was the next big star. He started issuing open challenges (as he does) to prove he's a legend, and had his challenge answered by a new rookie with something resembling ruthless aggression: Orlando Jordan. Cena pinned Jordan, but like Angle before him, only won with a last second roll-up. Unlike Angle, Cena also grabbed a handful of tights. You don't earn a doctorate in thuganomics by doing things halfway. When the match was over, Undertaker made the save for Jordan, showing Cena what a "true legend" is.
Later, Taker tried to give Jordan some of Locker Room Leader advice and told him what to do against a guy who takes shortcuts like John Cena. Cena showed up in full Kareem cosplay to point out how the Undertaker used to treat HIM like that back in the day, buthad had "dropped him like a bad habit," so he should watch whose business he sticks his nose in. Undertaker, not content to be told what to do, rode to the ring during a Billy Gunn vs. John Cena match in the middle of a United States Championship tournament and prevented Cena from cheating to win, distracting him and getting him rolled up.
Cena was pissed.
Biting The Hands That Fed Him
Cena's retaliation for Undertaker getting in his business and causing him to lose matches was to rap at him as hard as possible. That included everything from rapping from the center of a burning pentagram to literally going to a graveyard and pissing on someone's tombstone to explain how the Undertaker is actually not dead, but is very very gay. You'll find this in a lot of Cena's early material, assuming by "early" you mean everything from his debut until like, 2010.
Cena repeatedly insulted and attacked The Undertaker until he agreed to a pay-per-view match — sound familiar? — and, eventually, it was on. Cena took Undertaker to something approaching The Limit at Vengeance in 2003, but Taker was able to kick out of an F-U (the forever-ago name for the Attitude Adjustment, before TV PG arrived) and counter a corner 10-punch into a Last Ride to win. Going for a 10-punch and getting Lastly Ridden is Undertaker's super death move. I think only the jumping Tombstone is more powerful.
He lost, but Cena was OH kay, OH kay with that, once again one-sided battle rap shit-talking the Dead Man. They had a rematch on the August 7 Smackdown (watch here), and Cena got his win back with an F-U after an attack from A-Train and "internal bleeding" from the Undertaker. Two cheap wins! Taker quickly moved into a feud with the A-Train, and post-SummerSlam, Cena started feuding with Eddie Guerrro over the United States Championship.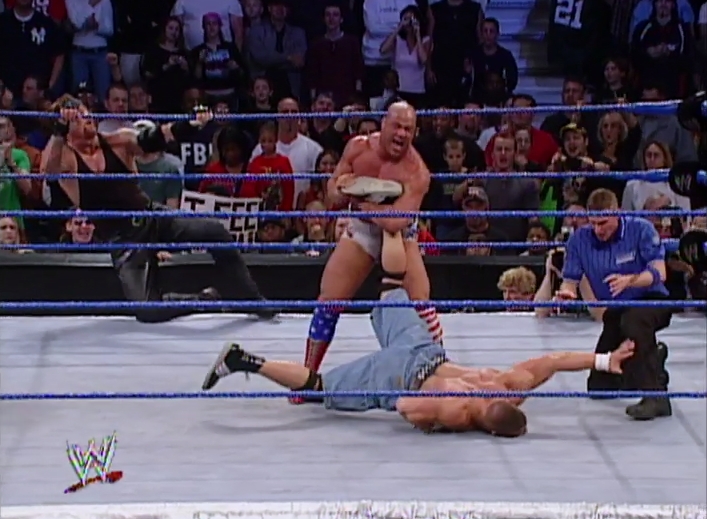 The two wouldn't meet again until the October 2 edition of Smackdown, on opposite sides of a tag team match. Unable to take out the Undertaker, Cena moved on to the OTHER legend he came up against — Kurt Angle — and teamed with Brock Lesnar to take on Angle and Taker. How badly do you think WWE wishes they could do that match with everyone in their prime again?
Cena pulled another fast one here, using his padlock and chain to knock out Angle and pin him, giving him a win over the guy who pinned him in his debut and ANOTHER underhanded win against The Undertaker.
2004: Undertaker Starts Getting Evil, And John Cena Discovers The Troops
By 2004, things had started to change. Paul Heyman had stolen Paul Bearer's urn and was using it to control him — again, sound familiar? Undertaker's really only got like, five or six possible stories total — and John Cena was discovering how good he looks in camo. Click play on that promo and notice how much like 2018 John Cena he sounds. And then notice him arguing with general manager Kurt Angle about trying to get a match with the Undertaker. Time is a flat, squared circle.
Ahead of the Great American Bash, a newly popular Cena got Tombstoned on Smackdown and demanded [checks notes] vengeance. Emboldened by the love of the fans and the United States Championship — his first title belt in WWE — Cena countered a Last Ride and actually had the Undertaker defeated with an F-U, but the ref was knocked out. Undertaker recovered, due to his resurgent magical urn powers, blasted Cena in the face with his own chain in a nice bit of symmetry, and pinned him.
Cena would end up defending his championship successfully in a fatal four-way at the Bash, while the Undertaker amped up the evil even more and murdered his longtime manager in a gigantic box of concrete. It happens.
2006: Brand Supremacy
Cena and Undertaker would have their next — and, at least until WrestleMania 34, their most recent — one-on-one match on the Raw Supershow (remember those?) the night after No Mercy in 2006. Undertaker had just lost a match to Mr. Kennedy via disqualification due to kicking his ass too hard, and Cena was busy holding the WWE Championship, the one that spun, and challenging King Booker for the World Heavyweight Championship.
Taker (Smackdown) and Cena (Raw) would meet that night in a back-and-forth interpromotional match (watch here) that ended with a run-in from Booker and Big Show. Mr. Kennedy joined in to lure Undertaker away from the ring and leave Cena prone, but forgot that when the odds are against him Cena's power increases tenfold. Cena beat up Booker and Show by himself, and that was that. He's JOHN CENA now. From the Rookie with Ruthless Aggression to the Veteran with Cheat Codes.
2007: The First Time They Almost Wrestled At WrestleMania
Undertaker won the Royal Rumble in 2007, and was able to choose which champion to challenge at WrestleMania 23. He ended up choosing World Heavyweight Champion Batista over ECW Champion Bobby Lashley and now omnipresent WWE Champion John Cena. So close, yet so far away.
Six days before the show, Undertaker and Batista teamed up to take on fellow WrestleMania opponents, John Cena and Shawn Michaels, in a tag team match on Raw. Watch that here. This one ended with Michaels superkicking John Cena in the middle of a Five Knuckle Shuffle and effectively throwing the match, giving Taker and Batista the win.
2009: Big Event Tag Team Partners
Fast forward a couple of years to 2009, and suddenly Cena, Undertaker and Michaels are all on the same side, teaming up with Triple H to take on CM Punk and the Legacy on the 10th anniversary of Smackdown. Punk would have a lot of history with three of those four guys. He'd also get Attitude Adjusted over the ropes onto two of his OWN partners, leaving Randy Orton alone in the ring to take a Tombstone piledriver and lose the match.
That would set up …
The Second Time They Almost Wrestled At WrestleMania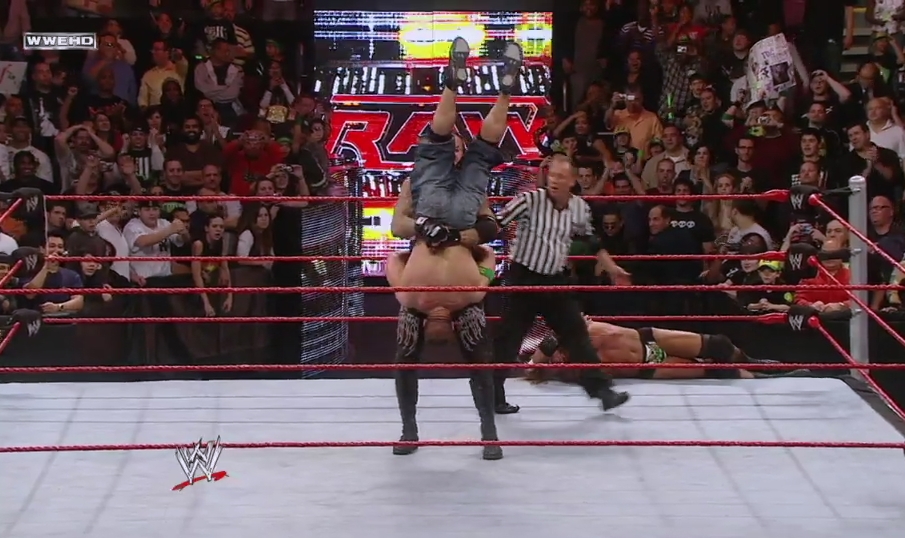 That Ultimate Team-Up of WWE and World Heavyweight Champions wouldn't last very long, as WWE stacked the main event of their 2009 Madison Square Garden show with a triple threat tag team match: Cena and Undertaker vs. D-Generation X vs. "JeriShow" of Big Show and Chris Jericho. Watch that here.
You couldn't beat 2009 John Cena if you shot him in the chest with a shotgun, so of course he wins, capitalizing on Triple H clotheslining Undertaker out of the ring to sneak up and hit an AA. Undertaker, seemingly irate about this for some reason, sneaks up on Cena and hits a Tombstone Piledriver.
Looking back, it looks like one of those things they did to have a "Madison Square Garden moment" (™ Michael Cole), and sadly didn't build to a match at WrestleMania XXVI like we were expecting. Shawn Michaels would throw out another WrestleMania challenge to the Undertaker at the Slammy Awards for a (then) unexpected rematch, as most of us though Michaels vs. Taker would at WrestleMania 25 was a once-in-a-lifetime kind of thing. If they'd ever had a great chance to do Cena vs. Undertaker at Mania before, this was the year. Undertaker was at the top of his game, Cena was The Worst capitalized, and the crowd would've been in dread fear of G.I. John ending the streak.
The 2010s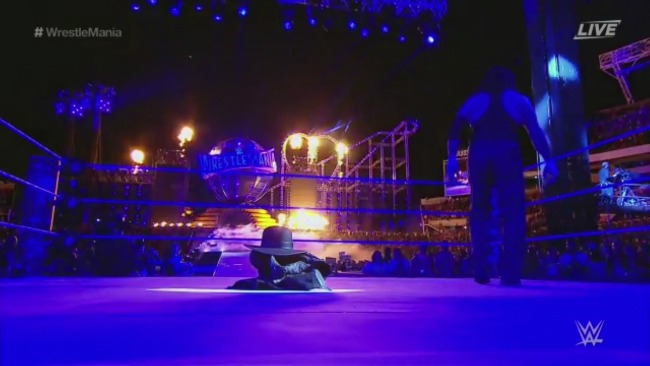 Around this point is when the Undertaker's schedule started to slow down, and he started becoming more and more of a part-time attraction. Every year like clockwork, fans would start predicting who Undertaker should face at WrestleMania this year, with Cena's name almost always coming up in conversation.
Despite this, Undertaker competed at seven more WrestleManias during the decade, but never against Cena. Triple H twice, CM Punk, Brock Lesnar, Bray Wyatt, Shane McMahon and Roman Reigns. After losing to Reigns at WrestleMania 33, Undertaker left his gloves, hat and jacket in the ring as a sign that he was seemingly saying goodbye to the company. He was going out on the grandest stage of them all, a stage he helped build, and Undertaker vs. Cena was never going to happen.
And then, comma
2018: Raw 25, WrestleMania 34, And Everything In-Between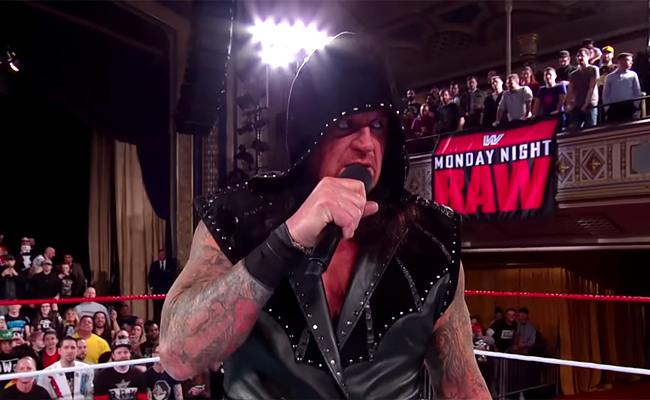 In January of 2018, Monday Night Raw celebrated its 25th anniversary with a huge megashow featuring returning talent, two venues (that were more like one actual venue and one pricey Instagram photo op at a pretend 1993 Manhattan Center), and the first appearance of the Undertaker since WrestleMania 33. People thought for sure this would be where he'd challenge John Cena, but it wasn't. He said some stuff about digging holes and collecting souls, and then left.
Cena's story this year has been a new uncertainty in himself, as he's finally starting to look his age, and whether or not he'd have a "road to WrestleMania." Reading this you're like, "of course he has a road, he's John Cena, and also anybody on TV regularly has a road, they just have to be popular or important and say they challenge somebody," but John doesn't agree. He entered the Royal Rumble, but lost. He even mentioned on Raw that he wanted to challenge the Undertaker, but claims he was told it would be "impossible." So he went to Smackdown, qualified for the six-pack challenge at Fastlane to try to win the WWE Championship and face Royal Rumble winner Shinsuke Nakamura, but ultimately lost the match.
The next night, he returned to Raw and AGAIN challenged the Undertaker for "one more match." And this time it looks like it's going to stick.
That's where we are as of today. In what might be one of the last marquee WrestleMania matches for either man (and almost certainly for the Undertaker), John Cena is finally competing at the Granddaddy of Them All against the veteran who shook his hand on his first night in the company. The guy he's crossed paths with for years, good or bad, together with or against. The guy he's almost wrestled at WrestleMania a few times before.
Where it goes from here, we can't say we know. Cena might end up hosting the show and Undetaker might wrestle Shawn Michaels again, who the hell knows? But one thing's for sure: if Cena and Undertaker do finally put their hair up and square up at WrestleMania 34, it'll be one of the last true dream matches for an entire generation of WWE fans. And maybe two.
Now let's figure out how to do Undertaker vs. Sting already.