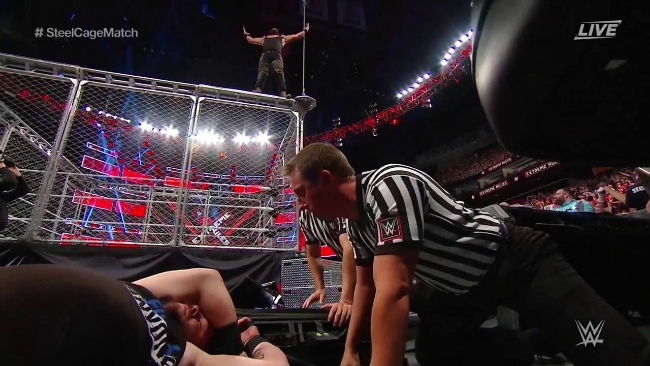 Notorious thrower of large things, Braun Strowman, knows no bounds when it comes to tossing objects around.
The man who once tore down a lighting rig, flipped an ambulance, flipped over a semi truck and tossed an entire announce table is really ridiculously good at tossing things. Heck, just last month, Strowman tossed Kevin Owens off a massive ladder at Money in the Bank.
Naturally, the Monster Amongst Men took things a step further Sunday night in a cage match at Extreme Rules against Owens. Strowman handed Owens a beatdown for the majority of the match before the former Universal Champion handcuffed Strowman to the cage. Strowman showed off his ridiculous strength yet again, breaking out of the handcuffs to chase Owens down at the top of the cage. He clearly didn't care about winning the match from that point on, causing destruction and throwing the him off the side of the cage and through an announce table.
Just after the 20th anniversary of Mankind's death-defying fall from the side of the Hell in a Cell, this fall rivals that one for the sheer terrifying nature of it. The slow-motion view of the landing showed Owens' head slamming backwards with whiplash, hitting the table before he rolled around grabbing his head. Owens was stretchered away from ringside in a neck brace.