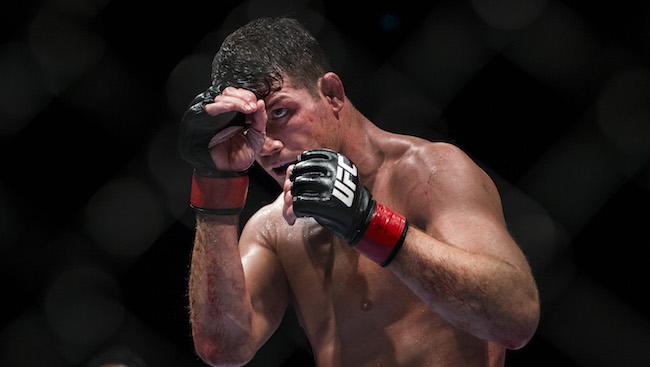 Fading UFC star Vitor Belfort may have been joking when he suggested former WWE luminary CM Punk as an ideal retirement fight opponent, but Michael Bisping sure as sugar isn't laughing. In fact, he's downright furious about the idea.
Middleweight champ Bisping, who has been in a bit of a mood lately, tore into Belfort on his Believe You Me podcast. The English MMA vet declared that Belfort is a "p*ssy" and that his history of drug test unpleasantness backs this up. Here are the choice bits as transcribed by MMA Fighting.
"This is a sign of the p*ssy that Vitor Belfort is. This is the sign of a p*ssy that takes f*cking steroids his entire career. If you take steroids, you are a f*cking p*ssy because you're so mentally weak that you feel that you can't go out there and fight these people on a level playing field because you're gonna get your ass kicked. So you worry, and you look, and you look for shortcuts, and you look how you can cheat, and you think, 'Oh I'm gonna take these steroids and they're gonna build my muscle and make me recover better' and all this type of stuff.
Belfort's career has featured controversy surrounding his testosterone use. The subject has been attached to the Brazilian fighter since his Pride days. Conversely, Bisping has been a vocal advocate for punishing drug cheats in the sport.
"And they do give you advantages. They give you physical and psychological advantages. But if you need those advantages then you are a coward, you're a f*cking p*ssy, and you are a cheat, and the very fact that somebody would take steroids their entire career, then get their ass kicked, then call out CM Punk, I'm not surprised motherf*ckers. It's a simple as that and that just speaks volumes to the character and the level of a man that Vitor Belfort is. I wouldn't f*cking piss on him if he was on fire."
For what it's worth (Meltzer™), Belfort defeated Bisping in their last fight. Vitor Belfort emerged with a second round TKO victory in their 2013 tilt in Sao Paolo back when FX was pushed as a cable fight destination. Seeing as he's holding UFC gold, you could argue Bisping has had the last laugh, but losing in a vicious and damaging fashion to a fighter using testosterone replacement therapy still isn't sitting well with the Englishman. Please keep all of this in mind when the inevitable Belfort/Bisping Bellator clash happens three years from now.
(Via MMA Figthing)