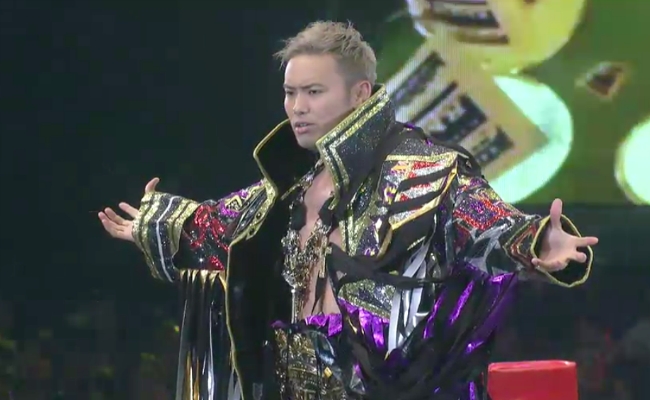 Between retaining the IWGP Heavyweight Championship this weekend at Wrestling Dontaku and preparing to face a gothed-up Chris Jericho at Dominion in June, Kazuchika Okada became the latest wrestler to throw the first pitch at a baseball game.
While the New Japan Pro Wrestling star sadly did not fight any mascots a la Johnny Gargano in Cleveland or Jushin Thunder Liger last summer or even slightly mess with one like Tetsuya Naito did in 2017, Okada added pro wrestling touches by wearing his full gear and bringing his championship belt to the pitcher's mound.

You can watch the video from the Fukuoka Yahuoko! Dome – the baseball stadium in the same city where Wrestling Dontaku took place and the home of the Fukuoka SoftBank Hawks – here:
The main takeaways from this are that it's almost off-putting to see the Rainmaker Pose done without the usual camera zoom and that it's pretty weird to see a man who's over six feet tall throw a pitch while wearing shiny short-shorts. Also, what a polite and upstanding, if slightly awkward, young man Kazuchika Okada seems to be! You can see why he's the face of the company – apart from, you know, being one of the best pro wrestlers in the world.