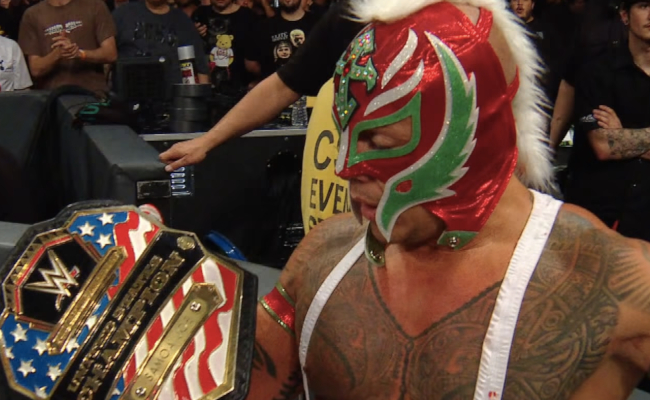 As you may recall, Rey Mysterio separated his left AC joint at Money in the Bank, and had to relinquish the United States Championship back to his opponent, Samoa Joe, so that Rey could take time off to heal. He also got Platelet Rich Plasma injections in the hope of speeding up his recovery. Now it looks like he's nearly ready to come back, and he's obviously feeling good about it.

In a recent appearance on the the Two Man Power Trip of Wrestling podcast, Rey had this to say (transcript by 411Mania):
I suffered a recent injury at "Money in the Bank" versus Samoa Joe. Unfortunate for me because it was a big step moving forward and especially at this stage in my career at being able to capture one of the last titles that was set on my bucket list (The United States Championship) and again very important that I had a separated left shoulder and that put me out of circulation and I've been out four weeks now. The separation and bruised AC joint which the Doctor had predicted anywhere from four to six weeks and of course four weeks closed out from my injury and my recovery is about 80% as we speak so I am hoping that in the next two weeks I can gain that other thirty that I have left and be back in the ring by the month of July.
As of today of course, it is July, but we don't know for certain how long ago the podcast was recorded. Hopefully Rey will be back at 110% (80 plus that other 30) soon, and won't be off TV much longer. What storyline he'll end up in now that Joe's in the main event scene and the US Championship is on Ricochet is up in the air, but I don't think anyone would object to another face-vs-face match between Rey and Ricochet in the meantime.