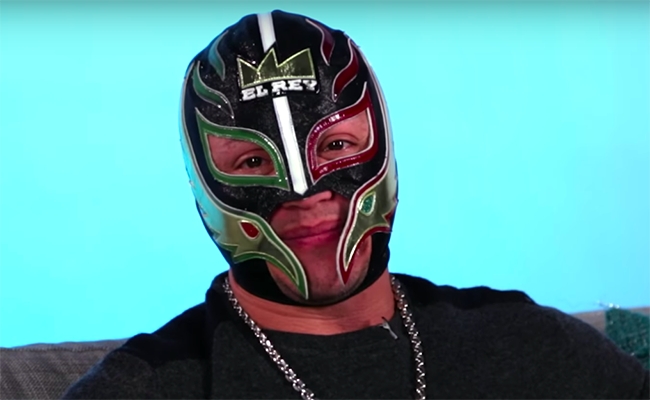 It may not be a stretch to say that Rey Mysterio intrigue is at an all-time high. After finishing up with Lucha Underground and opting not return for their just-wrapped fourth season, Mysterio made a surprise appearance at the Royal Rumble in January that thrilled WWE fans.
But even more thrilling was his announced match against Jushin Liger at New Japan's Strong Style Evolved in Long Beach in March. Although that match was unable to take place due to injury, Mysterio appeared in Long Beach and promised that he would follow in the footsteps of Chris Jericho and compete for New Japan at some point.
Still there continued to be rumors that Mysterio was gearing up for a WWE return, possibly on a short-term deal with a very light schedule. While we don't know if he's actually signed a deal yet, he has reportedly agreed to appear for WWE again in just a matter of weeks.

PWInsider reports that Mysterio will be included in WWE's Greatest Royal Rumble Network special in Saudi Arabia on April 27. Mysterio is likely to take part in the Royal Rumble match itself on that event, but there is no word as to whether a new contract between the two sides has been worked out.
The Greatest Royal Rumble continues to shape up to be something pretty special, given the Rumble match, the seven titles that will be defended, Triple H vs. John Cena, and just announced on Wednesday, Undertaker vs. Rusev in a Casket Match.
The current announced participants in the 50-man Royal Rumble match are Daniel Bryan, Kane, Big Show, Bray Wyatt, Braun Strowman, The New Day, Kurt Angle, Chris Jericho, Baron Corbin, Apollo, Shelton Benjamin, Sin Cara, Elias, Chad Gable, Goldust, Titus O'Neil, Mojo Rawley, and Dolph Ziggler. And now, reportedly, Rey Mysterio. This event isn't going to be lacking in star power, that's for sure.