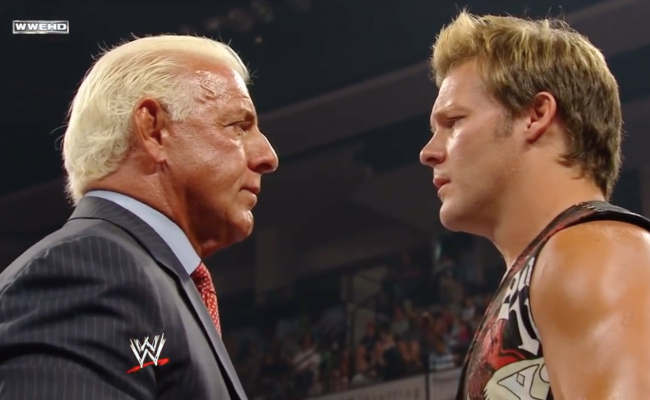 As you remember if you watched AEW's first PPV, Double Or Nothing, last month, Bret Hart made a surprise appearance to reveal the AEW Championship belt, and was part of a segment with MJF, Adam Page, Jimmy Havoc, and Jungly Boy, which set up a fourway match at last night's Fyter Fest. After the show, rumors circulated that Bret's role was originally meant to be for Ric Flair. Flair had been scheduled to be in Las Vegas that weekend for a Roast as part of Starrcast, but he ended up being unable to travel after having surgery earlier in the week.

Having Flair unveil the Title and put over All Elite Wrestling, especially considering the shadow of his late friend and wrestling rival Dusty Rhodes that hung over Double Or Nothing, considering the emotional match that happened between his two sons that night, would have been pretty cool. It's understandable that people bought into the rumor, and I'm not even saying it's definitely not true. Ric Flair, on the other hand, did exactly that. In an interview with Wrestling Inc, the Nature Boy was asked if there was truth to the rumor that he was originally scheduled to appear at Double Or Nothing.
No. Absolutely not. I heard that too and I've never discussed that with anybody. I'm flattered that I was under consideration but I was never approached for that deal.
However, Flair did watch the show, and despite his lack of familiarity with the members of the Elite who've never been in WWE, he really seems like he enjoyed it:
I thought it was great. I just saw Dustin in Austin, Texas a few weeks ago and I talked to both of them after the show. They were tremendous. I thought Chris Jericho was tremendous. I'd never seen the guy he worked against [Kenny Omega] and I'd never seen The Young Bucks. I'm told I did in TNA, but I don't remember them. But they lived up to everything I'd heard and more.

Then the surprise with Jon [Moxley] at the end, I thought they did a great job with that. They hit a home run. …If you are a young, aspiring wrestler you couldn't be in a better position than right now.
Flair also offered his opinion on Cody's controversial throne-smashing moment, which was a clear shot at Triple H. Old school wrestler that he is, Ric's reaction makes a lot of sense.
If you are going to make a statement, Hunter's a top guy. Hunter is a disciple of the business and could not have come along at a better time in wrestling than he did. Then of course marrying Stephanie and he's got a work ethic just like Vince has. In my mind, if something ever happens to Vince, God forbid, Hunter will be the one running the company.

So, that's how you get someone's attention. You jump on a guy. When they are talking about you, you're doing something good. That's a good saying in this business.
It says a lot about Ric Flair at this stage of his life that he basically says Triple H will run things "if" Vince ever dies, "god forbid." Here's hoping Flair's positive attitude aids his own health as well.