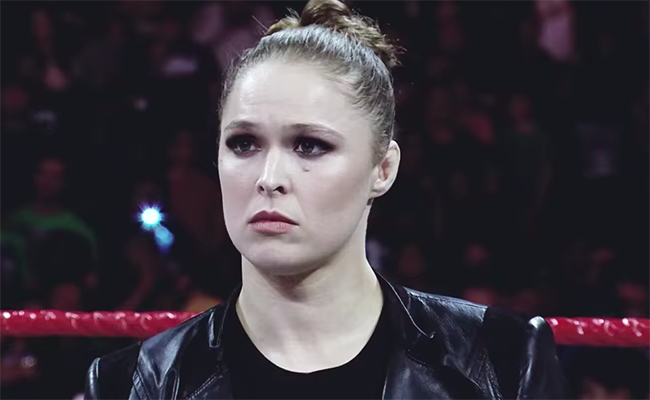 Now that her spot in WrestleMania is officially cemented in, the fans now know how many future episodes of WWE Raw to expect Ronda Rousey on. If fans were upset about the mega-part-time nature of Brock Lesnar, it doesn't look like Rowdy Ronda will be taking quite the same route as a special feature attraction.
WWE announced on Monday that Rousey will be making appearances on every episode of Raw from now until the "go-home" episode on April 2nd prior to WrestleMania 34. It stands to note that appearances can in fact mean multiple things, such as certain faceoffs via satellite, or a random five-second run in.
That said, it seems like a good shot in the arm for WWE programming to boast Rousey's appearance on Raw for every week leading up to Mania. The increased attention and likely higher ratings in a time where there may be a bidding war for for WWE programming can only drive the price up.
There are those reading this nonplussed at the idea of Rousey showing up weekly to promote her WrestleMania match. They can make the claim that someone under contract SHOULD be showing up to work every week, and they'd be right to point that out.
But considering that Rousey has proven to drive ratings in the past, and probably will continue to do so for the WWE. Rousey appearing on the flagship show for the WWE for the next month can only help the company, and in turn potentially lead to bigger things down the road. And again, it's not like Brock Lesnar is putting in this kind of workload.