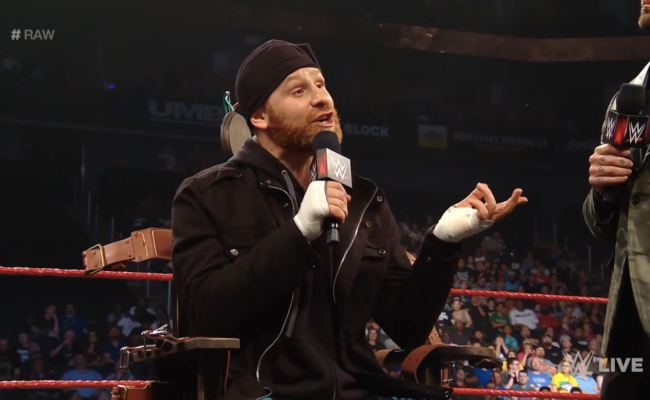 Last night on Raw, Sami Zayn did an audience Q&A segment called The Electric Chair, which for some reason involved sitting in a real(ish) electric chair in the middle of the ring while answering what appear to be actual (but well-screened) questions from the crowd. Then when Sami got heelishly fed up with the audience, he chided them for not asking better questions, and added, "You could have asked me about AEW!"

Interestingly, Wrestling Observer Radio was split on how this moment came about, with Dave Meltzer saying he had a backstage source telling him that the AEW namedrop was scripted by WWE, while Bryan Alvarez insisted that an equally reliable source told him that it wasn't scripted at all. As Meltzer said in that discussion, the real test of whether or not it was scripted will be whether or not Sami Zayn gets in trouble.
PWInsider stepped in later to add that according to multiple sources they have in WWE, the AEW line was definitely not in the script and was improvised by Zayn. Of course, it's entirely possible (perhaps even likely?) that this is an attempt by WWE to disown a poorly-planned moment that was originally scripted. Like Meltzer said, it's really all about whether Sami faces actual blowback (and getting "pulled from Super ShowDown" would not count).
Whatever the truth is, it definitely seems like WWE decided after the fact that they weren't comfortable with the reference to the new company, because they edited the moment out of their YouTube video of the segment:

It's also significant, whether it was his choice or not, that Sami Zayn was the one to mention AEW, since during a match at Double Or Nothing, Matt Jackson of the Young Bucks referenced El Generico, a red-bearded Luchador has some sort of connection to Zayn, and who disappeared right when Zayn signed with WWE:
Although it's obviously hard to confirm his identity, El Generico himself also apparently returned to Twitter the night of Double or Nothing to offer his dubiously worded blessing.
It's hard to say what a random namedrop of AEW actually accomplishes on Raw, aside from popping a crowd that had already been chanting those letters earlier in the show. That's probably why Meltzer's source in WWE creative (the one who said it was scripted) also said it was "so fucking stupid." Let's be honest, though, Raw is a collection of random and stupid creative decisions most weeks (and especially on holidays).