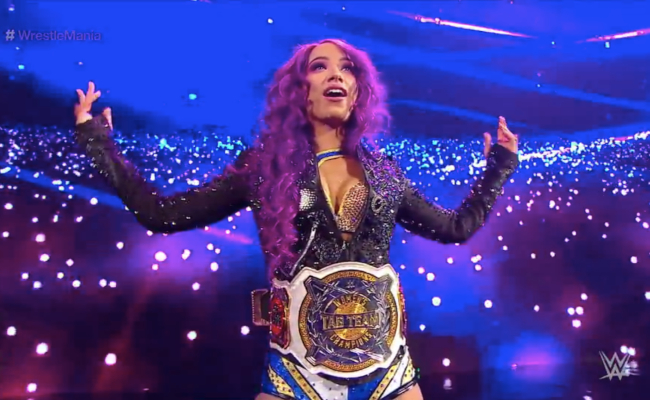 Just a couple of days ago we were all wondering what was up with Sasha Banks, who wasn't on the Raw after WrestleMania, canceled a talk show appearance for unspecified "personal reasons," and tweeted a message that was vague but seemed to contain doubts about her WWE career. Now we have some details, which come from the usual grain-of-salt sources, to be sure, but a lot of what's being said seems pretty believable.
Dave Meltzer at the Wrestling Observer Newsletter brings us this:

According to one person high up, Banks tried to quit over the weekend, as she felt blindsided in finding out at the last minute that they were taking the tag team titles from her and Bayley. She had thought that the two of them would be given a chance to have a strong run and bring credibility to the belts… Basically she has been given a few weeks to think things out before sticking to a choice the company believes may have been made as a rash decision.
Meltzer goes on to say that a second source confirms that she's been given time to decide if she wants to stay or go, but wouldn't confirm the reason for her unhappiness, although they did agree that she and Bayley would have learned they were going to lose very late in the game. A third source simply confirms that Banks was very unhappy about this.
Considering Bayley and Sasha had already promised to return and defend the belts at NXT, it's understandable that they were expecting more. After all, even if the IIconics do the same thing (which would be less in-character for them as heels), it just won't be the same as two of the most popular NXT alumni of all time doing it.

Someone on Reddit (I know, but bear with me) says that Sean Ross Stapp of Fightful.com claimed in a Q&A that Bayley is also extremely frustrated with this whole situation. That's easy to believe. Even if she didn't have the same initial reaction to the news, she and Sasha are close friends in real life, so how upset Sasha is must be that much more upsetting to Bayley.
Sasha isn't the only person who's considering options beyond WWE. The Wrestling Observer Newsletter has also said that All Elite Wrestling is a common topic backstage at NXT, and many people on the roster there are considering trying to change companies when their NXT contracts end, rather than get called up to a WWE roster where they don't have much faith they'll be well-used.