Previously on the Best and Worst of WCW Monday Nitro: Dennis Rodman returned, was in like eight segments, and accidentally burned a lady with a cigar. Don't worry, she pretended to like it. It was weird. Also, Carl Weathers and the bad guy from The Karate Kid joined nWo Actual Hollywood.
Click here to watch this week's episode on WWE Network and here to watch the pay-per-view that preceded it. You can catch up with all the previous episodes of WCW Monday Nitro on the Best and Worst of Nitro tag page and all the episodes of Thunder on the Best and Worst of Thunder. Follow along with the competition here.
Remember, if you want us to keep writing 20-year-old WCW jokes, click the share buttons and spread the column around. If you don't tell them how much you like these, nobody's going to read them. We're almost to the Georgia Dome Nitro, which is the unofficial point of no return.
Up first, let's see what happened at the Bash.
Before We Begin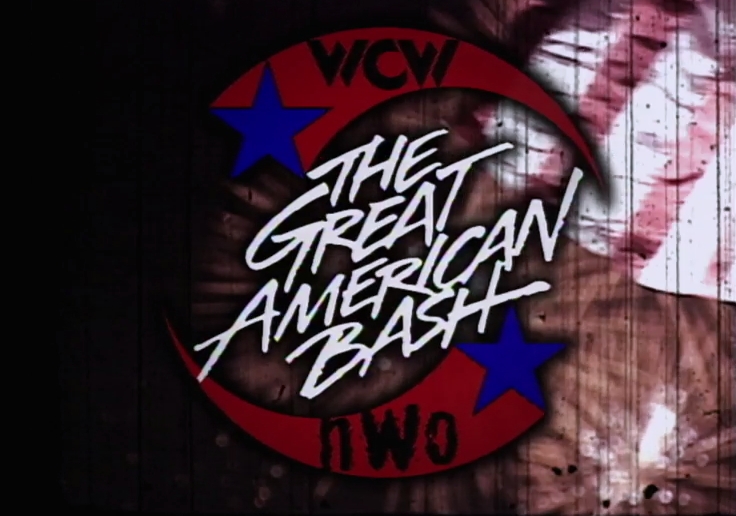 Here's everything you need to know about WCW/nWo Great American Bash '98, which is like the Conservative Political Action Conference with more realistic people and coherent promos.
Surprise! Curt Hennig Betrayed The Wolfpac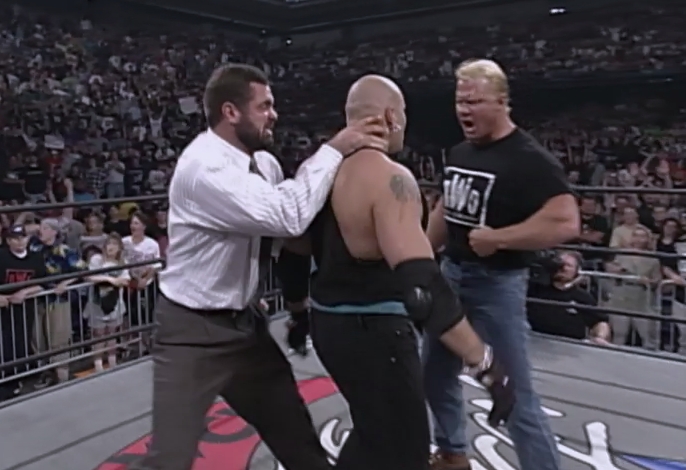 On the October 21, 1996, edition of Monday Night Raw, Curt Hennig betrayed 'Wildman' Marc Mero (after helping him win the Intercontinental Championship) so Triple H could become champion, then almost immediately left the company. At WCW Bash at the Beach 97, Diamond Dallas Page needed a tag team partner and was like, "this heel who is friends with the heels and is making no clear statement about his allegiances in WCW is someone I could trust," only for Hennig to betray him and walk out on the match. The Four Horsemen start courting him, thinking that this heel who is friends with the heels and betrayed the last two people to trust him would make a good teammate. He betrays them at Fall Brawl '97, joining the nWo and smashing Ric Flair's head in a cage door. On the May 4, 1998, edition of Nitro, Hennig betrays the nWo black and white and joins the Wolfpac.
He's probably going to be a really good friend to the Wolfpac, right?
Hennig is supposed to be William Scott Goldberg's 100th opponent at the Great American Bash, but comes up with an injury and is forced to sub-in Konnan. K-Dogg lasts about two minutes with Goldberg, takes the shittiest spear you've ever seen, and loses. Ariba Ya Pasta indeed. Hennig and Rude then start beating up Konnan, and Hennig tears off his Wolfpac shirt to reveal the black and white version underneath. He's been a double agent all this time, and the injury was just a swerve to get the least threatening member of the Wolfpac beaten up!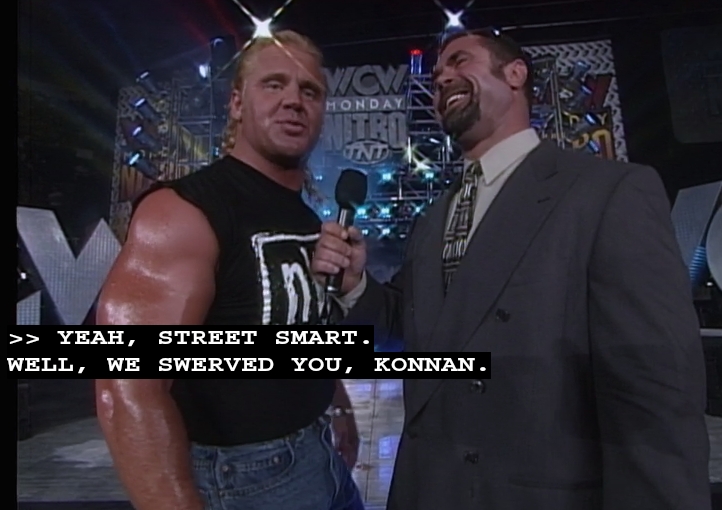 WHAT A SHOCKING SURPRISE, AW NUTS, WE'RE OUT OF TIME-
Booker T Is The New Television Champion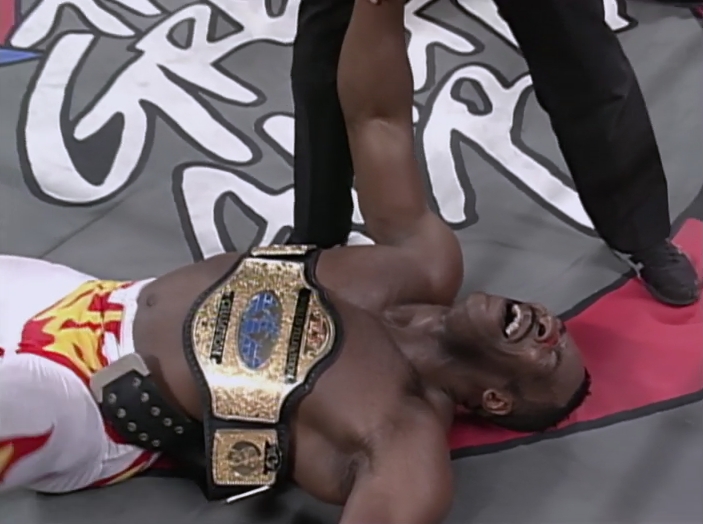 The best of seven series between Chris Benoit and Booker T to determine a new number one contender to the Television Championship was tied 3-3 heading into Thunder. Bret Hart randomly showed up and blasted Booker with a chair to give Benoit the win, but Benoit refused; he explained what happened to the referee and got himself disqualified, giving the series to Booker. It's what babyfaces did back in the day before every wrestling character had to be a cool guy who doesn't care about anything.
Impressed by his integrity, Booker petitions James J. Dillon (against Stevie Ray's wishes) to let them re-do the match at the Great American Bash, with the winner moving on to face Fitness Finlay for the strap later in the show. The match is great, but the WCW fates are always, always against Benoit, and he loses to a missile dropkick. Booker moves on to face Finlay later in the show, and wins after a botched series of attempted piledrivers so embarrassing I couldn't even GIF them without feeling bad. But hey, Booker T is your new Television Champion.

Randy Savage Took Two Embarrassing Losses In A Row
First of all, WCW gave that sign a long close-up and I'm 99% sure they didn't understand it.
Second of all, Macho Man Randy Savage submitted to Bret Hart's Sharpshooter, costing his team the big grudge match against the New World Order. Going into the match, Piper and Savage had agreed to face each other one-on-one when it was over, but Piper saw Savage's already injured knee was even more injured, and tried to help him up. Savage, having no prefrontal cortex and maintaining sentience solely through Fight Or Flight, clotheslines Piper in the throat.
So they have a match, and Piper quickly wins with the figure-four. The time between falls is about 90 seconds. Savage not only lost, he lost twice, both times by submission, in less time than it took Goldberg to beat Konnan. If you're keeping score at home, that's brings the lifetime score between Hulk Hogan and Randy Savage to about a billion to two.
Sting, By Himself, Is The Tag Team Champions
Sting and the Giant teamed up to win the WCW Tag Team Championship when nWo Hollywood Scott Hall swerved his own tag team partner, nWo Wolfpac Kevin Nash. But whoops … Giant is nWo Hollywood and Sting is nWo Wolfpac now, so they're having the same issue. Giant tried to assume ownership of the belts and award one to nWo Hollywood Brian Adams, but they immediately lost a title match to nWo Wolfpac Lex Luger and Diamond Dallas Page, who is affiliated with neither nWo branch. Trust me, this'll all not make sense later.
WCW decided that the nWo has no right to pick and choose who is one half of the tag team champions, so Sting vs. The Giant was signed for the Great American Bash. The winner of this singles match would become the Tag Team Champions, and whichever partner they picked would be the other half. Which, you know, started the whole thing. Giant is so nonplussed about this that he shows up to the ring smoking a cigarette, and Sting just shit-kicks and pins him after three Scorpion Death Drops. Even the wrestlers themselves have stopped being interested in WCW pay-per-view main events, so that's probably a good sign.
Also a good sign:
And now, the Best and Worst of WCW Monday Nitro for June 15, 1998.
Welcome To New York, Welcome To New York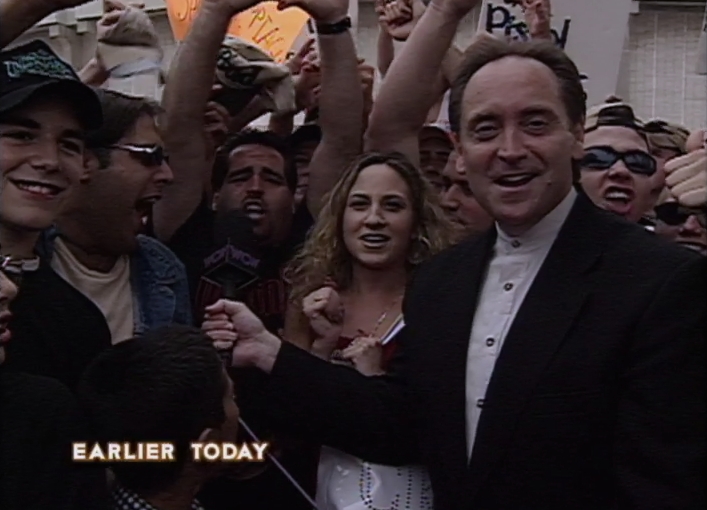 If you've been watching Raw and wondering why the WWF's been giving WCW the full court press, it's because the June 15 Nitro comes to us live (20 years ago, on tape, on the Internet), from the World Wrestling Federation's "home," New York. This is a big deal if you're Vince McMahon and presumably no one else, especially considering Nitro's at the Nassau Coliseum in Uniondale, which is a solid 45 minutes from Madison Square Garden. It'd be like someone "taking over Cleveland" by running in Akron.
Regardless, every former WWF guy on the roster gets promo time to tell the crowd how happy they are to be BACK IN THE BIG APPLE. Hogan, Piper, and Savage all get extended, "remember us from the other thing you like," time. WCW even sends android color commentator Data out into the parking lot to ask fans the important questions, such as, "is New York ready for Monday Nitro?" The fans explain that yes, New York is ready for Nitro, and also that, and I'm paraphrasing here, "woo."
But don't worry, the geographical butt-kissing doesn't stop there! Here are two notable Philadelphians repping the New York Islanders from that brief period when they used the cartoon fisherman's color scheme without the cartoon fisherman.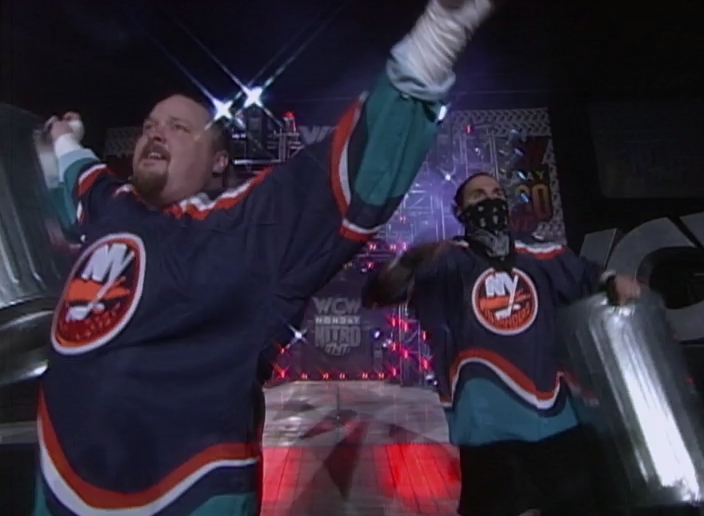 Best/Worst: It's That One Hardcore Match They Do!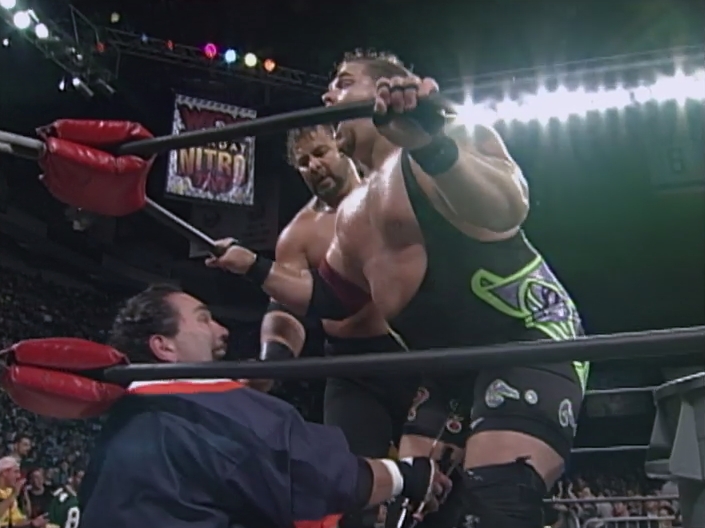 The only time Public Enemy, The Barbarian, and Hugh Morrus seem to get on Nitro is when they have this one hardcore match with each other, so here they are doing it again. If you can't tell what's going on in that picture, it's Flyboy Rocco Rock smashing Morrus' huge erection with tongs. It's what I like to call the Tongin' Death Grip.
It's fun to open Nitro with a bunch of weird looking guys smashing each other in the head with shit, but it's all the same spots. Rocco going into a garbage can head first, lots of really flimsy aluminum cooking pans to the head, Jimmy Hart getting involved, and a big ridiculous table spot you have to be on mushrooms while playing Mouse Trap to think is a logical progression of action:
Public Enemy wins when the referee decides Barbarian's shoulders are on the ground somewhere on the floor, whether they are or not.
Best: Fit Finlay In Singles Action!
With Booker T as the new Television Champion, it makes sense that the following Nitro would feature a match between the former champion, Fit Finlay, and the guy who just wrestled eight matches trying to get a title shot, Chris Benoit. Benoit and Finlay is always a fun match, as Finlay "loves to fight" and Benoit isn't really wrestling unless he's taking dangerous blows to his brains.
Benoit wins and calls out Booker for a show of respect, shaking his hand at crotch level like he's the protagonist of Rembrandt's The Night Watch, and tells him that if he ever needs a good man in his corner, he'll be there for him. Booker T appreciates that, because he's a Good Dude. Stevie Ray doesn't, because Booker already has a good man in his corner, and fulfills the ongoing prophecy of Benoit by putting the boots to him.
This sets up a Harlem Heat reunion for later in the show, but-
Tenay: "That's Mongo!"
Zbyszko: [screaming] "MONGO LIVES!"
Two things; I want to make a WWE Studios film about a football playing Frankenstein called Mongo Lives, and the best part of that GIF is Original King Of Comedy Stevie Ray selling Mongo's attack without losing his hat. That's some Super Calo dedication to accessorizing.
But yes, site favorite Steve 'Mongo' McMichael is back, sans Pepe, and Benoit makes his allegiances clear; he's not nWo Hollywood, he's not nWo Wolfpac, he's [raises four fingers] ["we want Flair" chant intensifies]. This still managed to pop me 20 years later, and I really hope they ask Curt Hennig to be their third member.
Worst: The New Beginning In Uniondale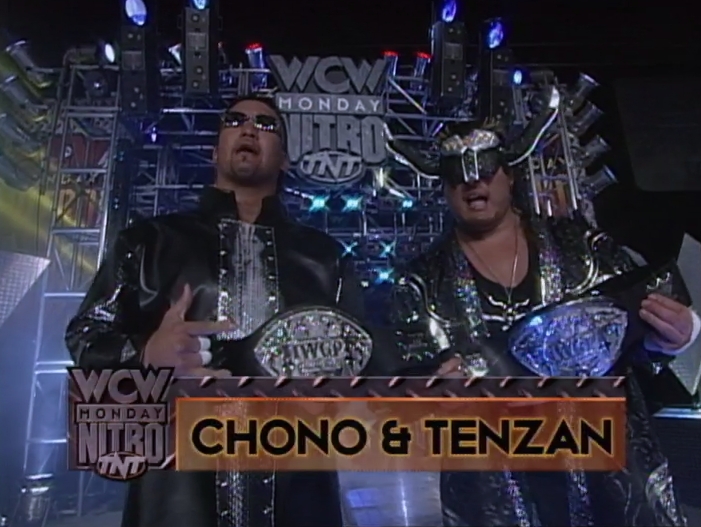 Hey look, it's the IWGP Tag Team Championship on Nitro!
The New Japan tag titles have been going through a lot of the same problem as WCW's, as the former champions, Masahiro Chono and Keiji Mutoh of the spectacularly named 'nWo Typhoon 1997,' were forced to vacate the championship due to Mutoh having knee surgery. That allowed Cho-Ten to reunite and go over Genichiro Tenryu and Shiro Koshinaka to win a title tournament, effectively meaning Chono won the tag titles from Chono.
Any joy you might've sparked from seeing the IWGP tag titles on Nitro is immediately thrown out by the fact that they're wrestling High Voltage in a match so bad Nitro goes to commercial in the middle of it. I don't think Nitro's EVER done that before.
Fun note: Recent IWGP Tag Team Champions Evil and Sanada were 11 and 10 years old respectively when this match happened. Nick Jackson of the Young Bucks was 8! And even though he's never been in New Japan, I need to mention that the Velveteen Dream was two years old here and that I am the oldest person in history.
Best: Flock Of Rages
Kanyon, seen here trying to reverse birth himself into Flock member Sick Boy, has had a big couple of days.
Raven was supposed to have a match with him at the Great American Bash, but once again subbed-in his "friend" — and definitely not his flannel-and-jorts posse crony — Perry Saturn. After a match that involves a very confusing run-in sequence from two different people dressed as a hairless Mortis, one attempting to cheat on behalf of each guy in the match, Kanyon wins. Raven, upset by literally all of this and dressed like Mortis, brings out the Flock to kick Saturn's ass. Saturn and Kanyon are about to become good friends thanks to their mutual hatred of the Flock, which is very good for WCW's tag team division.
Highlights of this match include the debut of Kanyon's Flatliner taunt where he looks like he's auditioning for a boy band, and a look that can only be described as Lodi Safari.
Worst: The Dungeon Of Depression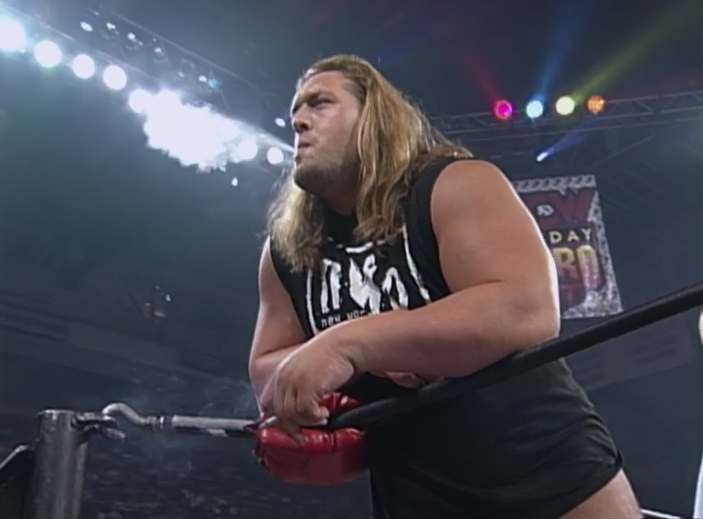 The Giant continues his tour of flavor country by wrestling Gentleman Chris Adams, and he's so disinterested that he just stands in the corner with his back to the ring, smoking. Adams keeps trying to start the match, so Giant just chokeslams him like it's nothing, pins him with his foot on his chest, and nonchalantly leaves. Cool?
Sorry, Kool?
Worst: Bob Costas Ruins WCW's Big Surprise
Diamond Dallas Page has recruited Karl Malone of the Utah Jazz to team with him in a match against Hollywood Hogan and Dennis Rodman. Nitro might've had a segment about it instead of just showing a still-frame shot of Malone, except that Bob Costas spilled the beans on the live broadcast of the NBA Finals. Whoops! Between this and the HBO interview with Vince McMahon in 2001, Costas was a real heel to the pro wresting business. I'm surprised WWE never tried to bring him in as a general manager.
Best: Sting Makes A Good Decision, For Once
Now that Sting is the Tag Team Champions, he's allowed to choose a partner to help him defend them against Harlem Heat. He's a member of the nWo Wolfpac, so he's (presumably) limited to choosing one of them. His options include:
Lex Luger, who the announce team refers to as "the man he trusts most," despite the fact that Luger is neck and neck with Ric Flair in the Most Sting Betrayals category
Macho Man Randy Savage, who betrayed him three months ago and won the Heavyweight Championship from him
Kevin Nash, who helped Savage win the title from him by powerbombing him at Spring Stampede
Curt Hennig, who just "put the swerve" on the Wolfpac last night
Konnan
Not a great selection. Sting ultimately chooses Nash, who at least showed up with a curtain rod to protect him from The Giant when Sting refused to join nWo Hollywood, and now they're the Tag Team Champions.
They get a big win over a reunited Harlem Heat when Stevie Ray hits the first successful wrestling move he's done in like two years on Sting, starts crotch-chopping at Nash for some reason, and gets hit with a Scorpion Death Drop. Ray drops below Mongo in the Battle Of The Steves.
Best: The Hauls Of Jericho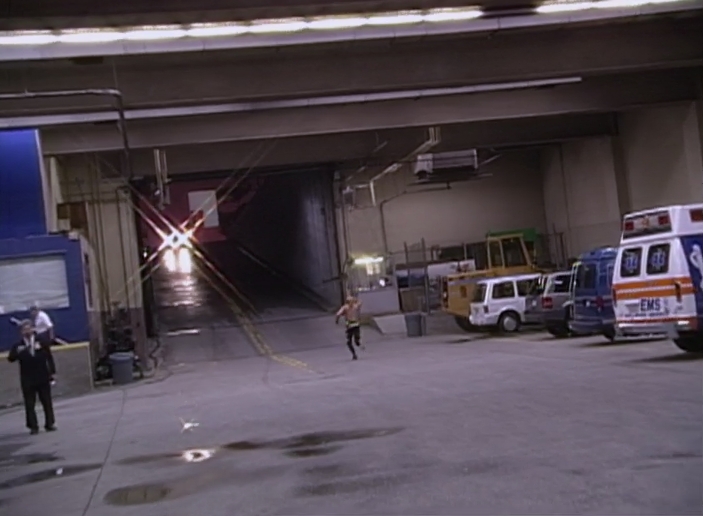 On the Thunder before the Great American Bash, Dean Malenko agreed to give the Cruiserweight Championship to Chris Jericho in an attempt to get him into the ring at the Bash. J.J. Dillon agreed, but instead decided to vacate the championship, and only award it to Jericho if he was willing to face and able to defeat Malenko. Jericho agreed (partially after a brow-beating from his father, Ted Irvine), but once again made the mistake of insulting the "dead memory of Dean's dead father" and got chased out of the arena. Literally. He almost got hit by a car running across the street and escaping into a nearby building.
On Nitro, Dillon announces that while the belt normally wouldn't change hands on a disqualification, there had to be a championship winner at the Bash, and therefore Chris Jericho was once again Cruiserweight Champion. Jericho wanders out singing 'We Are The Champions,' allowing Mean Gene to get in some great burns about Freddie Mercury "flipping in his box." Wait until you see Bohemian Rhapsody and Rami Malek's prosthetic teeth!
Malenko's response, of course, is to punch him in the back of the head and kick his ass out of the arena again. There are honestly few things funnier than Jericho running away with his hands over his head like Kermit the Frog and trying to flag down cars so he can escape.
Worst: Jokes That Age Well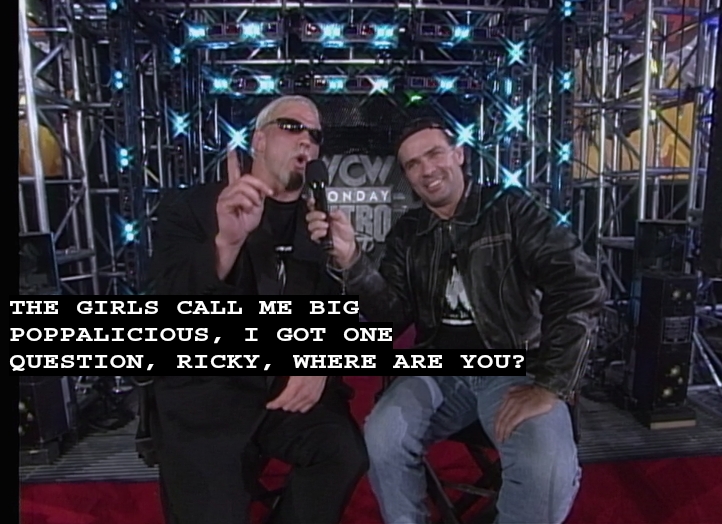 Scott Steiner is still trying to make "acting" his gimmick instead of the eventual goldmine of "insanity and working out," so he appears on a pre-Crisis version of 83 Weeks to tell Eric Bischoff he's a thespian. Because it's 1998, this exchange happens:
"I'm out in LA, where all the great thespians are. You do know what a thespian is, right?"
"I'm not your brother, I know what a thespian is … it's got nothing to do with Ellen DeGeneres!"
Not that there's anything wrong with that~!
Worst: Diamond Dallas Cage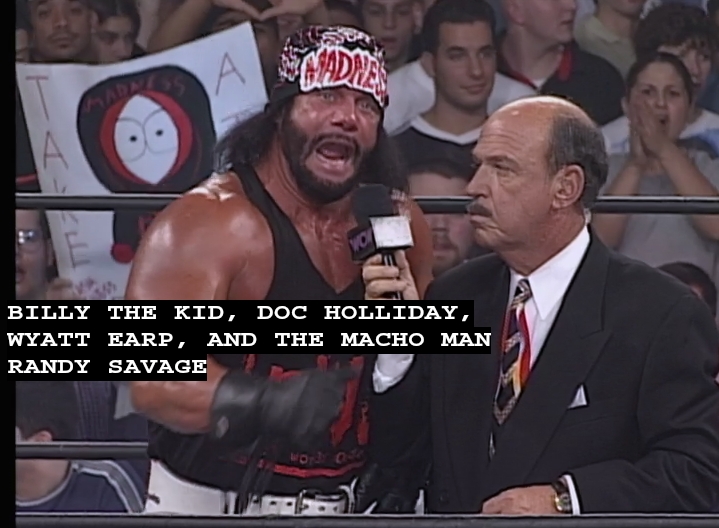 Macho Man Randy Savage lost a match to Bret Hart at Great American Bash, then lost another match to Rowdy Roddy Piper a minute and a half later, so of course he shows up to Nitro making demands about the main event. He's still upset that his Wolfpac friends tried to let Diamond Dallas Page join the group with his approval, and despite the fact that (1) he should really be focusing on all the people who made him look like a piece of shit last night, and (2) Diamond Dallas Page is already actively trying to start a feud with Hulk Hogan and got beaten down by Dennis Rodman last week, Savage organizes a steel cage match.
As a quick note, this is the Nitro that aired opposite the June 15 episode of Raw, which just so happened to be the WWE TV debut of the Hell in a Cell cage. I'm not sure if WCW heard that WWF was running a cage match and decided to run one themselves or vice versa, but the cage Savage and Page end up wrestling in has a roof on it for some reason, so I'm gonna say WCW tried to swagger jack Vince's big cage.
Two notes:
Michael Buffer doing his wordy-ass introductions inside a steel cage is really funny for some reason, especially when he won't stop talking about Macho Man's "anything goes, over the top style!"
Sometimes WCW Commissioner Rowdy Roddy Piper only approves the match if he gets to be the special guest referee, which seems like a terrible idea, but what do I know? He declares that grandma (?) will have to bring the refrigerator into the living room (??) and "get set to sweat." I'm guessing it's no coincidence that Mongo returned and people are suddenly ordering around grandma again.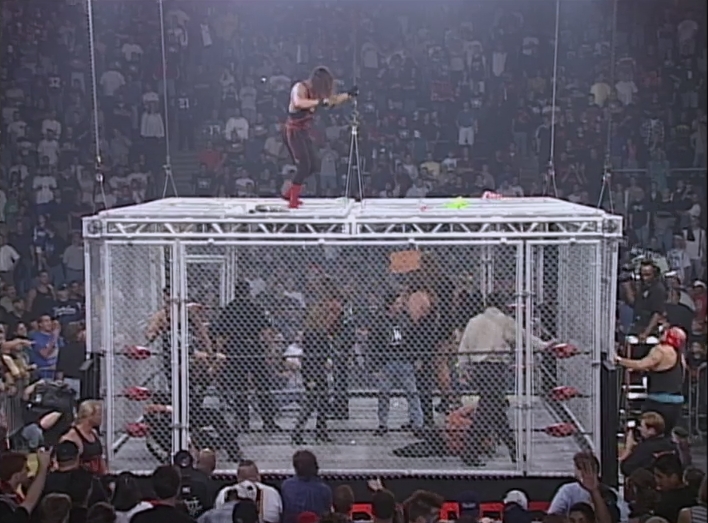 If this is your first-ever episode of Nitro and you can't guess how the match ends, Piper ends up fighting both of the match participants until nWo Hollywood raises the cage, fills the ring with nWo guys, and lowers it so they can have a 5-minute uninterrupted mass beatdown.
The Wolfpac runs out and climbs all over the cage, but it doesn't do anything. Savage gets his knee re-re-re-injured, Page and Piper got get beaten to a pulp, and it's not until the final seconds that Nash figures out where the big comical button that controls the cage is and saves the day.
We don't get to see any of the payoff, though, because aw nuts, fans, we are actually out of time.
Next Week: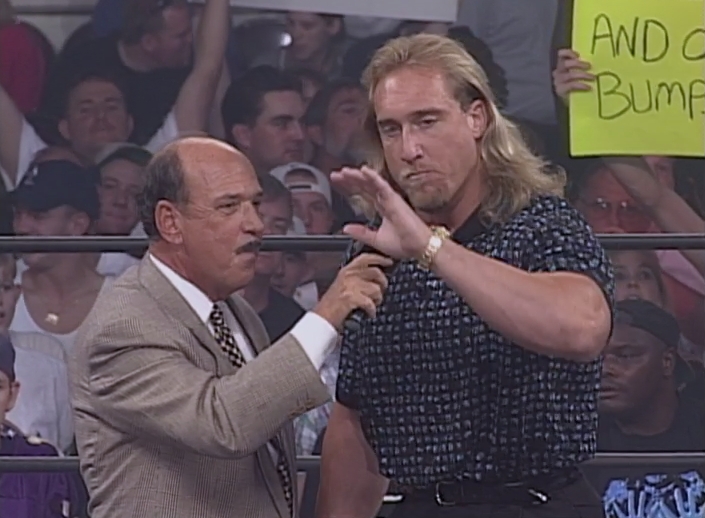 Kevin Greene returns, because we need even MORE guys from other sports on the show
Rick Fuller gets a well-deserved United States Championship match
a Bret Hart vs. Chris Benoit match everybody wanted to see
a Mongo vs. Stevie Ray match everyone didn't
Sting interviews a blow-up doll
And more! Or less, I guess?