Page's argument is that while Dennis Rodman is a great businessman and showman, Karl Malone is one of the hardest working men he's ever met, so when they meet in a wrestling ring, Rodman's a "dead man." They're gonna get hungry and leave no man untested!
Hogan's response, which of course comes an hour later and is like 15 minutes longer, brings back a gem of a Hogan insult from 1997: DD-Pee-Pee. Only instead of "DD-Pee-Pee," it's "DDP, the little pee-pee."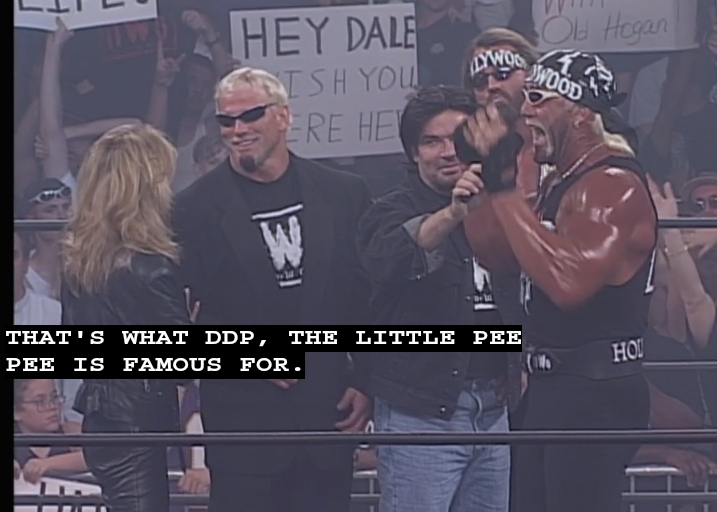 "Diamond Dallas Page! You know what he's famous for? He's famous for his wife being in Playboy, he's famous for his wife being the leader of the Nitro Girls, and he's famous for taking the garbage out and washing the dishes, that's what DDP, the little pee-pee, is famous for! Now as far as Karl Malone goes, he's famous for being the biggest loser to ever get in the playoff and having his butt kicked!"
He accentuates this by pointing at his dick with both index fingers, somehow ruining crotch-chopping for everyone.
My favorite WCW faction from 1998 is Crotch Point.
Hollywood Hogan promos from this era are brutal to get through. I can't deny his genre-defining work from the '80s, wherein he helped popularize the idea that wrestling promos should be Confidently Screamed Insanity, but in 1998 he's just growl-breathing through whichever nouns and adjectives he can remember between "you know something," and "the nWo and Hollywood are just, too, [pause for "sweet"]." He looks and sounds like Krusty the Clown's voice acting.
At least now we know who wrote all the intros for Superstars.
Worst: Greene With Envy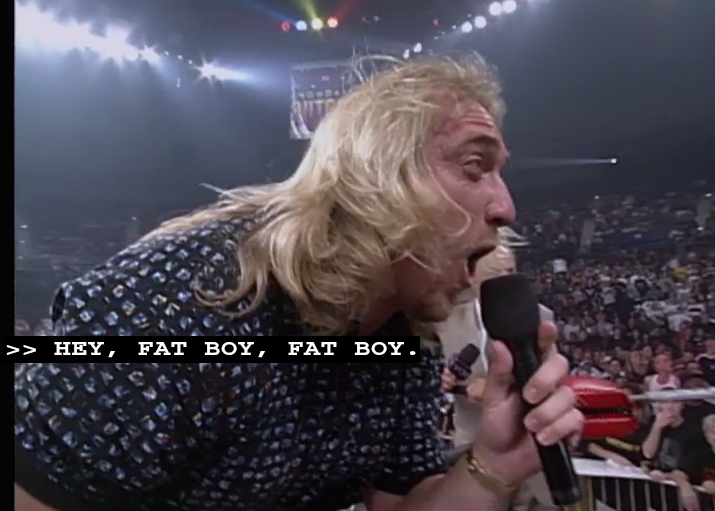 Also appearing on this week's program from another more popular sport is Mean Kevin Greene, the "Sackmaster" of WCW's Dungeon of Downs. They're doing that thing they used to do with Mongo where they'd have him try to cut babyface promos in towns with football teams that hate him, so Greene's standing in the ring in Jacksonville talking about how he's going to do everything he can to make sure the Carolina Panthers win. So many boos. He sucks up to them by putting over Mark Brunell, and notes that coming to Jacksonville is difficult, because the crowd comes.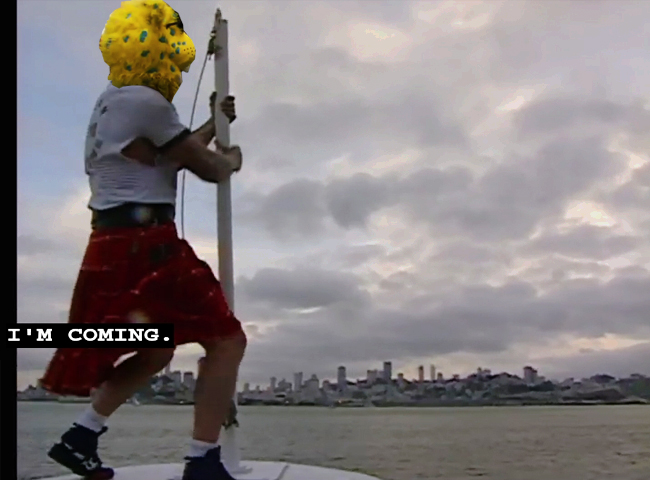 Possibly because they're jacked and getting banged, that's unconfirmed.
Anyway, Greene's promo (in a shirt that looks like The Architect from The Matrix's office walls) gets interrupted by Curt Hennig and Rick Rude, who are just there to distract him from a 500-pound smoky Giant sneak-attack. Greene recovers from the attack enough to yell "FAT BOY" down the ramp a few times as the Giant's leaving, and hollers the loud funny way, "where you punks goin'? That the way you guys operate, you stick me and you bail, you frickin' punks!" When will they learn that their actions have consequences?