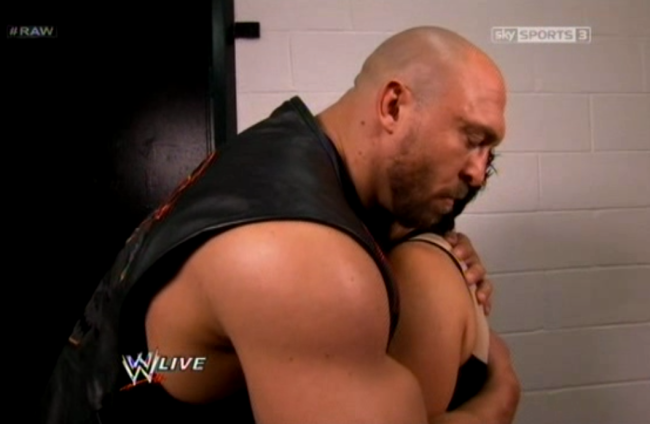 The story of The Ryback is a complicated one. Earlier this week, news broke that the former Intercontinental Champion was sent home and would be off WWE TV going forward due to a contract dispute. The Big Guy took to Tumblr to explain himself, and to voice concerns about how WWE Superstars are paid and portrayed on television. If wrestling's not real and WWE decides who wins or loses, why do people get paid more? If it's the job of someone who's losing to make the winner look like a million bucks, why's the loser getting such a small fraction?
Due to a lot of reasons including "wanting to keep their jobs," there haven't been a lot of Ryback's fellow wrestlers speaking up on his behalf. In fact, public support for The Big Guy has come from some unlikely places, including Lucha Underground star Cage.
Whenever it looks like a WWE star is leaving the promotion, fans begin fantasy booking where they want that star to go and who they'd like to see them face (or team up with). Given Ryback's look, Cage's name comes up a lot. Cage did a little research — I guess he's not up on WWE Kickoff shows — and had this response:
In terms of fellow contracted WWE employees, you can name the stars who've spoken up for Ryback on one hand. Especially if that hand is waving Gurl Bye.
So that's where we stand at the moment. In lieu of support, please consider how great it'd be to finally have Wade Barrett, Justin Gabriel, Michael Tarver, and Ryback on the independent circuit at the same time. And hey, maybe Daniel Bryan will get healed up again someday. All we need now is for David Otunga to finally get cut loose, and for that "Make Darren Great Again" gimmick to bomb. In this scenario, we assume that Heath Slater will be employed forever.
Where do you stand on the Ryback issue? Let us know in our comments section below.
In our comments section, Dave.