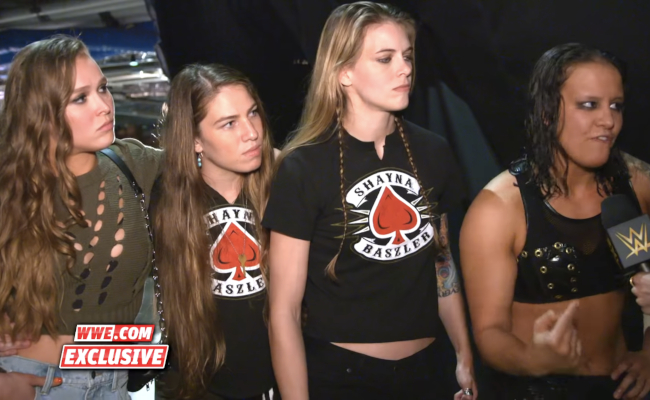 Ever since an encounter during the first Mae Young Classic in 2017, there have been hints at a feud leading to a match between the Four Horsewomen of WWE (Charlotte Flair, Becky Lynch, Sasha Banks, and Bayley) and the Four Horsewomen of MMA (Ronda Rousey, Shayna Baszler, Marina Shafir, and Jessamyn Duke). When Duke and Shafir joined NXT last year, with Rousey and Baszler already in the company, it began to seem more likely. And then after fighting Sasha Banks at the Royal Rumble last weekend, Ronda Rousey seemed to imply the feud was imminent. In a backstage promo, she called the use of the Four Horsewomen name her only point of contention with Sasha, claiming that her Horsewomen were more legit while the Horsewomen of NXT of just used the name for marketing.

However, it's difficult to foresee this angle happening anytime soon. Charlotte Flair and Becky Lynch are currently enemies, and Sasha Banks and Bayley are likely to be pretty busy once the women's tag team division gets going at Elimination Chamber. Meanwhile Marina Shafir and Jessamyn Duke are just having their first few matches on NXT TV, and it seems like they need a lot of practice before they're ready for a main roster feud. Sure enough, Dave Meltzer has weighed in, reporting on Wrestling Observer Radio that WWE has no immediate plans to pit the two quartets against each other, and certainly not before WrestleMania (h/t to Ringside News):
Ronda actually cut a promo about the Horsewomen vs Horsewomen match. It was actually a good promo too. Right now as far as between now and WrestleMania there is no plans for that. It can change, but there's nothing now you know so I had asked specifically.

I said, 'it looks like they're going that direction' and Sasha really, really wants that especially and Ronda's not opposed to it. You know those are her real friends, but it's not in the cards the next two pay-per-views right now. It can change, but anyway.
It's certainly possible the feud will still happen, but with the constant churn that is the wrestling business, it's probably not going to get easier. Becky and Charlotte will be allies again sooner or later, but by then Bayley and Sasha may be feuding in the aftermath of a tag team breakup. When Shayna comes up from NXT, for that matter, it will be hard to resist putting her against Ronda. Also, there are still those rumors that Ronda wants to leave and start a family before long, and who knows if Marina and Jessamyn will be ready before she's gone.