In previous editions of our Job Opportunities column we've focused on wrestling stars — be they from WWE, WCW, NXT, or some combination of the three — who got their start as "jobbers," or "enhancement talent," on TV.
For this week's column, we want to switch gears and take a look at future pro wrestling stars who made early appearances on television not in the ring, necessarily, but in "extras" roles. That includes suspiciously indie-wrestler-looking security teams, police officers, big entrance props, or otherwise. You'd be surprised how many people you'd recognize got their starts like this, and that's not counting the dozens who played Undertaker druids with their faces covered, or dressed up like spooky skeletons for a Triple H WrestleMania entrance.
So here are ten (plus) wrestling stars who got their start as extras. Make sure to drop down into our comments section below to let us know which appearances you remember, and any big ones we might've missed.
Diamond Dallas Page, Chauffer
It's hard to recognize him, but yes, that's future WWE Hall of Famer and three-time WCW World Heavyweight Champion Diamond Dallas Page driving the Honky Tonk Man, Jimmy Hart, Greg Valentine, and some sock-hop ladies to the ring in a pink Cadillac at WrestleMania VI. That was his Cadillac, by the way, and he credits "having the right car" for getting him a spot at WrestleMania years before he became a superstar.
Future stars popping up as extras in WrestleMania entrances has become a time-honored tradition at this point, and we'll only be able to scratch the surface … but let's make sure to include a couple you might be thinking of off the top of your head.
CM Punk, Chicago Gangster
Before defeating him for the WWE Championship at Money in the Bank 2011 and blowing a kiss to Vince McMahon in one of the most iconic moments of the decade, CM Punk was one of John Cena's faux gangsters for his WrestleMania 22 entrance in Chicago. If you're having trouble spotting him, he's the one that absolutely does not look like a Chicago gangster from the 1930s.
You've gotta love the entrance aesthetic of a bunch of cartoon gangsters creeping around the ring with Tommy guns like they're trying to avoid being seen. At least Cena gets to shoot his fake gun. Punk would end up qualifying for the Money in the Bank ladder match at WrestleMania 23 a year later, and would qualify again and win the match at WrestleMania 24. From there it was all uphill, and nobody could ask him to ride side-car on an old-timey gangster mobile again.
Sasha Banks, Alexa Bliss, and Charlotte Flair, Conan Admirers
While Punk had the most memorable WrestleMania entrance cameo of the (roaring) 20s, the most memorable cameo from WrestleMania's 30s has to be NXT stars Alexa Bliss, Sasha Banks, and Charlotte Flair fawning over Conan The Destroyer, Triple H, at WrestleMania 30. It's still one of the best WrestleMania entrances ever, especially since all the dramatic music and ridiculous pomp and circumstance contrasted brilliant with Daniel Bryan's simplicity and minimalism.
It's also gotta be the most decorated WrestleMania entrance ever (not counting the entire NXT roster playing skeletons a few years later, I guess) as it includes 2 NXT and 19 main roster championships among the barbarian girls. Also great: Charlotte Flair turning this entrance on its head at WrestleMania 34 and assuming the role of Conan for herself.
Jon Moxley, Druid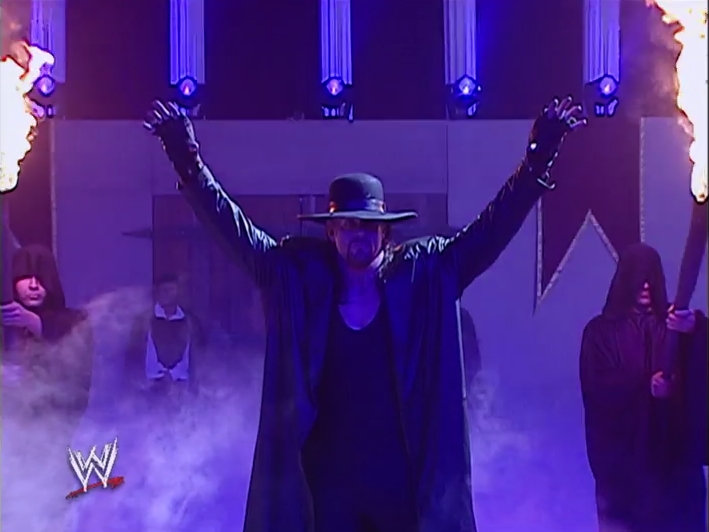 It's hard to spot most Undertaker druid cameos, but it's easy to find Jon Moxley (the former Dean Ambrose) during Undertaker's surprise appearance at the end of the 2006 Royal Rumble. Taker shows up riding a chariot pulled by a pale horse to destroy Kurt Angle's celebration with lightning — some subtle symbolism — and yep, there's Mox bearing a torch to Taker's right.
Seven years later, the two would go one-on-one on the April 26, 2013, edition of Smackdown in one of Taker's last televised matches on weekly TV as a regular. Maybe one day we'll wonder what Mean Mark the Reaper is doing in the All Elite zone? (Probably not.)
The Young Bucks, D-Generation Me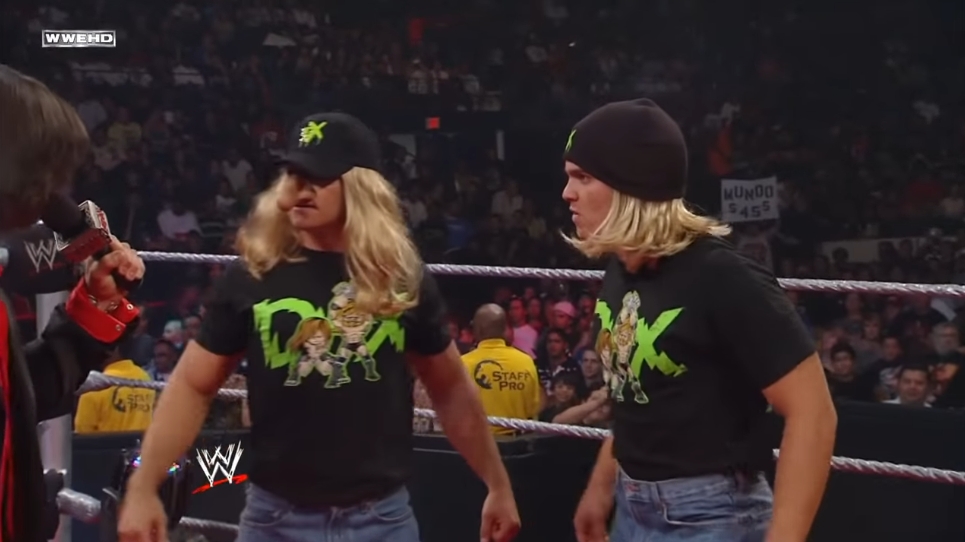 We've already touched on Matt Jackson of The Young Bucks being on enhancement duty on various WWE shows, but the best appearance of the Bucks on the fed's payroll has to be their spot on this 2008 edition of ECW. WWECW, if you're nasty.
On it, the Bucks play parody versions of D-Generation X so John Morrison and the fedora-wearing version of The Miz can make fun of and beat them up. The moment you're gonna want to see happens when Morrison assures them that The Dirt Sheet isn't about lame attempts at humor. "We don't do fart jokes, or tired catchphrases. We are THE ELITE of THE ELITES."
Elite, you say?
Shawn Spears, "Stan"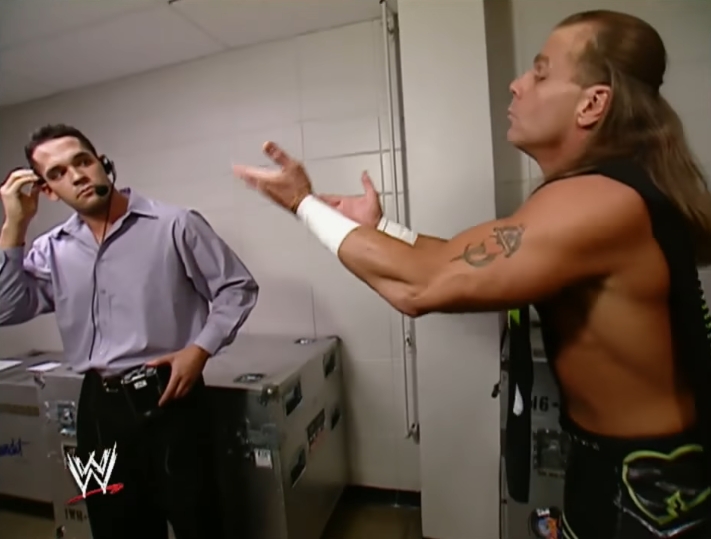 If you remember the PG old man version of D-Generation X from the mid-2000s, you probably remember this segment from Cyber Sunday 2006 featuring "Stan," a mild-mannered production assistant who gets superkicked in the face by Shawn Michaels.
Continuing our AEW lean in this week's column, you also probably recognize Stan as Shawn Spears, the man who wrapped a chair around Cody Rhodes' head at Fyter Fest. Before that, you recognized him as Tye Dillinger, a man who loved to count to 10 so much he dropped literally every other aspect of his life and personality to do so full-time. Between gigs I'm guessing he wrote a bunch of fan letters to Eminem and then drove off a bridge with his girlfriend in the trunk.
Sheamus And Wade Barrett, Security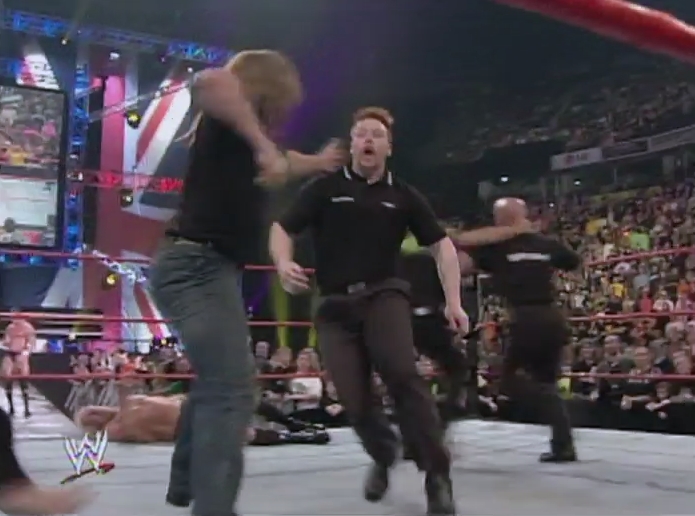 Mid-2000s D-X were really great for future star cameos, I guess. For example, when security shows up to stop them from brawling with Rated RKO on the November 13, 2006, edition of Raw, you can spot future WWE Champion Sheamus as one of the goons. Is it weird to anybody else to see Sheamus wearing normal clothes? I'm so used to exclusively seeing him in gym clothes, wrestling trunks, beard braids, Ninja Turtle villain outfits, or festive forest king cloaks that it's hard to process him in a polo tucked into slacks.
Also making an appearance in that group of security jerks (because the show was taped in Manchester, England) is none other than future NXT rookie and Nexus leader Wade Barrett, seen here getting some bad news from Triple H.
Both men would get tryouts shortly after this appearance and get signed, giving us two of the most can't-miss prospects from late 2000s WWE developmental.
EC3 And Cesaro, Police Officers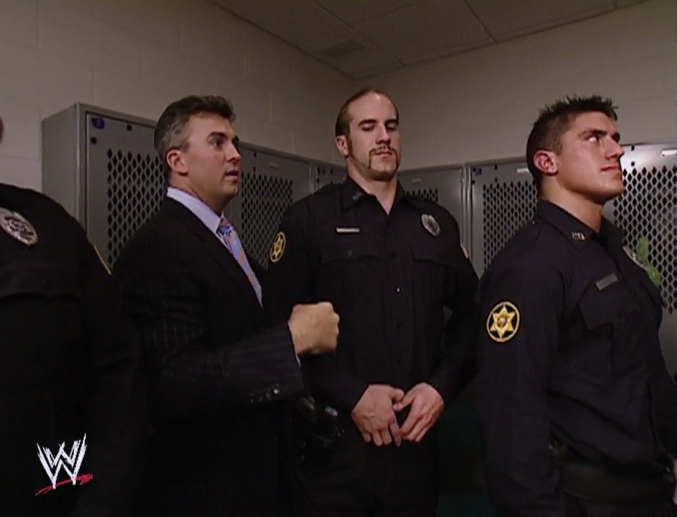 Continuing on the D-X reunion tip, check out more suspect extras from 2006 trying to get in Triple H and Shawn Michaels' face. This time you'll spot Cesaro, back when he had hair and was calling himself Claudio Castagnoli, and a pre-NXT, pre-Derrick Bateman EC3.
Cesaro would of course go on to hold the United States Championship, six Tag Team Championships (so far), and the Andre the Giant Memorial Battle Royal trophy. EC3 would leave NXT to become a 2-time World Heavyweight Champion in Impact Wrestling before returning to the company in 2018. He can currently be seen running around with a Solo cup or a drill in the background of 24/7 Championship segments.
MVP, Police Officer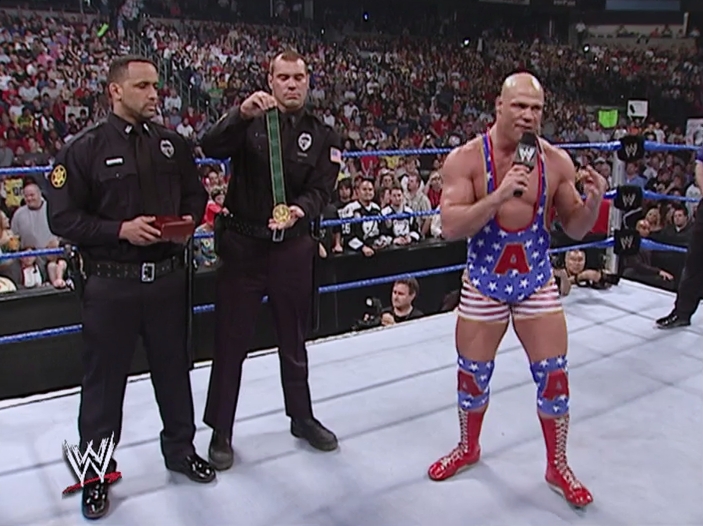 In a "Kurt Angle Invitational" segment from 2005 (that also included a young Roderick Strong), Kurt Angle brought in police officers to guard his Olympic gold medal. Kurt Angle won an Olympic gold medal, don't know if you'd heard. Anyway, one of those police officers was Deep South Wrestling's "Antonio Brown," who you'd eventually come to know as future Tag Team and 2-time United States Champion Montel Vontavious Porter, aka MVP.
If you've never seen it, you can watch the video below. Keep an eye out for Rod, back when he looked like a thumb in a purple condom.
Basically Every Rosebud
Finally this week we have the "Rosebuds," the group of drug-addled party-goers who followed Adam Rose around both on and off the "Exotic Express." Lots of people played Rosebud characters — if you weren't around for Rose, just imagine No Way Jose's conga line plus ecstasy — but take a look at this picture. It's probably the most famous Rosebuds picture, and with the exception of maybe Veronica Lane (who wrestled briefly and did some backstage interviewing for NXT), everybody Rosebud in the shot had a bigger WWE career than Adam Rose. Just in this one picture we've got:
Carmella, former Smackdown Women's Champion and Mixed Match Challenge Winner
Dana Brooke, who you know even if she hasn't won a ton of things
Tucker Knight, currently one half of Heavy Machinery
Becky Lynch, WrestleMania main-eventer and wildly popular, multiple-time champion
Simon Gotch, former NXT Tag Team Champion as one half of the Vaudevillains
Elias, legendary entertainer and pro wrestling bard
Braun Strowman, monster among buds

Other Rosebuds who went on to become wrestlers you've heard of include Scarlett Bordeaux, Taeler Hendrix, Jimmy Jacobs, Sami Callihan/Solomon Crowe/Jeremiah goddamn Snake, James Ellsworth, Kalisto, and Alexa Bliss. Here's Bliss from one of her first appearances on NXT TV, in what I like to believe is the origin of her "glitter fairy" gimmick.
And there you have it. Those are 10-plus more former enhancement talent extras who stuck with it, found what worked, and became some of wrestling's biggest stars. One day you're hanging out on a bus eating candy with the NXT version of Russell Brand, and the next you're main-eventing WrestleMania. It's pretty great.
Make sure you're here next week as we take another look back at some of pro wrestling's most memorable losers, and drop a comment down below if you'd like to see anyone featured.