This is the eleventh week of the WWE Mixed Match Challenge, a half-hour show featuring a 12-team mixed tag tournament between Raw and Smackdown, in which each team is battling to win $100,000 for their chosen charity.
The episodes air live on Facebook Watch at 10 p.m. every Tuesday night, but you can watch the new episode any time you want. Last week featured the first match of the Semi-Finals, in which the endearingly adorable team of Alexa Bliss and Braun Strowman was knocked out of the tournament by the unstoppable Asuka and her hanger-on, the Miz.
This week is the second semi-final match, in which Charlotte Flair Becky Lynch and Bobby Roode, fighting on behalf of Girl Up, face off against Finn Bálor and Sasha Banks, fighting on behalf of the Special Olympics.

Going In: Life Gets In The Way
So the big news this week, as you probably heard, is that Charlotte Flair had to pull out of the match because she's recovering from minor dental surgery. This is the sort of thing that happens with any kind of week-to-week live event, and obviously with WrestleMania coming up so soon, you gotta take care of all your medical issues while you have the time.
There was a poll on Facebook allowing fans to choose Bobby Roode's temporary partner for this match, and Becky Lynch dominated the vote over Carmella and Lana. I have to think WWE must have known she would win when those were the only three options. It's kind of hard to imagine Carmella and Bobby as partners (she fits in much better with the New Day), and Lana would be an even stranger choice. Especially because the Robe Warriors eliminated Lana and Rusev from the tournament, so what would be Lana's motivation for not just laying down and letting Sasha pin her? Okay, on reflection I guess it would be that Lana is constantly striving to prove she can wrestle, but it would still be a weird look.
Anyway, this week Becky and Bobby, the Robe-and-Pirate-Coat Warriors, if you will, faced the Boss Club, Finn Bálor and Sasha Banks. The latter team was eliminated from the tournament by the Miz and Asuka in Week 7, but they're back thanks to last week's Second Chance fan vote, a pretty clever way to book a functional tournament with only twelve teams.

The Match: Irish Hottie And Self-Aggrandizing Egotist Vs. Same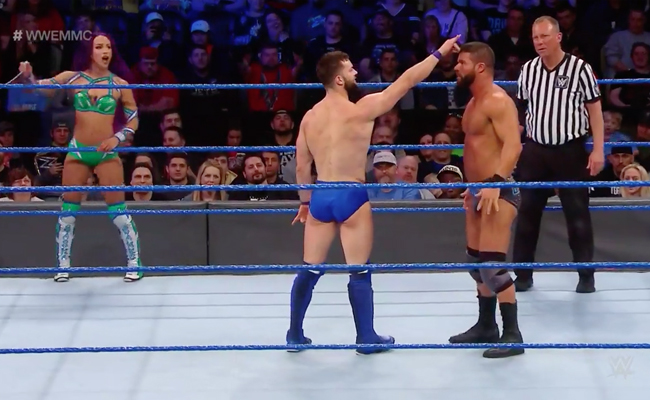 I usually stay pretty positive in this column and my wrestling writing in general, but right now I'm going to be very direct: The Mixed Match Challenge is starting to get me down, and I'm pretty glad it's almost over. When it first started ten weeks ago, this felt like a fascinating look at a version of WWE where nobody was micro-managing and all the performers seemed to have more freedom than usual to create cool little moments and surprising storytelling twists. As WrestleMania draws closer, however, that feeling has begun to fade.
We all know wrestling's a work, but when you're having a single-elimination tournament, it's pretty weird that the last match before the finals features only one competitor out of four who hasn't already been eliminated. On top of that, Becky Lynch, who's just here to fill in for her best friend for this one match, gets the pin. If the tournament still felt as fun as it did in the beginning, I'd probably be less concerned about how little anything seems to matter this week. As it is, I found it kind of glaring.
That's not to say there's no fun moments in the match. Becky and Sasha yelling at each other about the meaning of being a Horsewoman is the kind of cross-brand character development I live for. And of course Sasha getting offense in against Bobby Roode is the sort of intergender spot I love — of all the women in the tournament, Sasha seems the most excited about fighting men, which totally fits her character. Finn and Bobby also have pretty great in-ring chemistry, although it's also hard not to notice that they seem to wear the tightest, flimsiest shorts in the WWE.
I do want to bring up one other thing that got me down during this match, which was that Corey Graves wouldn't shut up about Charlotte having feelings for Bobby Roode. A romance angle is one thing, but so far this isn't even that. It's just a few bits of flirtation from Charlotte and now Corey making a huge deal of it. Maybe it's just me, but it feels reductive to harp on this with a character as strong as Charlotte (who wasn't even there, to be clear), and I have to say I'm not into it.
You can watch the whole thing yourself right now, on Facebook Watch.
Next Time: That's That
Everything is WrestleMania now. Since Charlotte and Asuka are on different rosters, they'll be having their match before the Mania match in the MMC finals, with Bobby Roode and the Miz along for the ride. On top of that, we already know Asuka and the Miz are winning, because they spoiled it by making a big deal about the streak.
So either Charlotte and Asuka are 100 percent equally matched and then the Miz manages to pin Bobby (the option I'm hoping for), or else Michael Cole gets to shout "Asuka just pinned (or submitted) the Raw Women's Champion six days before WrestleMania!" which you know he loves to do. I'm sure it will be an entertaining match, but this tournament started out with such an anything-goes spirit that I wish we'd gotten to see more surprising teams in the finals, and not just a build to a WrestleMania match.
That's all for this week. Join us next time, when everything I just predicted comes to pass.