This is the twelfth week of the WWE Mixed Match Challenge, a half-hour show featuring a 12-team mixed tag tournament between Raw and Smackdown, in which each team is battling to win $100,000 for their chosen charity.
The episodes aired live on Facebook Watch at 10 p.m. every Tuesday night, but you can watch the new episode any time you want. Last week was the end of the Semi-Finals, in which Becky Lynch filled in for Charlotte Flair, and she and Bobby Roode defeated the returning fan favorite team of Sasha Banks and Finn Bálor.
This week features the tournament finals, in which Charlotte Flair and Bobby Roode, fighting on behalf of Girl Up, face off against Asuka and the Miz, fighting on behalf of Rescue Dogs Rock.

Going In: Straight Ahead And Rest Assured
Look, we've been doing this for a while now, so if you're still reading these you already know what's what. Charlotte Flair and Bobby Roode make a great team, and they've been fun to watch throughout the tournament, except for the part when Charlotte briefly acted like she might have a crush on Bobby, and that immediately became the only thing Corey Graves wants to talk about.
Asuka and the Miz also make a really fun team, except for the part where WWE has completely ruined the entire tournament by establishing that a loss here would break Asuka's record-setting winning streak, even if it's the Miz who actually gets pinned. Thanks to that little detail, we've all known 100% for certain who was winning this tournament since the beginning of Round 2 more than a month ago. So here we are, watching that exact thing happen.

The Match: Hold On Tight, We'll Muddle Through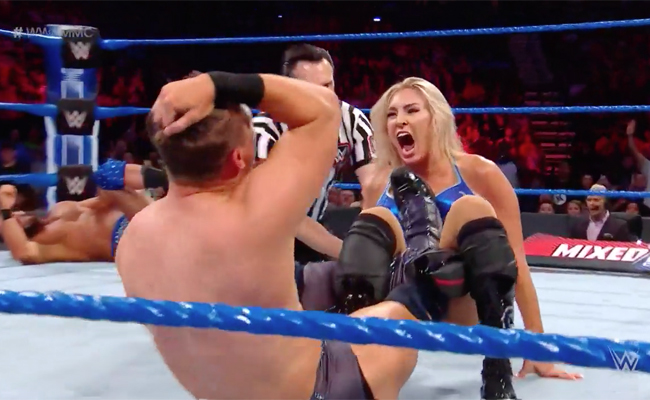 For all that the Mixed Match Challenge seemed continuity-lite and carefree in the beginning, it ends with a lot of unavoidable constraints. The impressive thing is that, given those constraints, this match was as good as it could possibly be. In addition to the preservation of Asuka's streak, she's challenging Charlotte for the Smackdown Women's Championship at WrestleMania, so the big question was how much of that they'd give away.
Asuka and Charlotte in the ring is something to see, but for the entire time I was seeing it on Facebook Watch I had this feeling like I was spoiling my dinner with too many early bites stolen from the kitchen. Fortunately, they don't spend that long in the ring together, and seem very evenly matched when they are.
With WWE booking how it is so much of the time, there was a very real fear that we'd come out of this match with a new certainty about who wins on Sunday. "Asuka has pinned the Smackdown Women's Champion!!! What does this mean for WrestleMania???" for example, would have meant Charlotte was going to break the streak. Thankfully, they avoided all of that by having the Miz pin Bobby Roode.
The other great thing this match did was make both of the women look strong as hell. Charlotte gets annoyed at the Miz's attempts to put Bobby in a Figure-Four Leglock, so she invades the ring and puts Miz in a Figure-Four of her own (she goes for the Figure-Eight but never quite gets the bridge) which the Miz sells like the greatest pain he's ever known (as he should). It's also a great character moment, because the Miz has been doing the Figure-Four since 2013, and of course Charlotte would see it and be like "Who do you think you are?"
At the end of the match, just as Bobby Roode is about to deliver a Glorious DDT on the Miz, Asuka kicks him from behind, which gives the Miz a chance to hit him with the Skull-Crushing Finale and get the pin. Without crossing that dreaded line into true intergender wrestling, they establish that the women in this match are more powerful than the men. That's as it should be, because these are two of the best women's wrestlers of all time, while the men in question are the Miz and Bobby Roode.
You can watch the whole thing yourself right now, on Facebook Watch.

The Future: Go And Have A Ball
The Miz and Asuka won $100,000 for adorable dogs that need help, so we get to watch this cute video of them playing with some of the dogs, which is cool. It's still a little weird that they had a worked tournament to see which charity gets $100K, but I'm sure I'm not the only one who's impressed that Connor's Cure didn't win.
And that's that: the Mixed Match Challenge is officially over. There were some fun matches, and even though it felt like the booking went off a narrative cliff, I'd have to say I enjoyed the tournament over all. I have no idea what kind of numbers it did (or how numbers even work on Facebook Watch), but I wouldn't mind seeing another one down the road. If nothing else, it's easy to fantasy book future teams, like Ruby Riott/Alistair Black, Nikki Cross/any of the Sanity guys, or Iconic Duo/Breezango with all four of them coming down the ramp holding hands.
Honestly the person from this show whose future I'm most curious about right now is Beth Phoenix. She's done a great job on commentary throughout, despite being a bit green and sometimes getting caught up in Corey Graves' heat-seeking. WWE desperately needs at least one permanent female commentator, and if Beth is up for it she'd be great for the role. We'll see if her work here leads anywhere, and I hope it does.
For now, we have no shortage of wrestling to watch in the next week, and if there is another Mixed Match Challenge down the road, I'll hopefully be here to recap it for you.