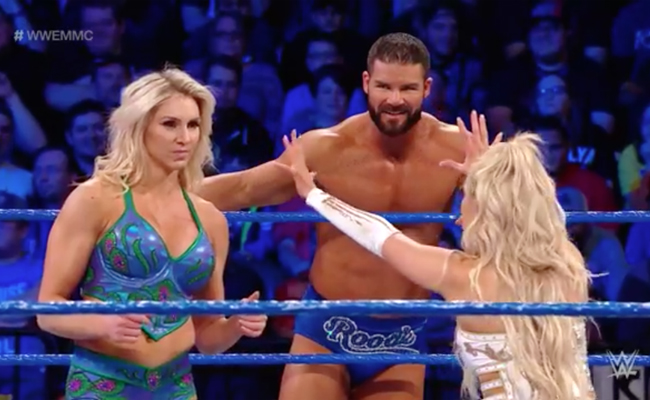 This is the ninth week of the WWE Mixed Match Challenge, a half-hour show featuring a 12-team mixed tag tournament between Raw and Smackdown, in which each team is battling to win $100,000 for their chosen charity.
The episodes air live on Facebook Watch at 10 p.m. every Tuesday night, but you can watch the new episode any time you want. Last week was the second match of the Quarter-Finals, in which the Monster Among Men Braun Strowman put Jimmy Uso through the announce table, which distracted Naomi and gave Alexa Bliss the pin.
This week is the last quarter-final match, in which Charlotte Flair and Bobby Roode, fighting on behalf of Girl Up, face off against Rusev and Lana, fighting on behalf of Global Citizen.

Going In: Competence And Chaos
https://www.instagram.com/p/BgAcX2nF0dp/
After they defeated Nia Jax and Apollo in Round One, I wrote about how much I enjoy the Flair/Roode team because they're not romantically into each other, they just really respect each other as workers.
Somewhere between then and now, however, Charlotte decided that she has a crush on Bobby. This was most obvious on last week's Smackdown Live, when Bobby's entrance interrupted her confrontation with the Riott Squad, and she watched him come down the ramp with total heart eyes. Then she Instagrammed her adoring face captioned with lyrics from "The Boy is Mine" by Brandy and Monica, just to drive the point home.
Now maybe I'm biased because when I see Bobby Roode my face is more like Sarah Logan's in this picture, but I wasn't a huge fan of Charlotte taking things this way. On the other hand, it doesn't really come up on this show, so maybe it was just a passing fancy.
On the other hand, the dynamic between real-life partners Rusev and Lana hasn't changed at all since it was redefined in their Round One match, where Lana got the win by pinning Bayley. Lana still comes off as a mess (which works for her), while Rusev supports her and does all the usual likably heelish stuff that's made him the most over guy in the company right now. I was a little disappointed that they didn't have matching gear this time, but they were still very much on the same page.

The Match: Grasping For Glory
I guess after her victory against Bayley, it should seem like less of a surprise for Lana to be treated like a real threat by Charlotte, but it still feels weird. Lana never gets the upper hand against the Queen, of course, but it takes more effort from Charlotte to deal with her than you'd expect after what most of Lana's in-ring career has looked like. Still, the difference between them is that Lana is always high-strung and desperate, while Charlotte spends most of the match seeming relatively at ease.
Whenever Rusev and Bobby Roode are in the ring together, it feels like very old school wrestling: Just two big guys with beards running into each other over and over again as hard as they can. That's not strictly true, of course — Rusev is fond of submission moves and Roode does take to the ropes sometimes — but the two of them in combination still give off an ineffable air of hoss.
Things get really interesting when Lana tags Rusev while Roode is down outside the ring, putting Rusev in the ring with Charlotte. Naturally the referee stands there like "What do I do in this situation? Nobody told me!" It would be nice to see Rusev sell at least a little for one for one of the strongest women on the roster, but on the other hand if Charlotte actually wanted to have any effect on him whatsoever, she'd go for his head or legs, instead of chopping his enormous treelike torso. Anyway, the whole bit is just a distraction while Bobby Roode sneaks up behind him to get the pin, so in that sense it worked just fine.
You can watch the whole thing yourself right now, on Facebook Watch.

Next Time: The Home Stretch
Winning this match means Charlotte and Bobby will face the winner of the Second Chance Fan Vote. That voting is now open, and is done via hashtag, as explained in a graphic that's been all over WWE social media.
What would they do if Rusev and Lana won? You can't just have this same match over again in two weeks. I guess an advantage that WWE has is that everyone knows they constantly manipulate reality, so if they choose their own winner and say it was the fan vote, nobody could be that surprised or upset. Regardless, I still think Carmella and Big E are the best and most likely team to return, and that should lead to a really fun match with the Robe Warriors.
Next week is the first Semi-Final match, with Alexa Bliss and Braun Strowman versus the Miz and Asuka. Now that Asuka has officially chosen Charlotte as her WrestleMania opponent, this will be her chance to once again prove how easily she can beat Alexa. The real challenge of the match will be to keep the Miz away from Braun Strowman long enough for Asuka to get the win and retain her presumably-still-relevant streak.
That's all for this week. Join us next time, when Team LittleBig face Team Awe-ska.