After the match, Devlin, who is beginning to look and sound more like Prince Devitt than Finn Bálor, cuts a promo shitting on Ligero for thinking he's a luchador when "he's from Leeds," and makes everybody including NXT interviewer Huey Freeman laugh. I feel better about thinking Ligero was lame now that I see a heel, a face announcer, and an entire crowd of fans laughing about him. Jordan Devlin's fast-tracking his way to being my favorite guy, not gonna lie. If he shows up riding on Eddie Dennis' shoulders in a leather jacket trimmed with LED lights, I'm done.
Tag Teams, Back Again?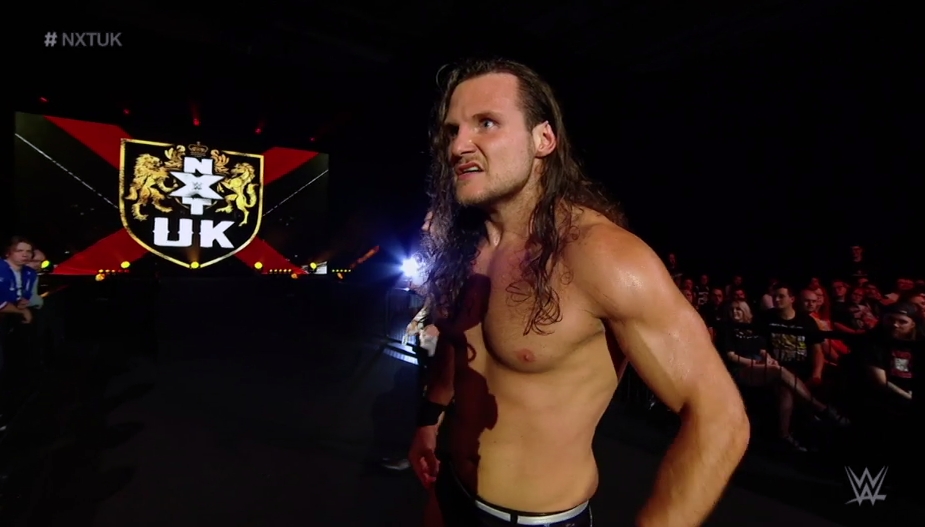 We flash back to Mustache Mountain saying they want the soon-to-be-formed-like-babby NXT UK Tag Team Championship, which we know because of tape delay exist and look like a pair of spaghetti dinners. 2-for-20 entrees, only at the Green Bean Depository.
Because these titles are going to exist, teams need to start forming, so a lot of free-balling singles guys are becoming tag teams to see what it gets them. This week we get two of those going head-to-head. The "Muscle Cat" who is neither muscular nor a cat, Saxon Huxley, drops Great Value Sheamus Sam Gradwell in favor of teaming with the guy pictured above, Joseph Conners. He lost part of his left ear, which you can see, which makes him intense. His strikes are hard! So far he reminds me of a regular man-sized version of The Chosen One Drew McIntyre. Not current Drew McIntyre, mind you, who reminds me of that giant you have to team up with everyone to defeat in Final Fantasy IV. The other team pairs up Amir Jordan with Kenny Williams in a very 205 Live jobber team.
The heels win, of course, but once again Kenny Williams impressed me more than anyone. That kid's got a natural grace to him that's hard to explain. His footsteps just look and feel light. It's the same thing Kofi Kingston has, which makes his acrobatic stuff (especially in Royal Rumbles) make sense. He just looks like his center of gravity is in his head. Kenny Williams is my lowest-ass-card guy, saying it now.
Best: b i g s t r o n g b o i
The best match of episode seven (the force awakens) is Tyler Bate vs. James Drake, who you may remember as the "grit your teeth" guy from last week. The best part of the match is that when you're watching it here, it doesn't seem like it's happening for much of a reason other than to put Tyler Bate over as a singles star in addition to his highly popularized tag stuff. In episode eight, it actually matters! We'll get to that in a sec.
The first thing I want to note is how great NXT UK's been at these back-and-forth type of TV main events, because since viewers like me aren't profusely familiar with everyone, we don't necessarily come into them going, "oh, ____ is obviously going to win." Not like we're watching Bobby Lashley wrestle Jinder Mahal and sitting through four minutes of Jinder chinlocks while they try to convince us he's going to take it, you know? Bate's a little different, I guess, because he's almost in too good of a shape for the rest of the roster, so he comes across like one of those old NWA or World Class mid-card babyfaces who'd show up looking like Mr. goddamn Olympia in bikini briefs to wrestle guys who look like they work at the gas station.
"Grit your teeth" is a name I'm always going to make fun of, but I love that he hit it so hard in this match that it fucked up NXT UK's hit detection, and Bate just kinda floated above him somehow and bounced off his back. It felt like a car wreck. Once I'm done obsessing over him looking like Seth Green pretending to be Adam Page and calling himself "Mr. Mayhem," I'm going to dig Drake a lot.