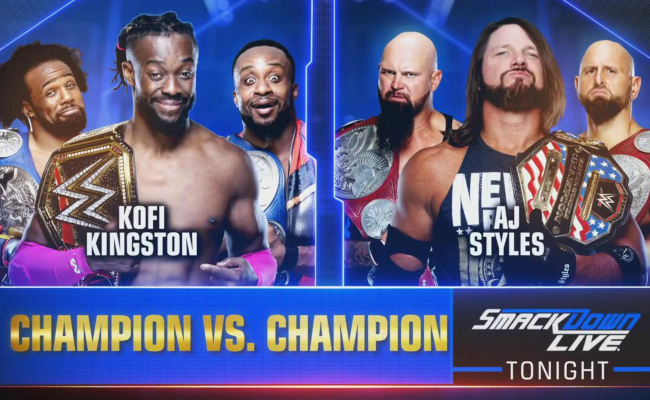 Even though nobody says the words "Wild Card Rule" on television anymore, the rosters of Raw and Smackdown continue to mix pretty freely. Just this week, Alexa Bliss and Nikki Cross, who are officially on the Raw roster, fought Becky Lynch on that show and then had a match against Ember Moon and Bayley the next night on Smackdown. Even more glaringly, US Champ AJ Styles, accompanied by his buddies the Raw Tag Team Champions, showed up on Smackdown to face WWE Champion Kofi Kingston, who was joined by his best friends the Smackdown Tag Team Champions. Before the Wild Card Rule was introduced in May, apparently out of desperation for ratings, the rosters of the two shows were kept entirely separate, with rare exceptions, since they were split up in 2016.

This fall, when Smackdown makes the big move from to Fox TV, the plan is apparently to stop all the moving around and keep the rosters totally separate again. That's according to a report from Dave Meltzer at the Wrestling Observer Newsletter. Dave adds that the rosters are expected to stay pretty much the same as they are now, although there may be a few last minute moves before the Smackdown migration.
Even if you're inclined to take Meltzer with a grain of salt, which I get, this plan makes intuitive sense. While you can imagine USA and Fox arguing over who gets to have WWE's biggest stars, I think we can all agree that neither network is going to want storylines that weave back and forth between the shows, requiring the kind of video recaps from the other show that we see so many of now. It's one thing for a show on USA to remind you that you should also be watching another show on USA. Fox, on the other hand, has no interest in getting you to watch USA, or vice versa.
Whatever the reasoning, I for one am excited for the return of a proper brand split. With two different rosters on two different channels, both shows will be inclined to build their own stars, rather than featuring the same 5 to 8 people all week like they're doing so much now.