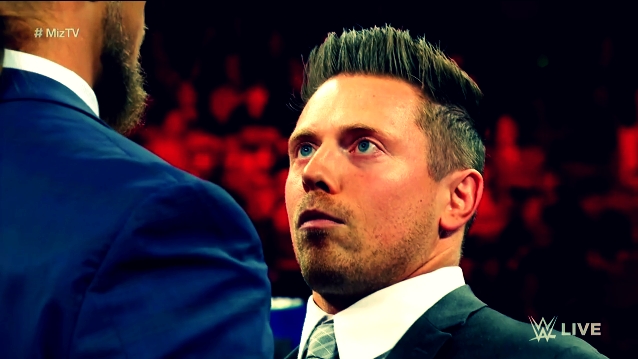 Previously on the Best and Worst of WWE Smackdown Live: Smackdown won the Superstar Shake-Up™ by trading their least important jobbers and forgotten tag teams for a handful of Raw's best wrestlers. Unless you don't think giving up The Ascension and getting Samoa Joe, Asuka and Miz is winning.
Remember to follow With Spandex on Twitter and like us on Facebook if you haven't already. You can also follow me on Twitter @mrbrandonstroud for pretty much just wrestling stuff. And remember to check out the new-ish With Spandex podcast, McMahonsplaining.
Hit those share buttons! Please spread the word about the column on Facebook, Twitter, and whatever other social media outlets you use. Be sure to leave a comment in the comment section below as well. Your help and participation means a lot.
And now, the Best and Worst of WWE SmackDown Live for April 24, 2018.
Worst (With Some Best): You *Can* Teach That?
This week's episode opens with The Miz's very transparent plot to keep Daniel Bryan from punching him in the face by enlisting the help of Big Cass, all while saying he's a "changed man" who wouldn't do that kind of thing, and Cass saying he's not interested in helping Miz. Cass may as well be wearing a t-shirt that says "I AM ACTUALLY BO DALLAS."
It's not a bad segment, really, and Cass has improved … slightly on the microphone. He's saying more than six words a minute now, which is something. I also kinda liked the bit of back story we got where he explains he was bullied a lot as a kid and now that he's big, he bullies other people. It makes sense, and it also explains why he'd spend so much time defending a guy like Enzo Amore instead of just immediately kicking his ass when they met. He saw himself in him, and wanted to stick up for a little person who I guess couldn't grow on command like he did in response to bullying. Yes, in case you missed it, Cass grew to seven feet tall to prevent bullying. So you can teach it? Or is this a latent Godhood thing?
One thing, though: we've gotta retire "bingo hall" as the catch-all for independent wrestling. It's not 1996 anymore, guys, ECW's not around running in an actual bingo hall (and storing the spare bingo tables under the ring during wrestling shows, creating the whole "there are weird tables under every wrestling ring" trope). If you want to properly shade indie shows, say you didn't have to come up wrestling in VFW halls and local "sports complexes" that were probably created to house middle school basketball games.
Second thing, actually: Are Cass' sleeves super short on purpose to make him look like he's still growing? Because those things were mid-forearm at best even when he had his arms down.
Best: The IIconics Are Better Than Asuka
Now proven. By science!
I don't think I've ever explicitly explained it, but I love how physically devoted to the characters Peyton Royce and Billie Kay are. I compliment Sasha Banks a lot on "being her character walking" — not just being her character when it matters, being the character between moves, when you aren't selling or taunting, etc. — but the Eye-Iconics have found versions of themselves that are so supernaturally obnoxious and grating that they're legitimately having a blast doing it, and I could've GIF'd the entire thing. Which I almost did. It's what we do.
The match that follows felt like a foregone conclusion the second you saw Asuka was teaming up with Becky Lynch. No disrespect meant to Lynch, but she was a billion percent there to take the pin, and she did it. Asuka gets her first television loss in the company, loses her Smackdown debut, and … maybe joins the IIconics next week and transitions into a feud with Becky Lynch? That's not going to happen, at least not that quickly, but shit, how great would a showcase Asuka vs. Lynch match be? At least in the ballpark of that Charlotte Flair WrestleMania match. Plus, the IIconics having DEADLY MUSCLE on their side would let them amp up the annoying bullshit so high they'd tear a hole in the fabric of the universe.
It's funny how WWE's so obsessed with "moments" that the actual moments in context make the rest of the show make less sense. For example, Asuka had a 900+ day undefeated streak, almost a thousand damn days including a 500+ day title run, and lost to Charlotte at WrestleMania. So of course a couple of weeks later she's losing tag matches to a couple of wrestlers who didn't even win a lot of matches in NXT. And now Charlotte, the woman who won the match, is being built up as a challenger to a woman who was effectively Money in the Bank briefcase-holding enhancement talent for 3/4 of the last year. The cycle changes and everyone just kinda resets. It is what it is.
Best: This Is Charlotte's Yard
1. Carmella repeatedly showing the same video package of herself over and over until the crowd gives her the response she's looking for is Heel 101. The song in the video package being intensely horrible (and written for Emma, clearly) makes it even better.
2. Charlotte interrupting, sitting down to sign the contract — because this is supposed to be a contract signing — and just immediately slamming Mella's head into the table and flipping it over in her face was also pretty great, because it drew a hard line between the characters. Carmella is having "Mellabrations" and getting a big head about video packages, so Charlotte, who is usually the one in the peacock robes with all the fireworks, has to be All Business. It's a solid contrast, and I like the character work involved in making that happen.
I'm also roughly 100% sure that because the booking suggests Charlotte should just wreck her and win the championship back in 15 seconds, Carmella's going to retain via hokey bullshit. Let's go ahead and place our bets on who's showing up to help her win. I call Tamina!
Worst: Distraction Finish? That's A Bludgeoning
In less positive women's division news, Naomi shows up to do a full entrance during Jimmy Uso's match with Erick Rowan, causing a distraction that leads to a roll-up. In the first three matches on the show there were two distractions and two roll-up finishes. That's … not great. Add to that the fact that the Usos are challenging the Bludgeon Brothers for the Smackdown Tag Team Championships at a pay-per-view Naomi's not even allowed to be at and, yeah, Uce and Uce are about to get bludgeoned with some extremely light prop hammers.
Best, Though: The McCray-Fatu Household Handshake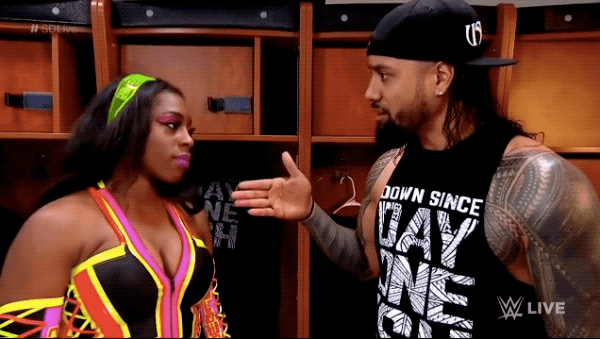 [squints] Eagle to thumb-touch, heart hands to kissy-fingers. Got it. Wait, no, do it again. [squints]
Worst: This Booking Cycle
If you read this week's Best and Worst of Raw, you got my full feelings on the insanity of doing WrestleMania, having a week of debuts, having a week devoted to changing the rosters of both shows and then one (1) show to build to a six-hour Middle Eastern house show, followed almost immediately by a pay-per-view you partially booked in the weeks before you debuted everyone and switched the rosters.
You've got Smackdown guys challenging for the Raw Tag Team Championship, a Smackdown guy challenging for Raw's secondary championship right before he faces the guy who will probably be Raw's top champion at the third pay-per-view in a month, and, as seen here, you've got the subordinates of the guy who was Smackdown's United States Champion showing up on Smackdown to attack the Raw star who won said championship on the champion's first night on Raw to set up a rematch during an unrelated match in the middle of Smackdown. [brain melts]
Orton is passive-aggressively feuding with Jeff Hardy over ring entrances, but Hardy's also still feuding with Jinder Mahal, who isn't on the show anymore. Sunil Singh shows up in a mask to attack him so they can have some sort of logical reason to beef at the Greatest Royal Rumble, but then Orton has to beat up Singh, causing a distraction finish that puts over Shelton Benjamin somehow in an Orton vs. Mahal vs. Hardy thing while Orton, Mahal (via Singh) and Hardy all get attacked. … Okay?
I really can't wait until we're done with this cycle and everything resets.
Best: This Ain't Singalong With The Champ
Shinsuke Nakamura has an entrance theme remix to keep fans from singing along to it, and it rules. The translated version (via @thatsroode) makes it even better. I'm going to just pretend this is what they're saying:
Best: Balls, My Homey
Yeah, this version of Nakamura is the one we've been wanting to see since the Sami Zayn match in NXT. I love this guy. Love love love him. He's a colossal piece of shit with an even bigger swagger, and he's not afraid to knee your friend in the face in front of you to punish him for being a good dude. His obsession with punching AJ Styles in the dick is one of the funniest things they've done in a while, and I swear, if Styles doesn't do the "Road Dogg reveals he was wearing a cup" finish from the King of the Ring '99 match with Chyna at the Greatest Royal Rumble, everyone should be fired.
Also, I have an operable theory about the Good Brothers. My theory is — get this — they're bad brothers.
Over on Raw, Luke Gallows and Karl Anderson decided to be friends with Finn Bálor again and join the "Bálor Club." That was great for a few weeks. Then, all of a sudden, Finn started wearing his LGBT-inclusive Bálor Club gear and did his cool entrance at WrestleMania, and the Good Brothers were nowhere to be found. We later find out that they've gone to Smackdown, and are now in the same club, but under with AJ Styles. Styles is, to put it delicately, not as inclusive. They're gonna bodyslam some Democrats! It all connects.
I'm also pretty sure they're going to turn on him, too, and help Nakamura win the championship. But that could just be my ALL THE GLASSES THAT HAVE EVER EXISTED ARE HALF EMPTY pessimism rising to the top. They don't even have a Club name! What are they, the Style Club? Fandango and Tyler Breeze are already doing that.
Best: Top 10 Comments Of The Week
PinsAndPlates
You might even say it took some balls to change Nak's theme.
Blade_222
How would that that tag team work? Nakamura doesn't speak to English.
The Real Birdman
Hey Nakamura, maybe Aiden English can aid in English
The Voice of Raisin
The good news for AJ is that if Nakamura goes low on him again, he's teamed up with two of the leading ball doctors on the roster.
AshBlue
I would like to buy a Book on Tape read by Samoa Joe. Any book, don't care what it is.
Mark12
Well at least the clause in Randy's contract stating he has to RKO a Singh at least once a month has been fulfilled
dl316bh
Smackdown's not even treading water right now. It's standing. Mosquitos are breeding in it.
Johnny Slider
"Becky, the commercials are almost over, get in a losing position" – The Ref
The Real Birdman
Iconics out here teaching the kids the transitive property. You love to see that
lovinit056
If a backstage attack happens without clangy pipes, did it actually happen?
That's it for this week's show. If you'd like to know how much WWE cares about Raw and Smackdown this week, consult the following unedited screencap:
Be sure to leave a comment below to let us know what you thought of the show, and give us a share on social media. We appreciate it. Join us next week for the very short build to Backlash!