WWE Stomping Grounds, an actual pay-per-view, airs live this Sunday, June 23, on WWE Network. The show that replaced Backlash because reasons features a steel cage match for the WWE Championship, a Universal Championship match featuring a mystery guest referee, and more.
We'll be here all weekend with live updates, an open discussion thread, and results for the show. Here's the complete card as we know it, minus whatever they add on Friday afternoon.
WWE Stomping Grounds Card:
1. WWE Universal Championship Match: Seth Rollins (c) vs. Baron Corbin (Special Referee TBA)
2. Raw Women's Championship Match: Becky Lynch (c) vs. Lacey Evans
3. WWE Championship Steel Cage Match: Kofi Kingston (c) vs. Dolph Ziggler
4. Smackdown Women's Championship Match: Bayley (c) vs. Alexa Bliss
5. United States Championship Match: Samoa Joe (c) vs. Ricochet
6. Cruiserweight Championship Match: Tony Nese (c) vs. Drew Gulak vs. Akira Tozawa
7. Smackdown Tag Team Championship Match: Daniel Bryan and Rowan (c) vs. Heavy Machinery
8. Roman Reigns vs. Drew McIntyre
9. Big E and Xavier Woods vs. Kevin Owens and Sami Zayn
As always, we've got your complete rundown of the card and analysis below, featuring predictions for all nine (plus?) matches. Make sure to drop a comment and let us know who you think's winning, and be here on Sunday to see if you're correct.
Here's what we think will go down at Stomping Grounds 2019.
Big E and Xavier Woods vs. Kevin Owens and Sami Zayn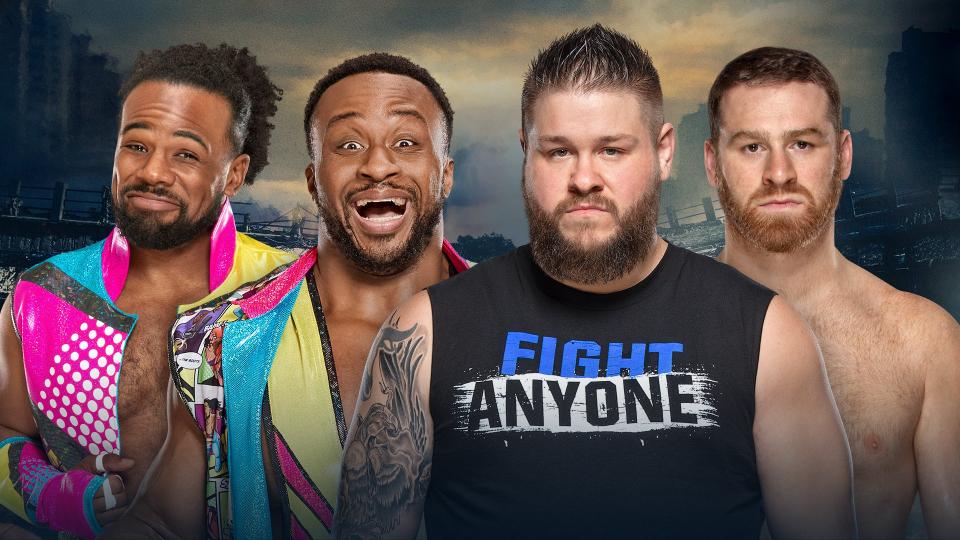 What Should Happen: Honestly? I don't even know anymore. Zayn and Owens have been such a Losers Club lately that all I can hope for is that the match is a lot of fun until they get pinned. Probably both of them, if WWE randomly decides this should be 2-out-of-3 falls. Sami Zayn's character is such a literal garbage heap right now they're specifically booking matches where his team loses, but also HE loses extra.
What Will Happen: New Day wins in underwhelming fashion, unless the Zayn and Owens bit is actually going somewhere, and they decide to get serious and take control of their careers again. They haven't been able to rid themselves of that Shane McMahon stink, which I assume smells like Old Spice and pit-sweat.
Staff Picks
Emily Pratt – What a promising combination of people! I'd give Sami and Kevin the win just because Kevin's coming off not winning the WWE Championship, but this match should be entertaining with any result.
Raj Prashad – Going with Owens and Zayn to get the win here early, setting some doubt in New Day's mind heading into Kingston's title match later in the evening.
Elle Collins – If New Day had the tag belts and this was a title match, I'd say that Sami and KO might win so New Day could chase the belts and maybe win them back later. Since it's just a grudge match though, I suspect Xavier and E will win handily.
Roman Reigns vs. Drew McIntyre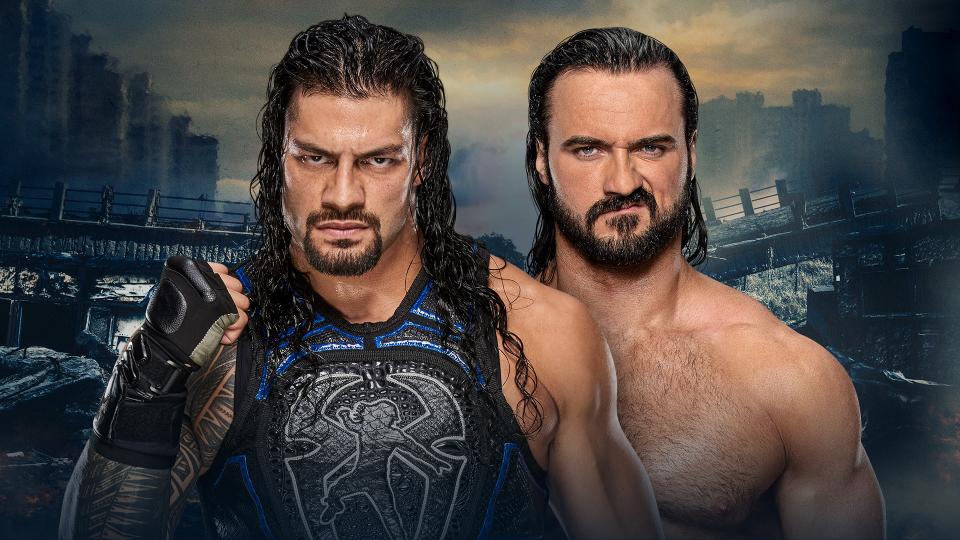 What Should Happen: Anything not involving Shane McMahon. I'm literally begging you to let two cool, strong wrestlers be cool, strong wrestlers and not feel like you have to also involve the 49-year old non-wrestling son of the boss who won the Best in the World trophy as a weird booking joke and then was actually booked as the best in the world.
What Will Happen: Drew McIntyre lost at WrestleMania, leading to Roman Reigns losing to Shane McMahon at Super Showdown, so … Drew loses again, so Roman can get his heat back without having to pin the intensely protected Shane McMahon? My head says Roman rolls here, but my heart says Drew actually beats him clean. That's the decision I'd make. Roman Reigns is bulletproof enough to take some losses, and nobody should have to be his rebound after losing a match to Shane in 100+ degree heat.
Staff Picks
Emily Pratt – If this ends with Shane McMahon choking out Roman Reigns with his legs I will die. I don't care who wins as long as it's not somehow Shane!
Raj Prashad – McIntyre seems the like the easy choice with the odds stacked against Reigns yet again. Somehow, I think Reigns pulls this one off.
Elle Collins – There was a time when I'd have said "Obviously Roman wins! Are you kidding me?" but this whole "Shane & Friends" thing has me confused about how things work anymore. I still think Roman probably beats Drew, I'm just less confident in it.
Smackdown Tag Team Championship Match: Daniel Bryan and Rowan (c) vs. Heavy Machinery
What Should Happen: Otis proved that he's secretly a really awesome worker during his time in NXT (when he's not screaming nonsense and sexually harassing people as funny jokes), and Daniel Bryan is still the best worker on the planet (don't @ me), so this could be really unexpectedly great. I think the champions retain, though, because Heavy Machinery doesn't have any momentum besides beating jobbers and being funny in the background of No Way Jose segments. And Bryan and Rowan's title run so far has just been losing to a team that isn't even on their show in a non-title match on a pre-show. Let's give them an actual reign, and get them some hemp and oak tag straps already.
What Will Happen: I'm not sure I'm ready for a world where Tucker Knight gets a championship pinfall victory over Daniel Bryan, so let's say the champs retain and make Blue Collar Solid into Blue Collar Liquid. Best case scenario, Bryan and Rowan win and decide they prefer the cheap cardboard "Yolo County Tag Team Championship" belts to the WWE Smackdown versions, because they're sustainable and biodegradable.
Staff Picks
Emily Pratt – Just big dudes doing big dude things and also Daniel Bryan doing Daniel Bryan things. What more could you want out of a tag title match? To be for the title of a stronger tag division? Fair enough, but this should still be a really fun match.
Raj Prashad – Heavy Machinery hasn't lost in months, so going with them to keep the streak alive and knock off the Planet's Tag Team Champions.
Elle Collins – I'd really like to see Heavy Machinery as Tag Team Champions at some point, but I don't think this is their time. I'm picking Daniel Bryan to retain, and that means Erik Rowan retains too.
Cruiserweight Championship Match: Tony Nese (c) vs. Drew Gulak vs. Akira Tozawa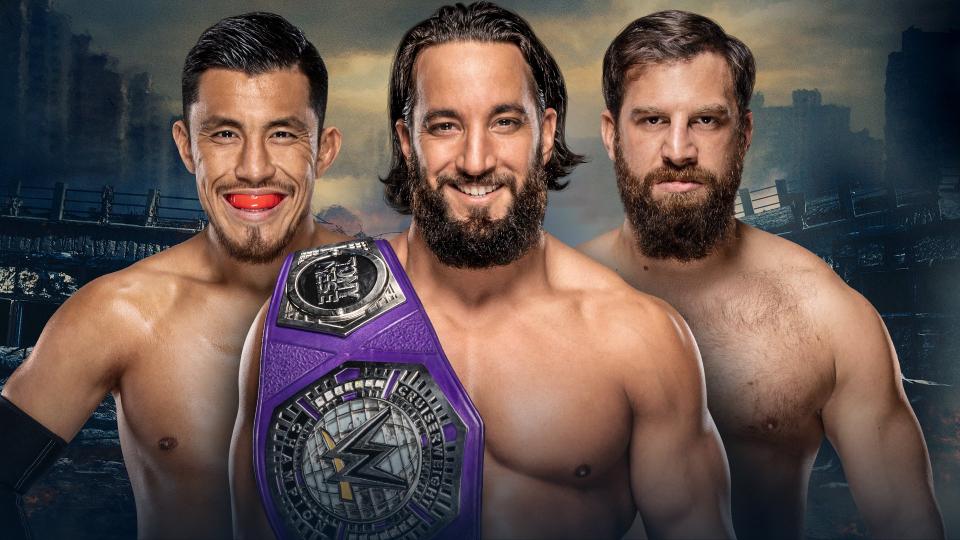 What Should Happen: Goddamn, it's time for a Drew Gulak Cruiserweight Championship run, isn't it? Even better, send KUSHIDA over to 205 Live for a random weekly TV title defense and let Gulak get back one of his two losses on his home turf. That way if KUSHIDA actually ever gets called up to the main roster and stranded on 205, he'll have a built-in story that connects WWE's two best brands.
What Will Happen: My head says Nese retains, but … you know what, I'm gonna go ahead and put that "Drew Gulak, Cruiserweight Champion" energy out into the world. I think everybody's ready for it, and the character is BEYOND ready for it. I also wouldn't be unhappy if Tozawa got another courtesy run. Tony Nese has been a good champion, but I'm ready for something else.
Staff Picks
Emily Pratt – Tony Nese has been a surprisingly delightful Cruiserweight Champion, but Drew Gulak has been the uncrowned Cruiserweight Champion since he started giving PowerPoint presentations. I'm hoping for a Gulak win and for this to secretly be our beloved Tozawa's swan song before he jumps ship to New Japan and he and Mox and Shingo reform their Dragon Gate USA faction but probably don't call it "Kamikaze" anything this time around and also are all babyfaces.
Raj Prashad – What I'd pay for a Gulak title run. Nese seems destined to hold onto the belt, but Gulak could make things interesting.
Elle Collins – Give it to Gulak! Maybe I'm just still biased because I watched Drew sell for a gay mermaid with a fishing net at King of Trios 2016, but I want to see him with a belt, and now seems like as good a time as any.
United States Championship Match: Samoa Joe (c) vs. Ricochet
What Should Happen: The show should open with eight great minutes of the Cruiserweight Championship match, then like three minutes of Becky Lynch trouncing Lacey Evans once and for all, and then a full half hour of Ricochet vs. Samoa Joe. I don't even care. This card is, as a wise man once said, cold boogers on a paper plate, so at least 1/6 of it should be fully devoted to letting two of the best wrestlers in the world mess around and create a classic. The entire point of Ricochet is that he can do stuff nobody else can do, and Joe could use a competitive but dominant championship defense (a la Shayna Baszler's NXT Women's Championship run) to cement him as the real deal. Mysterio easily defeating him and then just handing the belt back was such a bummer, so let's do something special and forget that ever happened.
What Will Happen: Joe should retain, but I'm used to Joe losing at this point, so I'm happy with either result as long as the match delivers. I can't imagine that it wouldn't, but then again, this is the Raw creative team. Lord knows they could turn it into a battle royal at the last minute and have Great Khali win.
Staff Picks
Emily Pratt – After Mysterio vs. Joe went like ten seconds at WrestleMania and Ricochet got dumb sound effects in his theme song and the same (very good) opponent over and over, I think this match is what everyone wants from these two. They're both amazing and hopefully, they get 10-15 minutes to do their things and just kill it.
Raj Prashad – This very well could be the best match on the card. Love Ricochet and Joe in this match-up, but sticking with Joe to keep the title.
Elle Collins – Ricochet's great, but WWE hasn't exactly given me the impression that they're fully behind him, and Joe's doing good work with this belt right now. I think he retains.
Smackdown Women's Championship Match: Bayley (c) vs. Alexa Bliss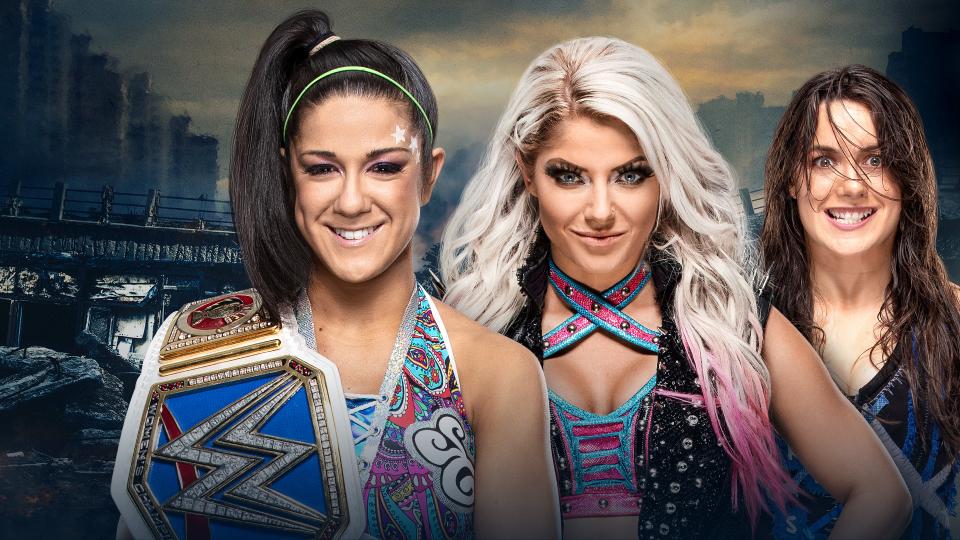 What Should Happen: As I mentioned in this week's Best and Worst of Smackdown …
The money here is that I think Bliss is actually telling the truth, and that Nikki Cross is the big manipulator. That's the only really satisfying conclusion to this that I can see. Bliss has "cried wolf" so many times everyone expects her to be a huge jerk to anyone she pretends to be friends with, but Cross is literally an insane, feral monster that is for some reason acting perfectly normal and lovable with Bliss. Why? I think Cross is the one pulling the strings with the "gossip" and social media shit-talking or whatever, and I'd love it if it inadvertently double-turned Bayley and Bliss.
So I'd love to see Bliss win with Cross' help here, and then have Cross maul her Owens-and-Zayn-style either immediately after the win or on next Tuesday's Smackdown. I mean, I'd rather them actually be friends, but I can't expect WWE to maintain on-screen friendships for very long.
What Will Happen: Cross tries to help Bliss win and Sasha Banks shows up to help even the odds? That seems like more of a stretch than the Nikki as Master Manipulator thing, but Sasha's gotta show up somewhere sometime, so why not here? Plus, I think Banks would prefer this rude-ass Bayley to the one she's used to hanging out with.
Staff Picks
Emily Pratt – Bayley is a really good wrestler and Alexa Bliss has been part of good matches, so if they don't get too goofy with Nikki Cross interference, this could be a highlight of the show. I am hoping and praying that Bayley retains and gets to continue her comeback, but never count out Bliss.
Raj Prashad – Bayley's rivalry with Bliss heated up big-time on Tuesday night. Going with Bliss to steal the title away thanks to some help from Nikki Cross.
Elle Collins – Bayley has to win here. She's finally got momentum, and losing to the same person who embarrassed her so badly two years ago would be a sure way to kill it. Bayley will keep the belt, and Alexa and Nikki will either spend some time in the women's tag division (maybe Alexa's presence could even get them a PPV match), or they go ahead and do their breakup storyline (I'm rooting for the former).
WWE Championship Steel Cage Match: Kofi Kingston (c) vs. Dolph Ziggler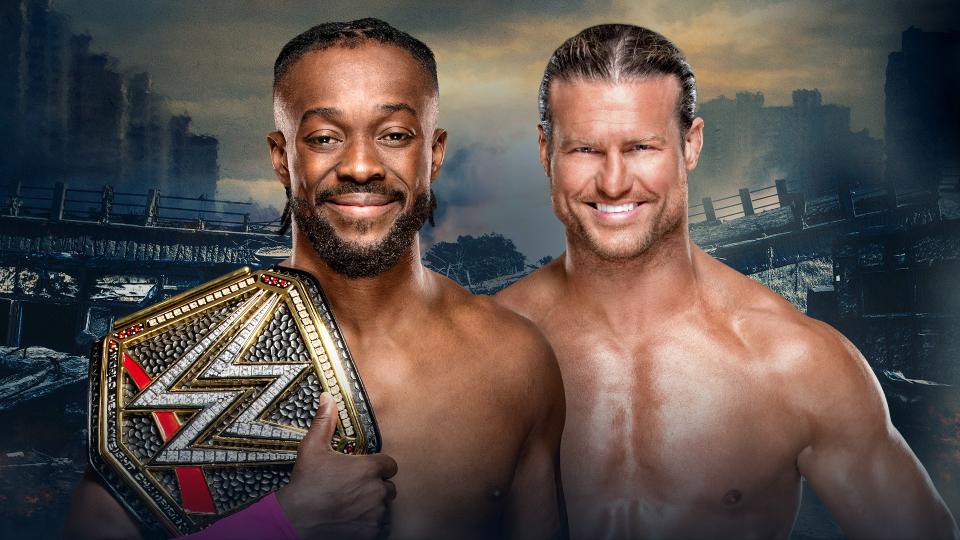 What Should Happen: Dolph Ziggler's character model should glitch and get stuck in the cage, allowing Kofi to calmly exit through the door and retain the WWE Championship. Ziggler should also have his voice box damaged so we don't have to hear any more "it should've been MEEEE" promos.
What Will Happen: Honestly, I want this to be good. Kingston vs. Ziggler is probably my least favorite combination of obviously talented veterans, mostly because we've literally seen it 30 times (not counting tag matches, six man tags, and so on). Ziggler as WWE Champion is a concept best left in the past, and Kofi Kingston retaining at least until SummerSlam seems like a very easy, obvious choice.
Staff Picks
Emily Pratt – We all know Kingston's retaining, so this match is all about the cage bumps, *perfect Kofi Kingston voice* bay-bee! *End perfect Kofi Kingston voice.* Can Dolph Ziggler become a smark icon again by some ridiculous selling in a cage? Let's find out!
Raj Prashad – Ziggler is just going to talk his next title reign into existence, huh? Going with Kofi to win, but not without some controversy. I can imagine these two dropping to the floor at the same time or something.
Elle Collins – Dolph thinks it should have been him, but he's wrong. It was always meant to be Kofi, and it's going to keep being Kofi when he retains the WWE Championship.
Raw Women's Championship Match: Becky Lynch (c) vs. Lacey Evans
What Should Happen: Kick, wham, armbar.
What Will Happen: I'm not even sure why Lacey Evans deserves another championship match after getting one with no main roster experience, losing the first one clean, and then cheating to help Charlotte win in a followup that wasn't even supposed to involve her. It's not like Lynch had to put the belt on the line to get her hands on a character that can't stop randomly appearing and getting in everyone's business. Regardless, unless Dana Warrior wields some Ultimate® booking power, Becky One Belt should retain, and retain strong.
Staff Picks
Emily Pratt – Lynch wins and then they wrestle for two to three more PPVs in a row! Evans is more a "character wrestler" and than "wrestler wrestler" right now, but I'm hoping this one exceeds expectations.
Raj Prashad – I'm not super certain where this rivalry is going, but sticking with Lynch to hold onto the belt and keep this thing going.
Elle Collins – Sadly, I feel like this feud has cooled Becky off significantly (not that she can't get it back later), but that heat hasn't transferred to Lacey. It's just dissipated into the ether. For that reason and many others, Becky Lynch needs to win decisively here and then move on to other feuds, which is what I expect she'll do.
WWE Universal Championship Match: Seth Rollins (c) vs. Baron Corbin (Special Referee TBA)
What Should Happen: Rollins should kick Corbin in the balls before the match starts, then immediately Stomp him so hard it disintegrates his "gear" and forces him to go back to wrestling in clothes a wrestler might wear. It's not "heat" when we talk about how stupid you look, Baron, it's just that you look really stupid all the time.
What Will Happen: I'm going to go out on a weird limb and say that Paul Heyman ends up being the special guest referee instead of Brock Lesnar. Then, after Heyman does some shenanigans to make Rollins mad (and maybe counts Rollins' inevitable win), that's when Brock Lesnar shows up. That would pay off the whole, "maybe he's here, maybe he's not," Paul Heyman thing where he's always not, subvert expectations, and still give us the Brock Lesnar cash-in to set up whatever they want to do with him at SummerSlam.
Staff Picks
Emily Pratt – Stomping Grounds is essentially named for Seth Rollins like those In Your House WWF PPVs used to be, so he has to retain her. I have no desire to watch Baron Corbin wrestle anyone or do anything right now, but the fallout of the Special Referee was a fun part of Raw, so maybe it will somehow save this match?
Raj Prashad – Despite the odds being stacked against him, I can't imagine Rollins dropping the belt here though. Maybe we get Heyman as the special guest referee here and it sets up a Brock Lesnar run-in. (Ed. note: hey, maybe the limb wasn't so weird!)
Elle Collins – I don't know who the special referee is going to be, but regardless I'm pretty sure they're not about to put the Universal Title on Baron Corbin. I also don't think Brock Lesnar is showing up for a PPV with a boot for a logo, so I'm expecting Seth to leave with that belt.
Those are our thoughts on WWE Super Shoe-down 2019. Who do you think's winning what, and why? Let us know down in the comments section, give the column a share on social media to get some fresh voices in the discussion, and make sure you're here all weekend for our Stomping Grounds coverage.
Hey, at least it's not in Saudi Arabia, main-evented by Goldberg, or going up against the Game of Thrones finale!