Previously on the Best and Worst of WWF Raw Is War: Are Vince McMahon and a newly evil Dude Love in cahoots? Vince says no. Everyone else in the world says, "yes, duh." Also Triple H's penis is a Super Soaker, and Jim Ross and Jerry Lawler can't stop flipping out about how they might see a naked woman over the weekend.
If you haven't seen this event, you can watch it on WWE Network here. Check out all the episodes you may have missed at the Best and Worst of WWF Raw Is War and Best and Worst of WWF Monday Night Raw tag pages. Follow along with the competition here.
Hey, you! If you want us to keep doing retro reports, share them around! And be sure to drop down into our comments section to let us know what you thought of these shows. Head back to a time long forgotten when Raw was fun to watch, and things happened!
And now, the Best and Worst of WWF Unforgiven: In Your House, originally aired on April 26, 1998.
Worst: The Rock Is Terrified To Take A Dominator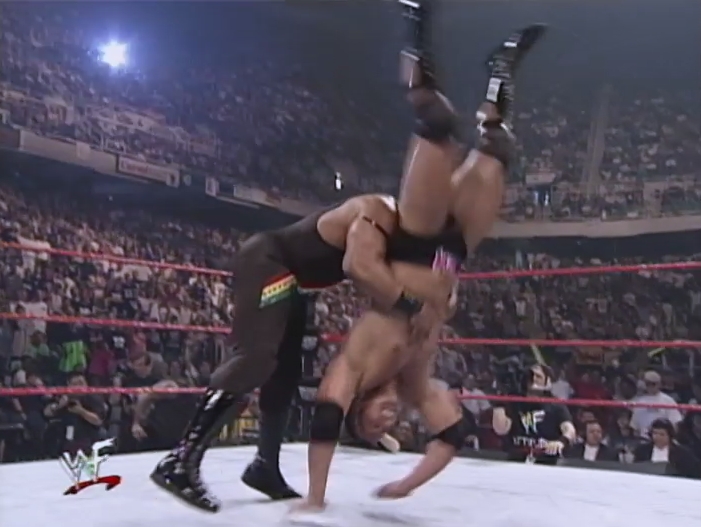 Unforgiven: In Your House: The Unforgivening opens with the six-man grudge match pitting the now Rocky Maivia-led Nation of Domination against the Pure Sports Build dream team of Faaarooq, Steve Blackman, and the World's Most Dangerous Man (but arguably the second most dangerous man on his own team) Ken Shamrock. If you're wondering, it takes almost ten minutes for Jim Ross to start salivating about how some of these guys used to play college football.
The highlight is definitely the finish, in which Faarooq tries to hit a Dominator on The Rock and Rocky is scared to shit to take it. I tried to express it in a still image, but if you can't tell what's going on, that's Rock almost completely extending his arms downward and doing a handstand so his face and chest don't come anywhere close to the mat for a move where your face and chest are supposed to hit the mat. It's a full-on Kane Pedigree bump on the elbows. It's weak as hell, but hey, maybe he was on to something. He could've taken it like Jeff Hardy and ended up in a morgue.
It's not much of an opener, but it gives Faarooq maybe his biggest win in his WWF career*, pinning The Rock clean to set himself up as the next challenger to Rock's Intercontinental Championship. He gets that shot at next month's Over the Edge, and since you don't remember a glorious IC title run for Ron Simmons, you can probably guess how it ends.
*Faarooq is a three-time Tag Team Champion, sure, but those three reigns only add up to 79 days. To put that into historical perspective, that's five days less than the one reign from Carlito and Primo.