It's the culmination of the past month of Raw stories, which should be the norm for WWE pay-per-views, but never has been. The core story, as you probably know or remember, is that Stone Cold Steve Austin is the World Wrestling Federation Champion and doesn't want to play by WWF owner Vince McMahon's corporately mandated rules. Austin wants to be the beer-spilling, belligerent redneck murderer he's always been. Vince wants him to be … well, John Cena. Kissing babies and hugging fat girls. He keeps trying to cheat Austin out of the championship (like he did to Bret Hart), but Austin's not gullible and depressed like Bret, so it's not working. Vince starts building this cabinet of cronies to help him out, which now includes Gerald Brisco, Pat Patterson, and noted immoral turncoat Sgt. Slaughter. He's also emotionally abused Mick Foley into following his orders, turning him into an evil version of his Dude Love character with false hopes that he'll become WWF Champion and be the Shawn Michaels he's always wanted to be.
Foley couldn't get the job done at Unforgiven, so Vince decided to be a little more transparently evil, setting up a match between Austin and Goldust with himself as the timekeeper (cutting out the middleman in any "ring the damn bell" scenario). As an important side note, Vince got smashed in the head with a chair at Unforgiven, which might've knocked a few screws loose and made him more of a cartoonish villain. More on that in a bit. But Austin was able to retain, and now heading into Over The Edge we've got Vince unloading every weapon he has, all at once, to finally dethrone this jean shorts motherfucker he hates.
The scenario:
Dude Love has been psychologically broken, made to "rip out of the heart" of his best friend to earn another title shot, and turned into a "corporate champion" wearing a suit and fake front teeth
Vince McMahon now as special guest referee, so he can try to directly manipulate the match
In a pre-match interview, he reminds us that BY HIS HAND ONLY can the match end. This is important.
Patterson as the special guest ring announcer and Gerald Brisco as special guest timekeeper
Just before Vince rings the bell to start the match, the lights go out and Undertaker's Dong interrupts them. You see, Vince tried to use stalwart company man The Undertaker in his machinations against Austin, but showed off too much during Undertaker's entrance and got popped in the mouth. More on this later, as well. But all you need to know for Over The Edge is that Undertaker's tired of being Vince's pawn, and stands at ringside to make sure Vince doesn't fast-count Austin the second his shoulders are down, or call for the bell on an abdominal stretch or whatever. When I complain about modern WWE not covering their bases and explaining character motivations (or why things happen at all), this is a great example of how it can be done right. You've got like 300 characters on the roster, you can find somebody to do something to make a ridiculous situation make sense. At least in the short-term.
With Taker at ringside, Vince is forced to go with Plan B, because there's always a Plan B. When Dude gets the advantage by throwing Austin over the announce table, Pat Patterson suddenly gets on the mic and "reminds us" that the match is no disqualification. Jim Ross sells the shit out of it by yelling SINCE WHEN, THAT'S NOT RIGHT! Austin fights back. When Dude scores with a big neckbreaker in the entrance aisle, Patterson once again "reminds us" that the match is Falls Count Anywhere. Austin fights back.
Note: By making it a "reminder," Vince is skirting around the reality that he's manipulating this shit on the fly, no matter how obvious it is, which keeps Undertaker from just stepping into the ring and shit-kicking him. You've seen an evil general manager change the rules on the fly a hundred times on WWE TV by now, but in 1998 it was a fresh concept, and it's never been done better or with better talent than it was here. Ross and Lawler are on fire making the calls.
As the match winds down, Austin blisters Dude Love with a chair to the face, but Vince refuses to count the pin. Dude tries to hit Austin with the chair while Austin's arguing with Vince and accidentally smashes Vince directly in the nose, knocking him the hell out. This gives McMahon additional brain damage that will affect how "Mr. McMahon" reacts to things going forward. It's a wonderful, forgotten aspect of the transformation between Vince McMahon and Mr. McMahon. He just kept sticking his nose in too deep, took a couple of brutal shots to the head, and it just compounded from there.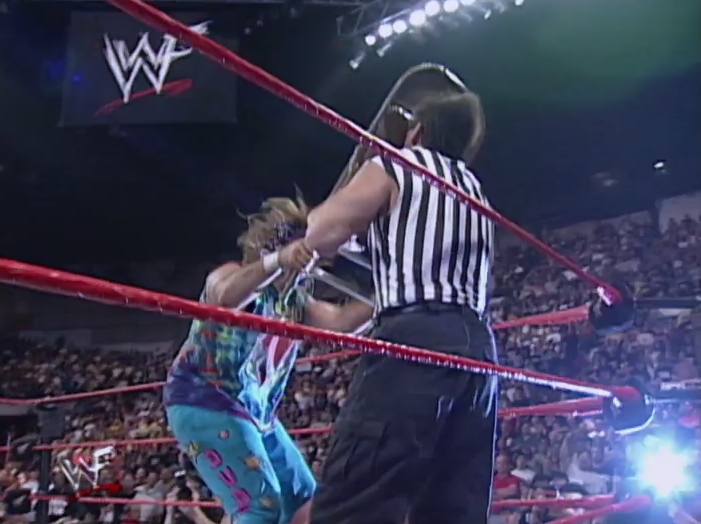 This is where the match goes from great to legendary. Austin hits a Stunner and has the match won, but there's no one to count the three. The match has to end by Vince's hand only, you'll recall. Another referee runs down to count the three, but Patterson yanks him out of the ring at 2.9 and punches him in the face. Dude Love recovers enough to get the Mandible Claw (or the "Love Handle," if we're being accurate) and has Austin's shoulders down, so Patterson, empowered by his red right hand, makes the count. Undertaker pulls him out of the ring and chokeslams him all the way through the goddamn announce table. Jerry Brisco nuts up and tries to make the count, so Undertaker pulls HIM out of the ring and chokeslams HIM through the SPANISH announce table. The crowd is popping like Jesus just descended from Heaven on a white horse.