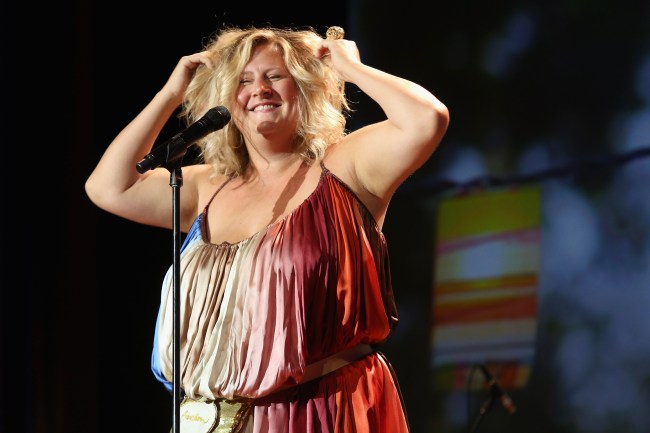 Bridget Everett is a comic, writer, actress, and caberet performer probably best known for her appearances on Inside Amy Schumer and @Midnight. Her new special, Bridget Everett: Gynecological Wonder, airs tonight on Comedy Central at 12:30 a.m. EST.
Bridget was nice enough to take a few minutes out of her busy schedule recently to answer a few questions from us.
1. You walk into a bar. What do you order from the bartender?
A classic California chardonnay. Always.
2. Who's your favorite person to follow on Twitter and/or Instagram?
@coleescola on Twitter. He's so funny and original and makes me laugh so f*cking hard. @Onehalfnelson on Instagram. I can't get over his creativity. So inspiring.
3. What's currently waiting for you on your DVR/TiVO?
Last week's episodes of Inside Amy Schumer and Another Period.
4. It's your last meal — what are you going out with?
Great Mexican food, tacos made with lobster or shrimp, smoky salsa and enough spicy margaritas that I black out before they kill me.
5. What websites do you visit on a regular basis?
Petfinder, Dlisted, Petfinder, Gawker, Petfinder, Etsy, Petfinder.
6. What's the most frequently played song on your mobile device?
"Hate It or Love It" — G Unit remix. I listen to that sh*t on a loop.
7. The first face that comes to mind when you think "punchable?"
Trump.
8. What's the last thing you googled?
Pomeranian life jackets.
9. Dogs or cats?
Cats, but I have a dog. She looks and feels like a cat.
10. Best concert of your life was…?
Just last week! Saw Barry Manilow's closing night of his farewell tour in Brooklyn. A lot of old ladies wearing their best Michael Kors and freaking the f*ck out. Pretty epic.
11. What book are you most likely to give as a gift?
A great showbiz biography.
12. What's the nicest thing anyone has ever done for you?
My friend flew me home to see my dad when he was dying and I didn't have the money.
13. South Park or Family Guy?
South Park!
14. You have an entire day to do whatever you want. What would you do?
Wake up at the beach. Make some coffee. Take my dog for a walk. Come back to the house. Have lunch by the pool. Take my dog for a swim. Lay out. Get some sun. Have a late afternoon glass of chardonnay. Take a nap. Pour another glass of wine. Make dinner with friends on the grill. Probably lobsters. Round it out with summer tomatoes and skillet corn. Stay up late drinking by the ocean, gossiping, laughing and listening to a little Bill Withers. And hopefully Victor Garber tucks me into bed.
15. What movie can you not resist watching if it's on?
Sister Act 2. I cry every time.
16. The sports team or teams you're most passionate about?
I had to give up watching sports regularly. I know everyone feels this way, but when my team would lose, I blamed myself. So, I took myself out of the equation. I couldn't handle the devastation.
17. Where did you eat the best meal of your life?
Pascal's Manale in New Orleans. Amy Schumer and I go there every time we visit. Last time we were in town, we woke up after eating there the night before, looked at each, smiled and went back for lunch. It's incredible. Get the BBQ shrimp and the bread pudding and then schedule a nap.
18. The last movie you saw in a theater?
I saw something with Anne Hathaway and Matthew McConaughey (can't spell that — oops!) and some spaceships. The movie wasn't really my thing, but I love the recliners at the AMC theater on 84th and Broadway.
19. Who was your first celebrity crush?
Kirk Cameron or maybe El DeBarge.
20. What would you cook if Nic Cage was coming to your house for dinner?
French toast and I'd get us some really nice chardonnay. Rombauer is my favorite.
PREVIOUSLY: Andrew Gurland