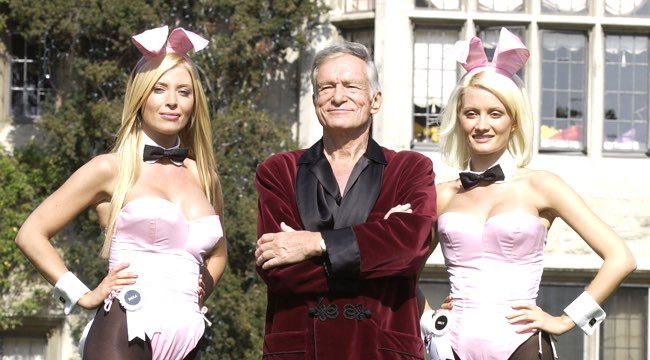 The Playboy Mansion has been up for grabs since Hugh Hefner put it on the market for a hefty $200 million (to put it in perspective, Playboy Enterprises purchased the mansion in 1971 for $1.05 million) back in January and it's finally been sold to the highest bidder. Hef's neighbor, Daren Metropoulos, who bought the property next door from the Playboy mogul in 2009 for $18 million, reportedly is in contract to purchase the mansion for over $100 million, according to The Wall Street Journal, but there's a major catch — 90-year-old Hefner will continue to live there for the rest of his days.
Metropolous, principal at private-equity firm Metropoulos & Co. and the son of billionaire C. Dean Metropolous, says he cares more about the overall architecture of the Los Angeles mansion, originally built in 1927, over its house party fame (even though TMZ claims he's a big party guy). "The heritage of this property transcends its celebrity, and to have the opportunity to serve as its steward would be a true privilege," he said.
Don't be too weirded out though, Hefner and his 32-year-old neighbor will not be roommates. After Hefner's days as a tenant are over, Metropolous plans to combine the estates into a 7.3 acre compound. The 20,000 square foot mansion has 29 rooms and is one of the only private homes in L.A. to have its own zoo license. Fun will always be had at the mansion.
(Via The Wall Street Journal/TMZ)