Welcome to Comedy Now, a weekly column cataloging what comedy fans should know about what's available in the streaming world. Whether it's a brand new special, an old classic, or the oddball show that defies categorization, we'll list as many as we can for your enjoyment right here. Who knows? We may even throw in a few non-streamable bits on occasion, like tour announcements from our favorite comics. You can check out the previous column here.
What's Now
Cameron Esposito is here to tell Rape Jokes whether or not you want to hear them
Cameron Esposito is a stand-up comedian, podcaster and television showrunner. Her work in these media (and others) is wonderful, but they have been taking a backseat to her new self-made and distributed special Rape Jokes. Described as a concert film "about sexual assault from a survivor's perspective," the new hour is technically free, and only asks for a donation of whatever amount interested parties are willing to give. However, the proceeds will "benefit RAINN, the United States' largest anti-sexual violence organization." It's a tough hour to watch, but equally funny as it is enlightening.

What's New(s)
Ellen DeGeneres goes on tour ahead of taping her upcoming Netflix special
Last year, comic-turned-daytime television host Ellen DeGeneres announced she would be taping her first stand-up special in 15 years. Unsurprisingly, comedy hound Netflix had secured the new hour, but aside from the May 2017 announcement, little else has been said since then. On Thursday, that all changed when DeGeneres tweeted a limited run of August tour dates for An Evening with Ellen DeGeneres with stops in San Diego, San Francisco and Seattle. According to The Hollywood Reporter, the final two dates at Seattle's Benaroya Hall, August 22-23, will be taped for the Netflix special.
Some unreleased Mitch Hedberg material is on its way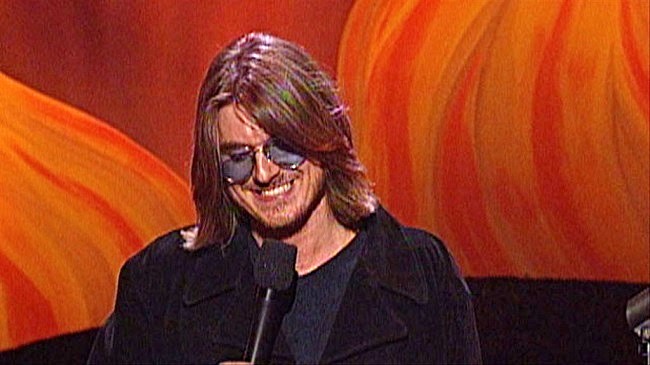 In a guest THR column on Thursday, comedian Lynn Shawcroft, the widow of Mitch Hedberg, revealed some of the late, great comic's unreleased material would soon be publicly available. Specifically, she revealed she had spent the past eight months removing "the film and tapes and notes in three big iron safes in a cabin we had in the mountain" and "digitizing everything" with the help of a Los Angeles company. And not just audio recordings, but show videos and "[another] film Mitch shot himself, with his voiceover. Enough for a documentary. A documentary that he could narrate himself."
W. Kamau Bell tells it like it is in Private School Negro
When he's not too busy working on his Emmy Award-winning CNN program United Shades of America or writing hilariously reflective memoirs, W. Kamau Bell does comedy. Specifically, as he puts it in The Awkward Thoughts of W. Kamau Bell, he tells jokes that are "stepping on the right toes." Judging by the trailer for his upcoming Netflix special Private School Negro, out Tuesday, June 26th, that's precisely what he's doing. He sounds off on everything from the current presidential administration and racism in America, to parenting mixed race daughters and other choice topics.

The first new episodes of Jerry Seinfeld's Comedians in Cars Getting Coffee are coming
Aside from agreeing to produce and distribute two new stand-up comedy specials, Jerry Seinfeld's massive Netflix deal also included his web series Comedians in Cars Getting Coffee. Not just the old episodes, but a brand new season featuring Seinfeld riding around with comics and other celebrities. On July 6, all 12 new entries featuring Dave Chappelle, Kate McKinnon, Ellen DeGeneres, Hasan Minhaj, Dana Carvey, Neil Brennan, Tracy Morgan, Brian Regan, Alec Baldwin, Zach Galifinakis, John Mulaney and the late Jerry Lewis will drop exclusively on the streaming platform.
What's Later
Hannah Gadsby's Nanette, the comedy special everyone will be talking about, comes out next week
Australian comic Hannah Gadsby commands a significant fan base in her country, as well as in the U.K., but not so much in the U.S. With her new special Nanette, out Tuesday, June 19th on Netflix, that's all about to change. Dubbed a "major new voice in comedy (who also attacks comedy)," Gadsby and her show — which operates more like a Whoopi Goldberg or Mike Birbiglia-esque one-person show — is primed for the #MeToo era. Not because it's rife with nominal condemnations, but for how it makes us think about these matters — even the nature of self-deprecation, comedy's go-to tool.