The soul of Hasan Minhaj's howlingly funny and revelatory new Netflix comedy special, The King's Jester (which you can stream now on Netflix), came from a prompt from his director (and Patriot Act co-creator) Prashanth Venkataramanujam: "I just need you to bleed on the page. Anything that you're too humiliated or scared to talk about, you should talk about it."
Seems simple, right? But accepting what Minhaj describes in our recent conversation as the closure of a gap between his public and private persona requires a commitment to a kind of authenticity that people have no problem talking about. Living that truth? Now there's the challenge, but Minhaj seems to pull it off in a new special where the target is usually himself as he talks about the dopamine hit of social media uber relevancy and brushes with real consequences from his work pushing back on some of the world's most powerful entities. Throughout, though, there's a theme that we unpack in this interview: the idea of graduating and also being comfortable with who you are. Along the way, we also discuss the hard conversations that helped him get to a place where he could see the line and reorder his priorities and this golden age of stand-up special auteurism.
The thing that really drew me into this is you are unafraid to get vulnerable. Not that you were a closed book before, but this is just really open. I'm just curious about what it's like to have to push past any sort of protective shield and also be self-aware enough to see these things.
For me, the bridge that I've always been trying to close is the gap between who I am on Instagram and who I am on iMessage. If I'm going to be honest with you, when I just had my notepad out and I was writing out the material and writing out the stories, there really was a gap there. People see me or saw me as the Daily Show, White House Correspondents dinner, Homecoming King, Patriot Act guy. And then there's the iMessage, WhatsApp Hasan Minhaj that Beena, Ayesha, my parents, my in-laws, my cousins, they really know who I am. And there's a little bit of, "Hey, if I'm going to try to do this thing, be an artist for life, I got to close that gap." The King's Jester, I think, is really my just sincere offering to try to do that as I continue to grow and evolve. And I don't want to live a life where I'm kind of being duplicitous or I'm putting something on for the crowd. And I'm sure you know this in media, there's that kind of blue check Twitter, Instagram persona, and then there's who you really are. That goes for whichever side of the aisle you're on. That's not a political framing, it's the actual quality of your character. For me, if I want to be an artist for the rest of my life, I got to show you who iMessage me is.
You talk about driving a Honda Minivan in the special, talking about sucking snot out of your kids' nose, and there's this idea of, "Okay, I'm going to talk about all this kid stuff." I've talked to other comics about how that can be a tough transition for them. Does that factor into it at all?
Man, look, I really sincerely believe this, life is about graduating. There are two things you got to think about. I have to be honest, I do drive a black Honda Odyssey that we lease from White Plains Honda. My monthly payment is $938 a month. This is true.
That's a tricked-out Honda.
Yeah. Bro, it's got a leather interior. I'm doing all right. I'm not ballsy enough to buy, but I do lease. And I will say, if I was fronting, I'm not that. To me, I just don't want to maintain that charade. And then also, there is something sad about the 37-year-old dude trying to act 25. There's kind of nothing worse than that, and so I think it's okay, especially in our society, we have this thing where we always want to hearken and hang onto the past through vintage style or the idea of rebooting. Really what we're trying to do is just, there's this warm blanket and you want to reach back to when things were simpler and made sense. I actually think it's more courageous to be like, "Nope, I'm embracing this and I'm going to talk about it, and I want to break new ground for myself personally and for the audience." And if you think that's corny or lame or not incisive, that's fine, but at least I have the satisfaction to know I'm being honest.
And this feels like a graduation. It does.
I hope so. Thank you, man. That was really what I was going for.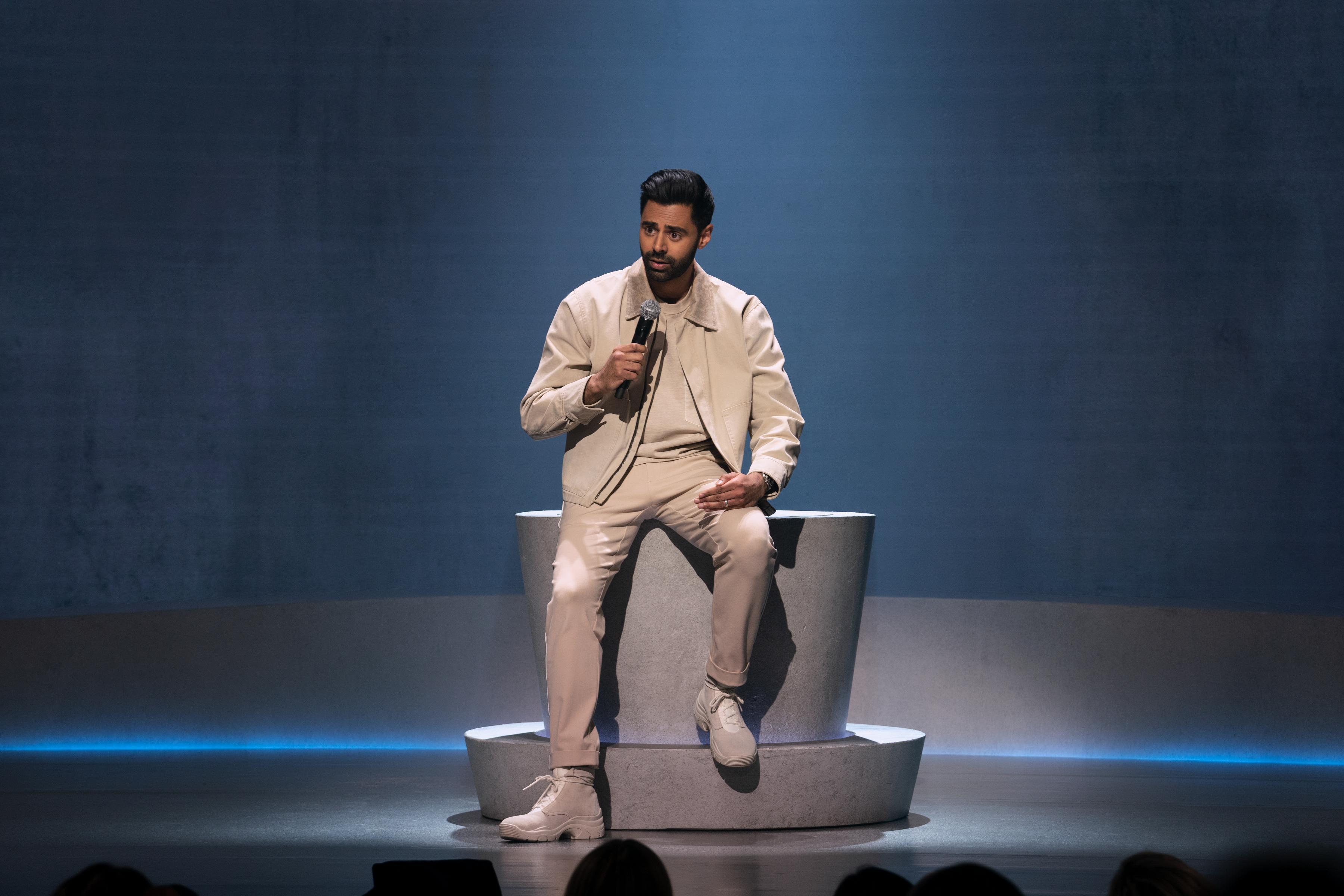 When you talk about some of the stuff you went through with Patriot Act — some scary shit (death threats, getting white powder mailed to him). When that happens, is there anger that rises in you and a want to push back harder at that point? Do you want to say, "Fuck this, I'm doubling down?"
I'll be candid with you, I got to give a lot of credit to both Beena, my wife, and Prashanth Venkataramanujam, the director, but also co-creator and showrunner at Patriot Act. Both of those people in my life have served as kind of firewalls and guardrails of, "Hey, let me tell you something with the sobriety of morning here, these are the consequences that are going to happen. And the cost that you're going to have to pay, that our family is going to have to pay, and loved ones are going to have to pay, are going to last a whole lot longer than, no disrespect, but what UPROXX or Vulture covered as the news of the day."
People are going to forget about this viral video or this kind of mic drop moment with the flick of a wrist. We have to carry the consequences. So, do you want to make your pilgrimage and do your Hajj and go to Mecca? Do you want your parents to be able to go to India and be okay? Do you want to be able to fly and be routed via Dubai and not be extradited and taken away? There are real consequences that IG stories and the Instagram Discover page do not care about, but your family has to really live with those things IRL.
So, those were sobering moments for me when kind of, "You get the bill," and I'm like, "Oh wow, I'm dealing with this, Beena's dealing with this, the kids and my parents, and nobody knows and nobody cares outside of our house." That was the terrifying thing, that real kind of sobering reality of, and this is going to sound weird to say, "Man, if I died, people wouldn't even put me in their feed. Maybe they'd share the story. The value of my life dissolves within 24 hours in the public eye. Man, I got to care about the people that don't give a fuck about Blue Check Hasan Minhaj. They care about who I actually am." And that was a real, "that's my line."
Was that an instant realization or was that something that you had to be kind of slapped in the face a little bit to get?
Candidly, when my marriage was going through those really tough spots, it was a realization that I came to and that my wife and I talked about, and it was like, "What really matters here?" And I care so much more about Beena than I do Deadline articles.
I love the visuals of this special. I feel like we're in a golden age visually for stand-up specials right now.
I couldn't agree more. The level of auteur filmmaking that is happening right now between Jerrod Carmichael, Bo Burnham, shout out to the Lucas Brothers and their amazing film, as well. It's really inspiring. My personal belief, I think within the next 20 years we're going to see five to ten standup comedians enter that genre of auteur filmmaking that 30 years ago, only Woody Allen embodied and was a part of that. There is no doubt in my mind that Bo, Jerrod, the Lucas brothers, they're going to win Oscars, man. There's no doubt in my mind.
I have had conversations with other comedians, though, older guard maybe, who have described it to me more as something that can sometimes be distracting. I get how that can be the case, but I don't see that with any of the stuff that you just mentioned or Moses Storm's special or anything like that, is that ever a concern for you, the idea of making it feel additive as opposed to distracting?
I actually think that's a fair criticism. I think it starts with the idea and the PDF. Prashanth and I will talk about this all the time, start with the PDF and build from there. And so, one of the things that we started with when we just had the show on its feet, and I was doing it in black box theaters, the emotional threads that we were pulling, there were more emotional threads than visual cues or threads. For me, I wanted to use color as an emotional tool. What does fertility look like? What does clout look like? What does fear look like? All of those things. And you can see that in the special. So, I couldn't agree more. I think you start with the idea itself and build from there. I think it's distracting if you go, "Hey, I just want a crazy set. I want to use antique lenses. I want to shoot this on film." But it's not servicing the PDF. So for me, it's always the power of the PDF, start there and then you can build from there. And I think the great shows and the great specials do that.
And I put this up in that echelon, this and Rothaniel really are my two favorite specials from this year.
Wow. Thank you, man. Dude, that's an honor, man. Because Jerrod is operating at a level that I aspire to, man.
Yeah, like you were saying, he's obviously being true to himself. He's always been such a really interesting voice. It's so great to see him be able to just get a chance to really just spread his wings.
You know what's always humbling and terrifying? And I'm sure you've noticed this working in media. One of the lines they always use is, "Do we need this movie now or do we need this special now?" And one of the things you feel as an artist, author, creator, is what that's implicitly saying is, "Do they need me now? Am I not cool? Am I not the cool kid anymore?" You feel like Woody in Toy Story, "Is Andy going to get rid of me?" But I can't make art for the meta-narrative. You know what I'm saying? I have to do what feels honest. If that lines up to what, quote-on-quote, we need, great. If it doesn't, at least I can go to sleep at night being like, "Hey man, I really did try. And I'm being, again, honest." I just turned 37 and I'm now measuring success by… it's actually a hedge against regret rather than what I can transactionally get out of an experience.
'The King's Jester' is available to stream now on Netflix