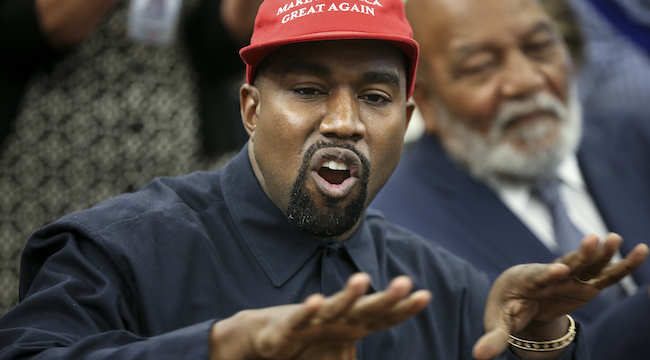 After Kanye West's non-apology for his controversial statements and subsequent step away from politics, it was only a matter of time before his newfound, conservative cheerleaders responded. Given Kanye specifically cited his "collaboration" with Candace Owens on her "Blexit" campaign, for which he says he was falsely credited, it's only right that the wannabe pundit is the first one to speak up on his apparent change of heart.
On a post on her own blog melodramatically titled "808s And Heartbreak," Owens further explained the situation that led to Kanye being attached to her campaign to convince Black voters to part ways with the Democratic party.
"I never once said that Kanye designed the t-shirts for BLEXIT," she wrote. "Kanye was completely right to feel used in that regard and as I have done personally, I would like to publicly apologize to him for any undue stress or pain the effort to correct that rumor has caused him, his business relationships, or his family. He simply never designed them."
She also accepted responsibility for Kanye's tweets, apologizing to Donald Trump for the rush to paint West's tweets as a condemnation of his administration of which Kanye has been an outspoken fan, stating, "His tweets were aimed at me and me only, rightfully, for my personal failings. I bare [sic] full responsibility."
Of course, many observers were more than skeptical about Kanye's supposed change of heart, rightfully interpreting his tweets as a complaint about being given design credit he never wanted or asked for. While he "distances" himself from politics, it's important to wonder if the damage already done could ever truly be repaired. Given the fact that people like Candace Owens got the attention they wanted from their association with him, it doesn't seem likely.