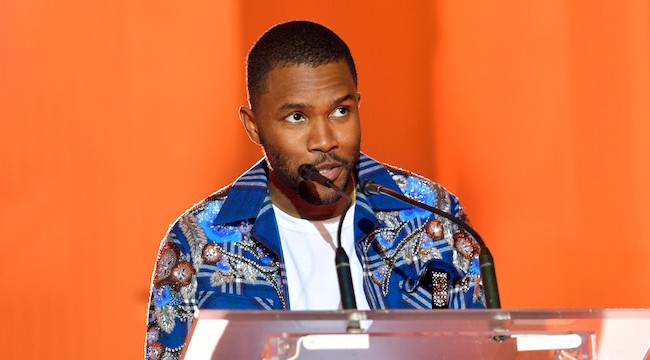 Frank Ocean once promised to release five albums before his 30th birthday, and a recent Tumblr post from the reclusive R&B iconoclast suggests he may have met that goal — he just hasn't released the fifth album yet. Frank turned 30 one month ago today — throwing an astonishing ballroom drag party to celebrate — but there were no signs of a fifth album.
Well, either someone asked him about that five album vow one too many times, or he was up late thinking about life while scrolling his Tumblr (as one does) when he apparently decided to clear the air regarding that missing collection of songs. "WELL I️ MADE THE ALBUM BEFORE 30," he wrote. "I️ JUST AINT PUT THAT B*TCH OUT!" -QUOTES FROM AN INTERVIEW I️ HAVEN'T GIVEN HAHA."
Of course, that unreleased album — if it exists — probably can't be held against him, as it took right around four years to follow-up Channel Orange, itself a challenge for him to convince Def Jam Records to release. In fact, Channel Orange was only made possible by the runaway success of his independently released project, Nostalgia Ultra. His next album, Endless, didn't come out until 2016, which ironically ended a long hiatus that transformed into a longstanding internet meme.
That album was followed in short order by Blonde, a critical and commercial success that went a long way toward appeasing fans who'd become accustomed to the modern accelerated release schedule propagated by insanely prolific artists like Lil Wayne, Future, and Gucci Mane, who've all released multiple albums in a single year.
As far as that fifth album goes, there's no information on Frank's future plans right now, but knowing him, that could change at any second. Hopefully, this one won't take four years to reach the public, or the meme machine might overheat and explode.