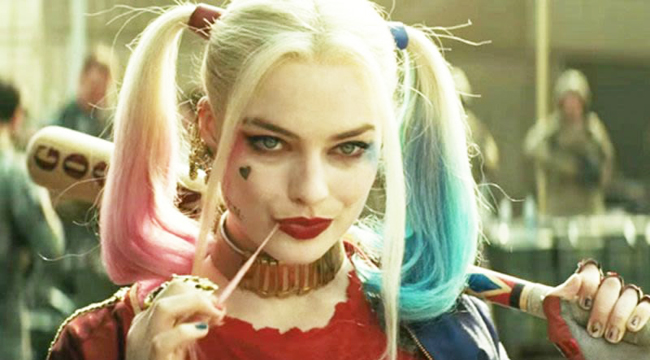 The new Harley Quinn animated series for the DC Universe's streaming service is all about the titular, baseball-bat wielding badass (voiced by Kaley Cuoco) breaking up with the Joker and leading her own flock of supervillainesses. Well, Birds Of Prey (the upcoming, Harley-centered, feature film starring Margot Robbie) follows an almost identical theme following the romantic bust-up. We also know that Robbie's leading a revolving group of both villains and heroes, and Jared Leto's incarnation of the Joker isn't invited to the party. And thanks to a scrawling from Robbie herself — upon her Birds Of Prey script — fans of the DCEU were treated to what appeared to be the full title for the movie.
Lest anyone believe that Robbie is merely trolling the masses, the Hollywood Reporter's Aaron Couch has confirmed with Warner Bros. Pictures that Birds of Prey (And The Fantabulous Emancipation of One Harley Quinn) is the actual title for the spinoff film, rather than (as some might suspect) a play on the Michael Keaton-starring Birdman or (The Unexpected Virtue of Ignorance).
Yes, the title is absurdly long, and some might say it's a little too glittery and punchy, but hey, Harley is finally dumping an abusive partner in the Joker. And while Suicide Squad glossed over the history of the couple's arguably disturbing dynamic, many fans of comic book movies will celebrate Harley kicking him to the "damaged" curb. Well, don't feel bad for the Joker. He's got his own spinoff and origin story movies in the works, and he's basically everywhere right now. Meanwhile, Harley's got better things to do, so let her have her long-ass title.
(Via Hollywood Reporter)