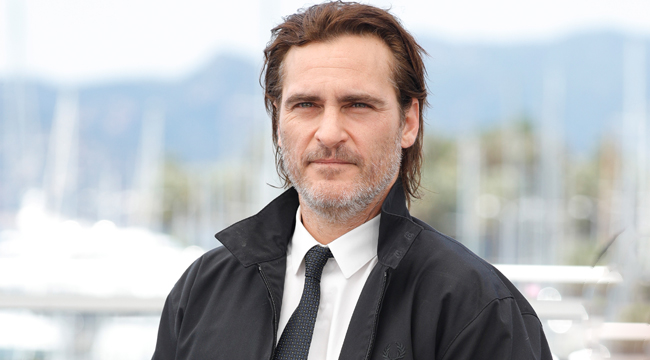 Months ago, news of Joaquin Phoenix starring in a standalone Joker origin film landed on a confusing note, given that Jared Leto most recently portrayed the character in Suicide Squad and will also continue the role in another standalone film. Yet both projects are forging forth as planned, and last week, director Todd Phillips posted the first look at Phoenix as the new Joker, yet it wasn't a very dramatic sight. There was no makeup to be seen, and Phoenix looked almost depressed in an average-guy way.
Well, Phillips has upped the ante by Instagramming a camera test of Phoenix with full Joker makeup. The clip is mildly unsettling to behold, and the makeup job can be seen at the end with Phoenix madly grinning for effect.
People has published some new set photos of Phoenix in civilian clothing while standing in front of a carousel, looking extremely downtrodden as if the weight of the world sits atop his nihilistic shoulders. The actor also recently disclosed that he doesn't care about everyone's premature reactions to his take on the supervillain. Well, at least he's keeping comic fans on their toes, and there will always be detractors for anyone taking on such an iconic character, so he's taking the levelheaded approach by keeping things in perspective. After all, this isn't Phoenix's first rodeo with controversy.
The Joker origin film is currently scheduled for release in October 2019.