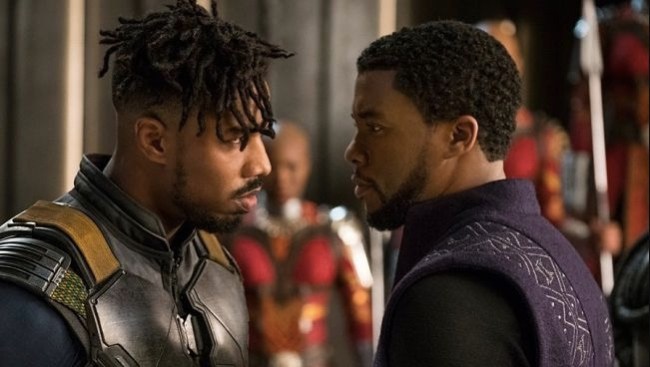 Black Panther (our reviews here and here) has been subverting old tropes and making us add "war rhinoceros" to our genie wishlist, but it's also been consistently shredding box office records. We already knew it has the highest Rotten Tomatoes rating (97%) of all the Marvel Cinematic Universe films, and it's tied with The Incredibles for the highest rating of any superhero film ever. It broke an overseas record before even opening in the US, in addition to garnering the highest IMAX ticket pre-sales for a Marvel movie and the highest ticket pre-sales in general for any superhero movie. It's also the most-tweeted about movie this year, and it surpassed Justice League's entire box office run in only four days. And it turns out Black Panther was just getting started.
Now it's broken even more records. As expected, its $192 million domestic opening weekend beat Deadpool's already-impressive record for a February opening weekend. It blew past the estimates for a $160 million opening and places Black Panther as the biggest opening for an African-American director (Ryan Coogler) and the the fifth largest domestic opening weekend ever. And it continued breaking records even after the weekend.
Its Monday domestic earnings of $40.2 million are the biggest Monday ever, beating Star Wars: The Force Awakens ($40.1 million). Its Tuesday domestic earnings of $21.07 million were the biggest pre-summer Tuesday and beat out the former first place Beauty and the Beast ($17.8 million) and former Marvel first place The Avengers ($17.6 million). Then its Wednesday domestic earnings ($14.5 million) also beat former Marvel first place The Avengers' $13.6 million Wednesday. Black Panther is now expected to crack the half-billion dollar mark worldwide some time this weekend.
All in all, an incredibly respectable showing. And speaking of respectable, Erik Killmonger actor Michael B. Jordan would like some respect on his name:

Where is the lie?
(Via We Got This Covered, Variety, Deadline, and Michael B. Jordan)