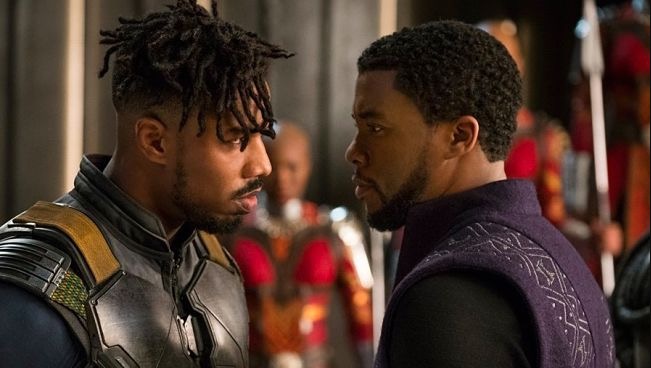 Based on presales, back in January, prognosticators predicted that Black Panther could break $100 million at the box office. By early last week, it looked like a safe bet to be the biggest February opening of all time. On Thursday, before it had even opened in America, it had already broken box-office records. By yesterday, it appeared as though Black Panther would cross $200 million and soundly thrash Deadpool with the biggest President's Day weekend ever. In 80 AMC theaters, the film is already the biggest movie of all time.
The numbers are in now. They're still unofficial until tomorrow, and given how big these numbers are, there could be big swings in either direction. However, it appears that Black Panther has earned around $218 million for the four-day weekend, besting Deadpool's President's Day record by about $75 million. For the three-day weekend, it looks like around $192 million, which makes it the fifth best opening weekend of all time, behind the $207 million of fourth place Marvel's The Avengers. For the best three-day weekend in February, Black Panther bests Deadpool by around $60 million (and Fifty Shades of Grey by more than $100 million). It also appears that it opened with $169 million overseas in 48 markets.
So much for superhero fatigue, huh?
Black Panther is absolutely crushing it in all metrics. Critics have given it a 97 percent on Rotten Tomatoes. Audiences have given it an A+ on Cinemascore. According to Deadline, 88 percent of moviegoers are giving it a definite recommend and 95 percent are giving it an overall positive score. Moreover, 37 percent of the audience for Black Panther — the first major superhero tentpole with a majority-minority cast — are African-American moviegoers, which proves what most everyone already knew was true: Black audiences will show up in massive numbers for a movie with Black representation, a lesson that studios should understand loud and clear now.

Believe it or not, there were other films besides Black Panther playing this weekend, although that wasn't the case in every theater.
With about 10 percent of Black Panther's haul, Peter Rabbit jumps out ahead of Fifty Shades Freed this weekend to take the number two slot with about $17 million (and $22 million over the four-day weekend). That's a very good hold for the film, which suggests that the food allergy controversy has not affected its performance. It has now earned $54 million, surpassing its $50 million production budget before it has even rolled out internationally.
Fifty Shades Freed, on the other hand, took a sizable dip of over 50 percent in its second weekend. It looks good for about $17 million (and $19.6 million for the four-day weekend). With $78 million in the bank, it's on its way to $100 million domestic. It's performing even better internationally, so the final installment in the trilogy will have no problem racking up a tidy profit in spite of terrible reviews.
Holdovers took the next three spots, and two of them are very familiar titles in this year's box office. Jumanji: Welcome to the Jungle just keeps on keeping on, adding another $8 million ($10 million over four days). It's total now stands at $380 million, and it has a decent shot now of earning $400 million before it exits theaters. It has now also surpassed $900 million worldwide. That sequel can't come soon enough for Sony. Meanwhile, in at number six is The Greatest Showman, earning $5.7 million (and $7 million over four days) in its 9th week of release. There were concerns that this movie would flop when it was released back in December and only opened $14 million. It's sitting pretty with $321 million worldwide now on an $84 million budget.
The fifth slot went to Clint Eastwood's The 15:17 to Paris, which had a decent hold. It earned $8 million ($9.5 million over four days) and stands at $27 million. It should earn its money back at the box office once international box office is taken into account, and it's the kind of film that will probably start earning a profit on digital distributing and licensing agreements.

Seventh place went to the weekend's other wide release, Aardman's Early Man, which looks like it will earn around $4 million over the three-day weekend and $5 million over the four-day haul. The Aardman movies are relatively cheap to make, and while they typically receive strong reviews in America (81 percent on Rotten Tomatoes for Early Man), they rarely make much of a dent at the box office. Aardman titles are a much safer bet internationally (2015's Shaun the Sheep Movie, for instance, earned 81 percent of its take overseas).
The rest of the top ten were old titles, as well. Maze Runner: Death Cure earned $3.3 million over the long weekend to bring its total to $54 million. Winchester is up to $22 million after adding $2.6 million, and The Post now stands at $77 million after adding $2.45 million over four days.
Next weekend should be an interesting one. Black Panther will obviously dominate again (and should do plenty of business during the week with so many kids on winter break). The ensemble comedy Game Night will make a run for second place, while no one quite knows what to make of Annihilation's box-office prospects. Test audiences in America thought it was too intellectual, so the studio has already hedged its bets and sold international distribution rights to Netflix. Reviews are still under embargo, so we don't have a good sense even of whether the film is good or bad. It should make for an interesting weekend at the box office.
(Via Deadline / Box Office Mojo)