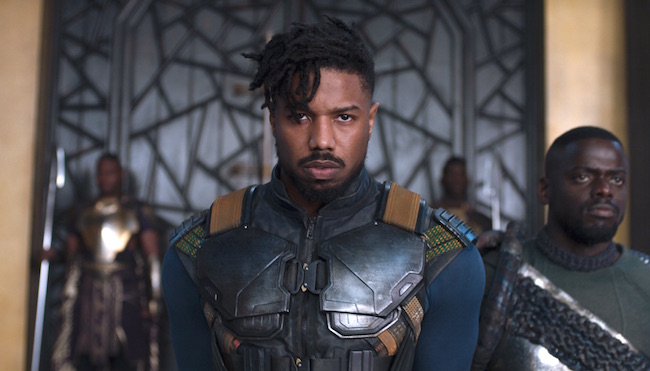 [Warning: The following post contains spoilers and you shouldn't read this if you haven't yet seen Black Panther.]
Michael B. Jordan's Killmonger is receiving universal acclaim for being one of the best villains to ever come out of a Marvel Cinematic Universe movie. Jordan, director Ryan Coogler, and writer Joe Robert Cole give Killmonger a nuance that's missing from a lot of superhero movie villains. Killmonger has a full arc, and not only do we understand his motivations, a case can be made that maybe his view of the world is correct. Maybe Wakanda should be more active in world politics and taking down oppressive regimes. And this turns into more of a battle of political ideals between Chadwick Boseman's T'Challa and Jordan's Killmonger than a physical battle (though, there's that, too). So much so that, by the end of the film, T'Challa has adopted at least some of Killmonger's positions and worldview. It's a fascinating dichotomy.
But, at the end of the film, Jordan's Killmonger succumbs to his wounds from his battle with T'Challa. And rather than accept help from T'Challa, Killmonger decides he'd rather die than be a prisoner in chains like his ancestors were on their way to America. It's a poignant and powerful ending. But, to produce this ending, a great character had to be sacrificed. We asked Black Panther co-writer Joe Robert Cole if this was ever up for debate. If the idea was at least raised to maybe keep Killmonger around so that he could appear in further movies, like we see with a character like Loki. Cole's answer is pretty emphatic.
"No," says Cole, "not a conversation that I remember." Cole adds, "I feel like his last line says it all for him."
And he's right, even though it would be great to see Michael B. Jordan again in a Marvel movie, this film itself would have lost a lot of its weight with a different ending.
Cole explains further, "In some senses he's very representative of the African American side of that equation. And I think that being in bondage would not be the answer for him. So I don't remember a conversation where we talked about him actually living."
Especially with superhero movies, we've been accustomed to seeing our favorite characters over and over again. But here, as Cole says, the most powerful solution was for Killmonger's story to end the way it did.
On the idea of Killmonger appearing in another film, Cole adds, "I think it would feel false, you know?"
(You can read an extended interview we recently did with Joe Robert Cole here.)
You can contact Mike Ryan directly on Twitter.