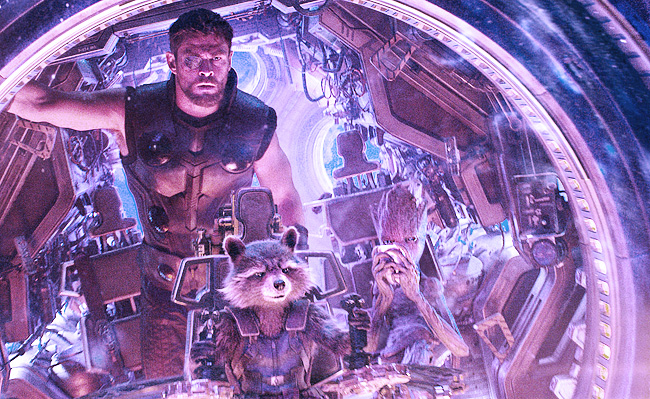 WARNING: Possible spoilers for Avengers: Infinity War ahead
By now, most of the globe has seen Avengers: Infinity War at least once and are aware of the current state of the Marvel Cinematic Universe. Thanos' quest for the Infinity Stones is a box office smash, and many are digging for any information they can about where the fourth Avengers film will go to undo the villain's plan. They also want to know which members of the team won't be assembling once the credits roll in the fourth film.
For now, it seems that the focus for Marvel will be Captain Marvel and the release of the new Ant-Man film in July. Any Avengers news will have to wait until Comic-Con or later, but that won't stop some of the cast from keeping the hype alive.
Chris Hemsworth spoke with Esquire magazine during his recent appearance at the Indy 500, and the topic of Avengers 4 came up pretty quickly. According to the Thor star, Avengers 4 will be a shocking experience — and not just for the same reasons as Infinity War:
If you were shocked by [Infinity War], I think the second one is even more shocking, for other reasons entirely. That's what kind of blew me away the first time I read both scripts, is how they managed to orchestrate so many different characters but give them each their own separate shot and moments, and have it be elevated and feel fresh and unique—not just like a messy, thrown-together assembly of these guys.
Hemsworth arguably got the most substantial story out of all the Avengers in Infinity War, carrying a personal stake in stopping Thanos that would eventually cost him at the very end of the film. But that alone shows just how far the character has come since his debut ahead of the first Avengers film. It is one of the things that Hemsworth seems to appreciate most about his time with Marvel:
I just think it's another step again. Each step we seem to take with these films, I've loved the fact that there's been growth and evolution and it continues to surprise people as opposed to sort of flatlining, which was obviously always a fear—that they'd run out of ideas or run dry of creative excitement.
It only took a few movies to get to that point for Thor, but Ragnarok elevated Hemsworth character as one of the cornerstones of the MCU. Thor will hopefully have a chance to redeem himself in Avengers 4, even if Captain America and Black Widow are primed for more prominent roles in the finale.