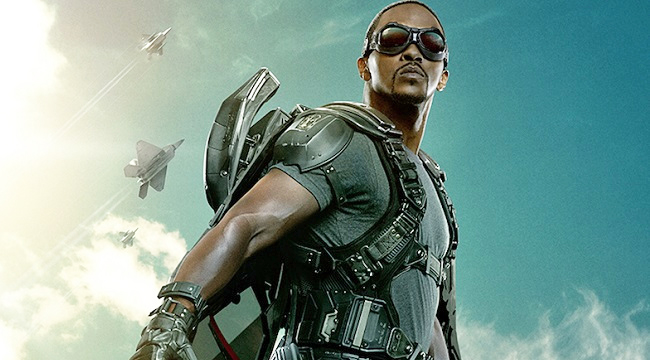 During Captain America: Civil War, one of the better running gags involved the dynamic between Cap's two best pals, Bucky Barnes/Winter Soldier and Sam Wilson/Falcon. The two characters clearly loathed each other (at one point, Falcon even told Winter Soldier, "I hate you") while Cap remained mostly unaware of the tension. To complicate matters, both Winter Soldier and Falcon took up Cap's shield in the comics at various points after Steve Rogers' death, and Marvel fans have waited to see which one would do so onscreen after Chris Evans' long-forecast (and recently confirmed) exit from his role. Well, we might hear more about that soon, for Marvel is apparently developing a limited TV series starring Winter Soldier and Falcon for Disney's streaming service.
Variety reports that both Sebastian Stan and Anthony Mackie are on board to reprise their roles for the small screen for half a dozen-ish episodes. Although both characters "died" at the end of Avengers: Infinity War, that technicality will likely all be cleared up by next spring's Avengers 4 movie, and at some undetermined future date, we'll get to see Winter Soldier and Falcon get their hate on while Marvel also develops standalone series for other characters:
News of the development comes after Variety exclusively reported that Marvel and Disney were prepping multiple limited series centered on characters from the Marvel Cinematic Universe who had yet to appear in their own standalone films. At that time, it was reported that characters like Loki and Scarlet Witch would also be the subject of their own limited series. The series are expected to be six to eight episodes.
The series are also expected to be higher-budget affairs than the other Marvel TV endeavors like Agents of SHIELD and the recently cancelled Iron Fist and Luke Cage for Netflix. While we might not soon witness whether either Winter Soldier or Falcon become the new Cap (that honor might actually fall to a woman, according to Crossbones actor Frank Grillo), this series should be a pleasure for comic book fans, since Stan and Mackie both have underrated comedic chops underneath their very serious suits.
Let's all say a prayer to the Marvel gods that these two will film an entire episode where they simply argue inside a car…
(Via Variety)