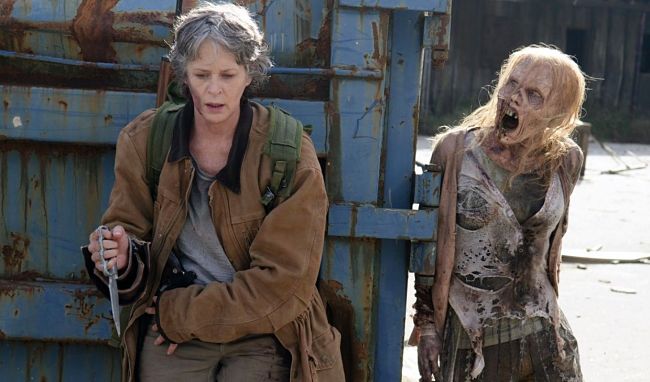 After spending two full seasons of Negan, The Walking Dead is finally moving forward in season nine (Jeffrey Dean Morgan is still on the show, but in a diminished capacity). It's going to be an eventful batch of episodes, too, with the confirmed departure of Andrew Lincoln, possible exit of Lauren Cohan, and arrival of the Whisperers, as well as the much-discussed time jump. New showrunner Angela Kang teased that "we are going into a period where a lot of the things that we've seen in previous seasons have broken down, so they've got these horses and carriages that are being drawn around instead of cars. Things are lit with oil lamps. People are using different kinds of weaponry. There's a real grittiness to it that I think will be fun and fresh for the viewers."
No one involved with the show had revealed the length of the time jump, though, until actor Tom Payne, who plays Jesus, spilled the beans on Sunday's Talking Dead (with new host, Community star Yvette Nicole Brown). Season nine will take place a year-and-a-half after the events of season eight. "Everyone has to go back to basics," he said. "Farmers are really useful, and Hilltop, that was their whole deal. They were growing stuff and tending the farm animals, and so that community is maybe doing better than other communities."
The Talking Dead special also showed a brief clip from season nine (that hasn't been released online yet, but here's a description).
Daryl sits outside, at night, having a cigarette with Carol by his side. She puts the cigarette out for him, telling him it will kill him. He asks why she isn't in bed and she throws the same question at him. "We don't sleep," she tells him. "Ezekiel on the other hand, sleeps like a baby. It's annoying." Daryl mocks him but admits "he's alright. He's a bit corny, but…"

"I'm glad I have pookie's approval," Carol says. "After what I went through with Ed, corny is nice."

"If anybody deserves to be happy, it's you," Daryl tells her. (Via)
The Walking Dead returns to AMC on October 7.