Bourbon whiskey hits a serious sweet spot at 10 years old. All the other factors — how high the cask strength is, high-rye bourbon or not, heavily charred oak barrels or not, limited edition or not — kind of fade away into a delicious elixir. Look at it this way, huge temperature swings in places like Kentucky between winter and summer make 10 years there a lot closer to 20 years in, say, Scotland. Bourbon simply ages faster thanks to the sub-tropical climate in most of Kentucky, where a lot of good bourbons are aged to perfection. That makes the general quality of 10-year-old bourbon very high and begs the question — which 10-year-old bourbon should you be drinking?
I have an answer (it's a banger) but my editor insisted that I do a double-blind taste test to see if my answer was correct or influenced by years of sampling the same whiskeys again and again, vintage to vintage, distillery to distillery. Honestly, it's both. I've spent a lifetime building a whiskey palate and I stand by it (because I make a living from it). That means I can confidently list a handful of great 10-year-old bourbons based on asking a few questions about what you like. I won't lead you astray.
But what happens when you take all of that away and I taste eight pours of 10-year-old bourbon without knowing what they are?
To make this double blind tasting and ranking a little extra fun, I went ahead and gave the ol' college try to guess which each pour was. Luckily, my wife was around to grab bottles from my shelves and pour this one for me. So I generally had no idea what was in the glass besides some semblance of cataloging from my head about what is in my vault (amongst literally hundreds of bottles of just bourbon).
As for the ranking, this was hard. These pours were all really good to great. So you kind of can't miss with any of these bourbons. Still, there were some serious standouts so let's dive in!
Also Read: The Top 5 UPROXX Bourbon Posts Of The Last Six Months
Part 1 — The 10-Year-Old Bourbon Whiskey "Double-Blind" Tasting
Taste 1
Tasting Notes:
Nose: This leans into classic bourbon notes of black cherry, sticky toffee pudding, pecan pie, and marmalade before veering toward dried ancho chili powder and a touch of pistachio and honey.
Palate: That dark cherry turns syrupy before maple sap kicks in with a sense of toasted marshmallow, creamed honey, Cinnamon Toast Crunch, and blueberry pie with a big dollop of bourbon vanilla ice cream.
Finish: The end has a sense of sweet potato pie covered in candied pecans next to toasted oak that's been dipped in cherry tobacco.
Initial Thoughts:
I already know that I'm going to say "classic" a lot on this list. This was just that "classic" but not a whole lot else.
I really don't know what it is. It could be anything from Kentucky.
Taste 2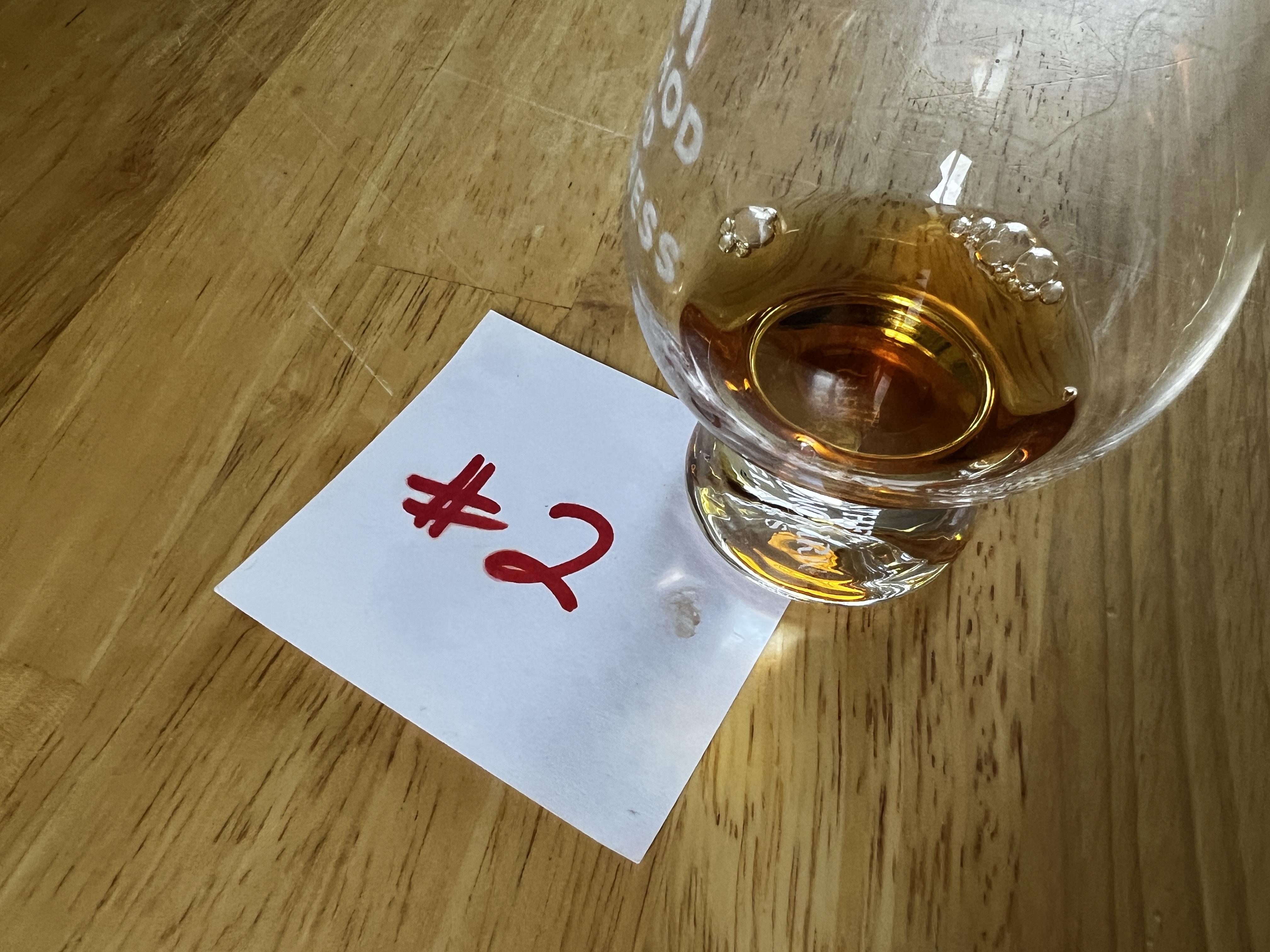 Tasting Notes:
Nose: This opens with a rich matrix of cherry syrup, apple cores, sticky toffee, vanilla ice cream, and a bold line of wet and sweet oak with a mild earthiness.
Palate: The palate opens up towards the dark fruit but dries it out and marries it to a woody and spicy tobacco leaf alongside toasted cedar soaked in salted caramel paired with dry corn husks that are just singed.
Finish: The finish really takes its time as the cherry attaches to an old cinnamon stick and the tobacco takes on a sticky chewiness with an almost smoked oak woodiness.
Initial Thoughts:
This is really freaking good whiskey with an oaky and, again, classic vibe. There was a bit of a Tennessee vibe thanks to that "earthiness" which leads me to believe this from that state with a clearly quintessential oaky bourbon aura to it.
I think it's Jack 10-year thanks to that high level of oak and clear fruitiness throughout.
Taste 3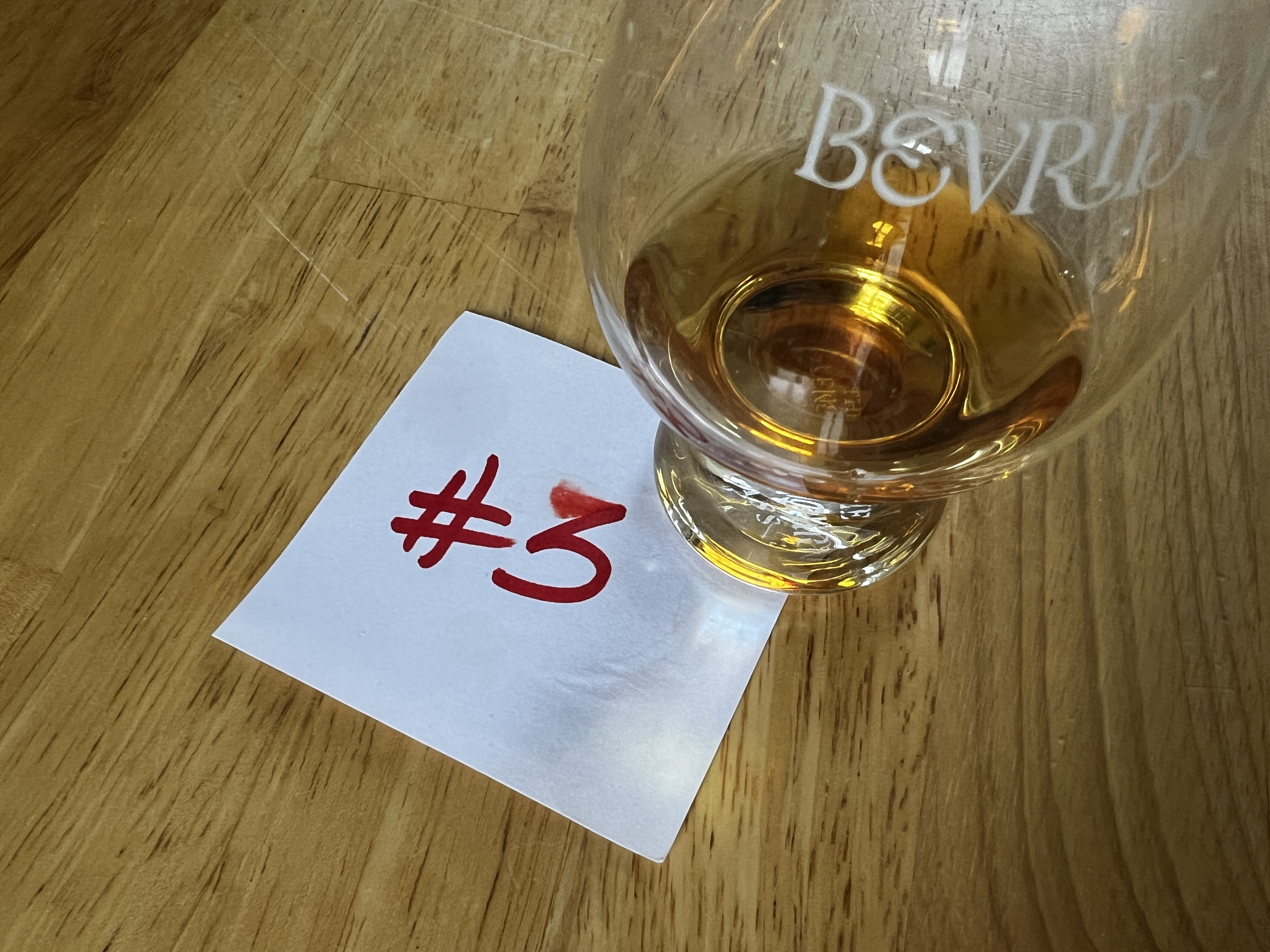 Tasting Notes:
Nose: This really is a classic bourbon nose with clear notes of spiced cherry cola, lush vanilla, salted caramel, and soft oak next to almost botanical winter spices.
Palate: The taste delivers with more lush vanilla next to spice barks, soft cedar, and deeply dark and red fruit with a whisper of smudged sweet sage.
Finish: The end dives into a dark spiced cherry vibe next to soft and luxurious vanilla, tempered oak, and a mild sense of just "bourbon."
Initial Thoughts:
Spicy and cherry-driven, this has to be a Wild Turkey jam.
Taste 4
Tasting Notes:
Nose: There's a tannic old oakiness on the nose (this is older) with hints of pecan waffles covered in maple syrup with vanilla butter.
Palate: The taste is pure silk with salted caramel, vanilla cream, black licorice, marzipan, and a hint of cinnamon-pecan ice cream with a dusting of powdery chocolate in malt.
Finish: The end has a moment of warmth thanks to that cinnamon before lunging toward old porch wicker, cinnamon bark, star anise, pear tobacco, and old leather with a hint of potting soil.
Initial Thoughts:
F*ck, this is delicious whiskey. Delicious. There was that hint of Tennessee with that hint of powdery chocolate/maltiness and earthiness but this was dialed far more toward iconic bourbon vibes.
This has to be something like Heaven's Door.
Taste 5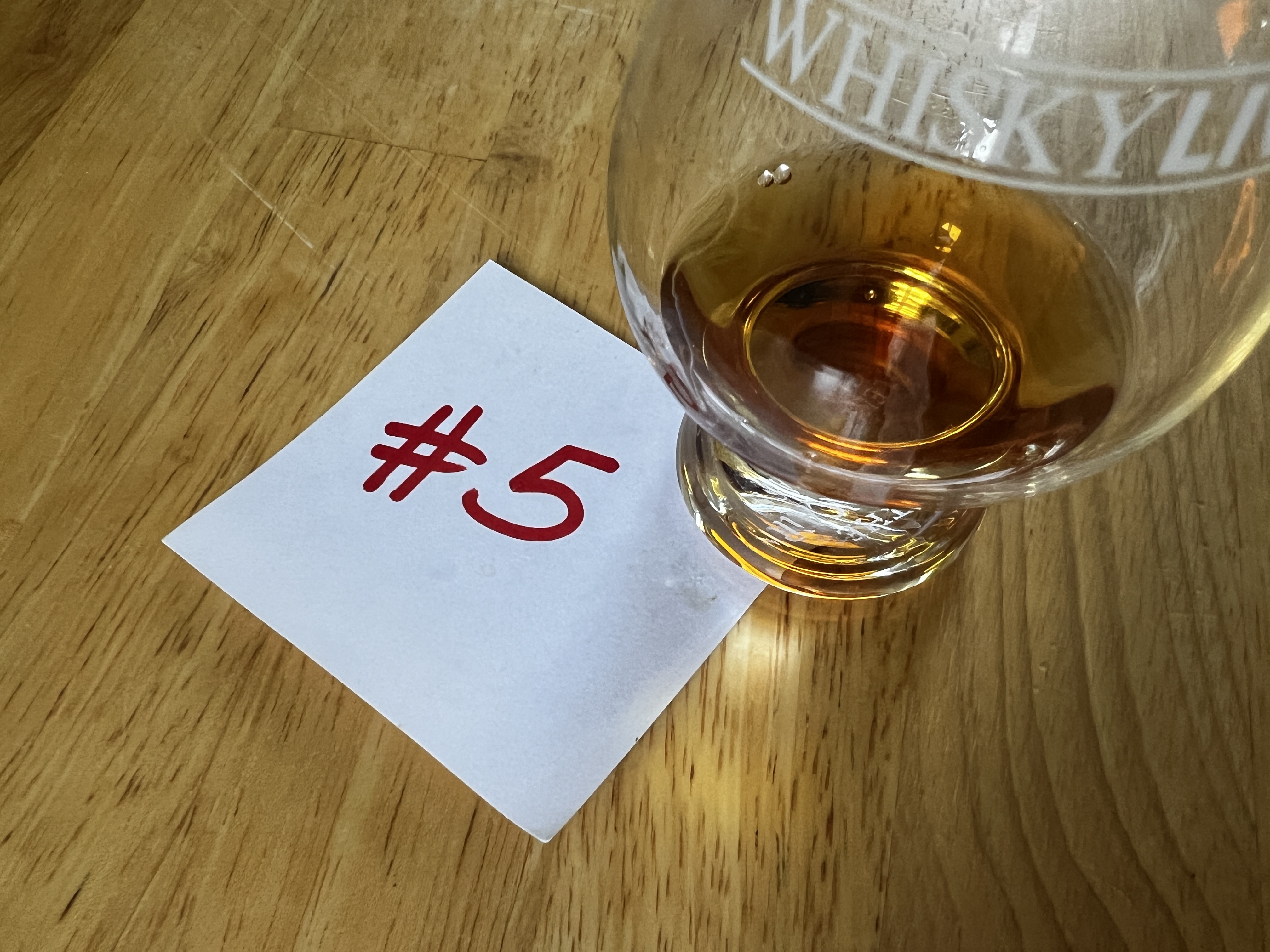 Tasting Notes:
Nose: There's a peppery sense of cedar bark and burnt orange next to salted caramel and tart red berries with a moist and spicy sticky toffee pudding with some brandy butter dancing on the nose.
Palate: The palate blends vanilla tobacco with salted dark chocolate-covered marzipan while espresso cream leads to new porch wicker and black peppercorns.
Finish: The end has a pecan waffle vibe with chocolate chips, maple syrup, blackberry jam, and minced meat pies next to old tobacco and cedar with a sweet yet toasted marshmallow on the very end.
Initial Thoughts:
This is brilliant tasting bourbon and so clearly Michter's 10 thanks to the depth and journey this sip takes you on.
Taste 6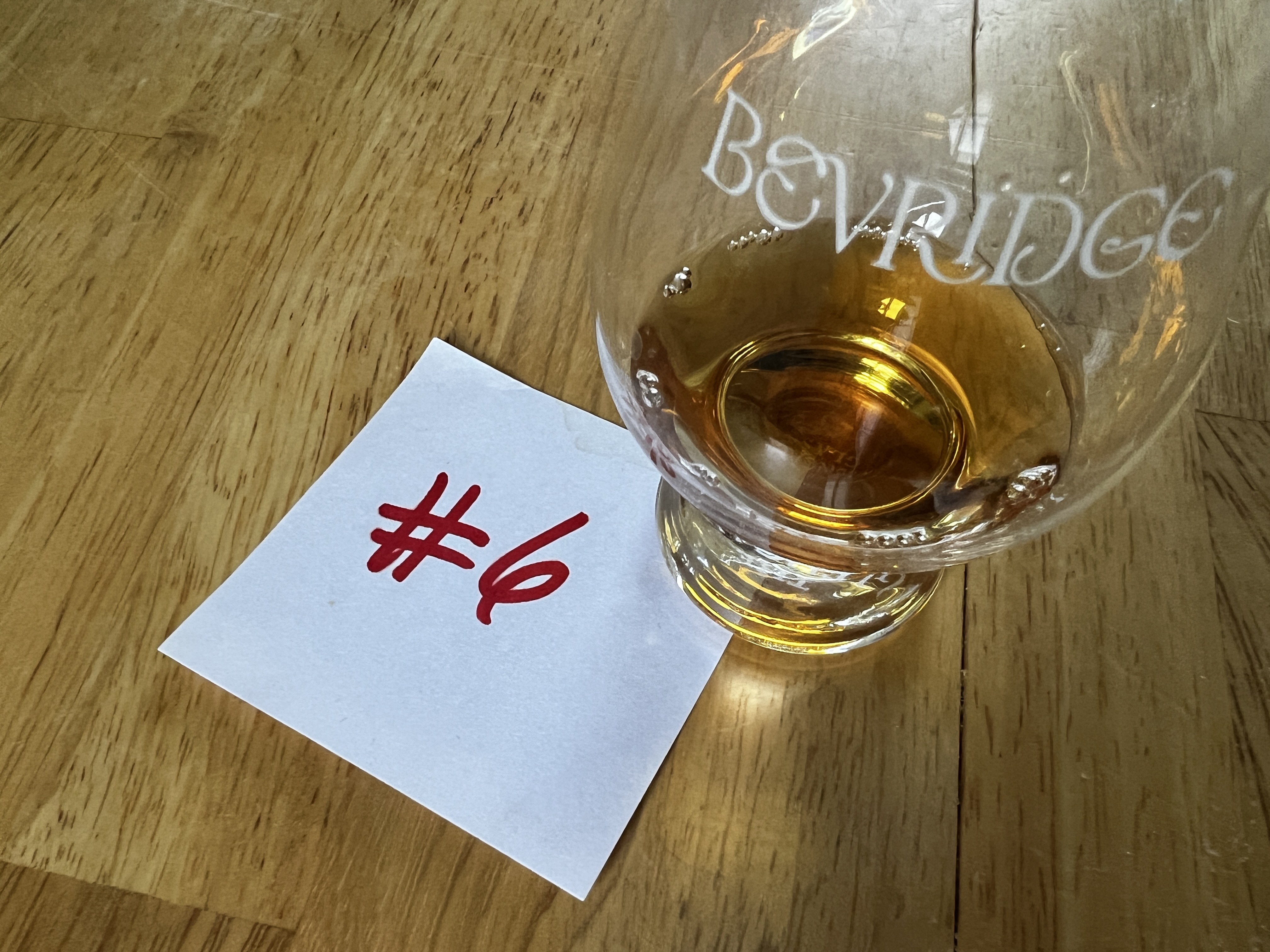 Tasting Notes:
Nose: There's a lot going on with butter and spicy stewed apples, maple syrup, Christmas cakes full of nuts and dried fruit, and a hint of savory herbs all pinging through your nose.
Palate: The palate brings about smooth and creamy vanilla with plenty of butter toffee, sourdough crust, more X-mas spice, cedar bark, and a hint of dried roses.
Finish: The finish is long, warming, and really embraces the toffee and spice.
Initial Thoughts:
This is another classic with a little bit more funkiness to it (that I like). I think this is a Four Roses, maybe?
Taste 7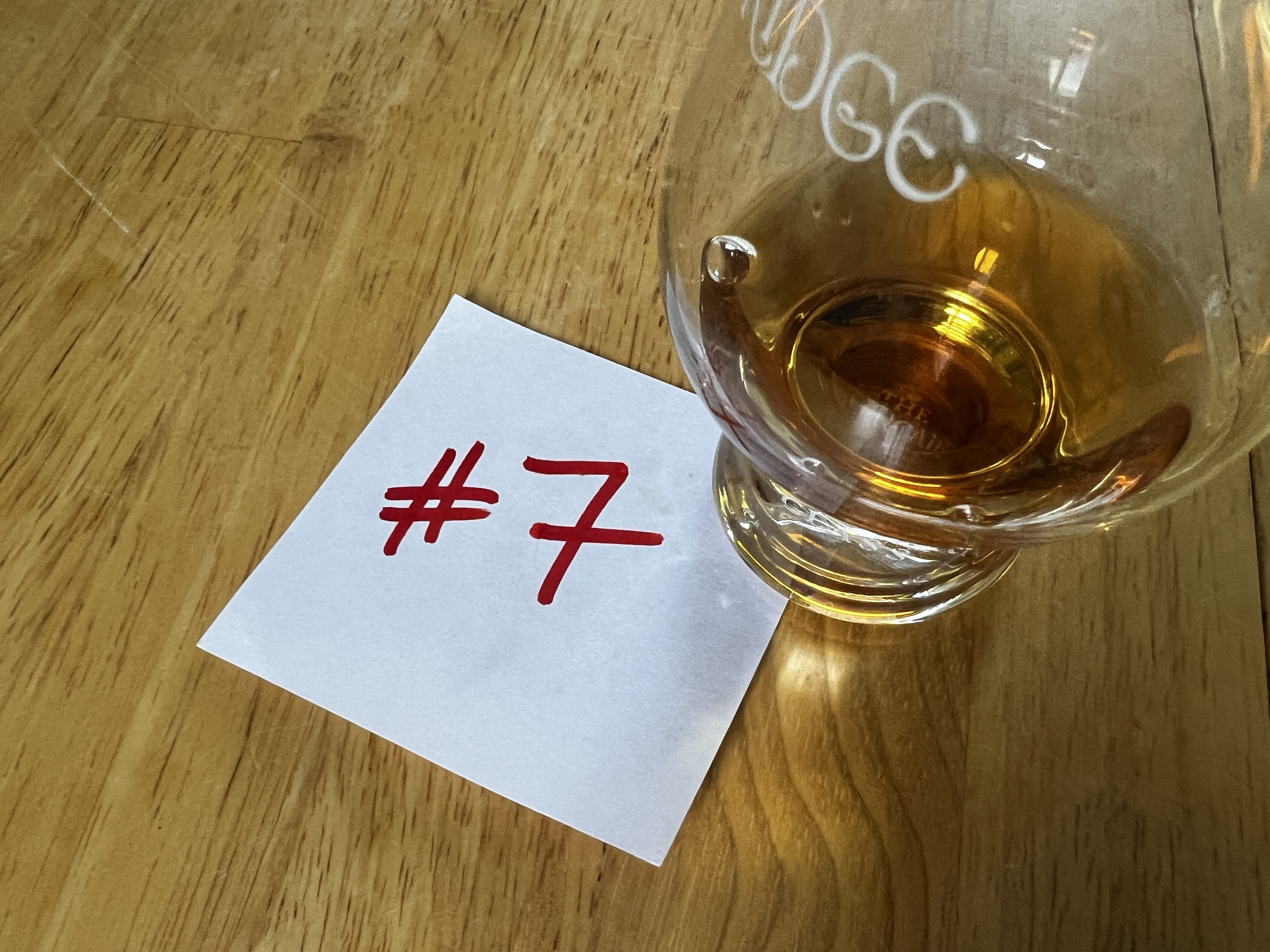 Tasting Notes:
Nose: Old leather boots, burnt orange rinds, oily sage, old oak staves, and buttery toffee round out the nose.
Palate: Marzipan covered in dark chocolate opens the palate as floral honey and ripe cherry lead to a winter cake vibe full of raisins, dark spices, and toffee sauce — kind of like a plate with a slice of sticky toffee pudding next to Black Forest cake.
Finish: The end has a balance of all things winter treats as the marzipan returns and the winter spice amp up alongside a hint of spicy cherry tobacco and old cedar.
Initial Thoughts:
This is so succinct and delicious that it's hard not to fall in love with it instantly. I also know this whiskey very well. It's Eagle Rare through and through (the old leather and Black Forest Cake vibe is a dead giveaway).
Taste 8
Tasting Notes:
Nose: The nose opens slightly tannic with rich orange zest and vanilla cream next to woody winter spice, fresh mint, and wet cedar with a hint of gingerbread and burnt cherry.
Palate: The palate hits on soft vanilla white cake with a salted caramel drizzle and burnt orange zest vibe next to apple/pear tobacco leaves dipped in toffee and almond.
Finish: The end has a sour cherry sensation that leads to wintery woody spices, cedar bark, and old cellar beams with a lush vanilla pod and cherry stem finish.
Initial Thoughts:
This was the mildest whiskey on the list to the point that there was almost a maltiness to it. It's interesting but felt the least "bourbon-y" or … deep. I'm not sure what it is.
Part 2– The 10-Year-Old Bourbon Whiskey Ranking
7. Henry Mckenna 10-Year-Old Single Barrel Bottled-In-Bond Kentucky Straight Bourbon Whiskey — Taste 8
ABV: 50%
Average Price: $99
The Whiskey:
This classic offering from Heaven Hill is actually getting easier to find again (after years of being scarce thanks to hype). The juice utilizes a touch of rye in the mash bill and is then aged for 10 long years in a bonded rickhouse. The best barrels are chosen by hand and the whiskey is bottled with just a touch of water to bring it down to bottled-in-bond proof.
Bottom Line:
Ah-ha! So I wasn't sure about this one. It's a Heaven Hill classic. I never would have guessed that.
This felt fine overall, but I really wanted to mix a cocktail with it to build something bolder and bigger than what was in the glass.
6. Wyoming Whiskey The Ten Anniversary Edition — Taste 1
ABV: 51.7%
Average Price: $249
The Whiskey:
This is a low-corn bourbon made with a mash of 68% corn, 20% rye, and 12% malted barley that's left to rest for 10 long years. The barrels were hand-selected by Master Distiller and legend Steve Nally and Master Blender and Master Distiller Nancy Fraley, giving the final product some serious pedigree for the whiskey nerds.
Bottom Line:
I didn't know what this was either but guessed it was from "Kentucky." I was way off! Well, former Maker's Mark Master Distiller Steve Nally did help create this limited edition blend, so there are some Kentucky blood, sweat, and tears involved.
Still, this is all Wyoming and a damn fine pour of slow-sipping whiskey. The only thing holding back on this ranking is that it was simply "classic" and that's it.
5. Bulleit Bourbon 10 Kentucky Straight Bourbon Whiskey — Taste 6
ABV: 45.6%
Average Price: $45
The Whiskey:
This is classic (sourced) Bulleit Bourbon that's aged up to 10 years before it's blended and bottled. The barrels — filled with a whiskey made from a mash bill of 68% corn, 28% rye, and 4% malted barley — are hand-selected to really amplify those classic "Bulleit" flavors that make this brand so damn accessible (and beloved) in the first place.
Bottom Line:
I thought this was a Four Roses. That's wrong but maybe only technically as Bulleit source(d) a lot of its whiskeys from Four Roses until its own stocks come up to age. So at the very least, this is in that ecosystem.
All of that aside, this was a very easygoing pour of whiskey with great depth. I can see slow-sipping this on a hot day and not being mad about it all, especially at this price point.
4. Russell's Reserve Kentucky Straight Bourbon Whiskey 10 Years Old — Taste 3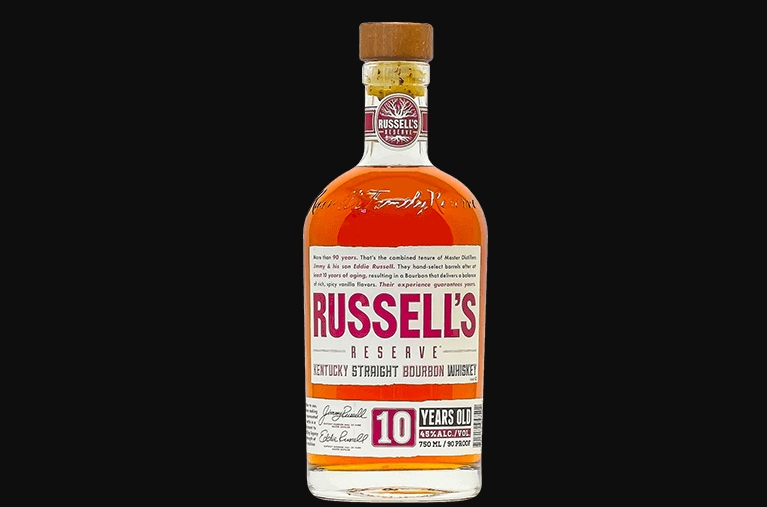 ABV: 45%
Average Price: $39
The Whiskey:
This small-batch expression is hand-selected by both Jimmy and Eddie Russell (the father and son team behind all of Wild Turkey's line). The duo picks out ten-year-old barrels that hit just the right spot in both flavor and texture then small-batch them into this tasty bourbon.
Bottom Line:
Alright, I got one right, this is a Wild Turkey product — that cherry spiciness is undeniable. This pour is also undeniable. It's just good. It's also widely available at a great price. Those are all wins.
3. Jack Daniel's 10 Years Old Tennessee Whiskey, Batch 2 — Taste 2
ABV: 48.5%
Average Price: $199
The Whiskey:
This age statement released from Jack Daniel's is a throwback to a bygone era in Tennessee Whiskey. The whiskey is aged for at least 10 years before batching. During that time, the barrels spend time in the "Buzzard's Roost" at the top of the rickhouse. Once they hit the right flavor profile, those barrels are moved to the bottom floors of other warehouses to slow the aging down. Finally, the whiskey is batched, proofed, and bottled.
Bottom Line:
Jack 10 it is! This is a really tasty whiskey. It has a deep oakiness that plays well with the sharper fruity notes. Overall, this is a go-to fruit-forward oaky sipper.
2. Michter's Single Barrel Kentucky Straight Bourbon Whiskey 10 Years Old 2023 Batch — Taste 5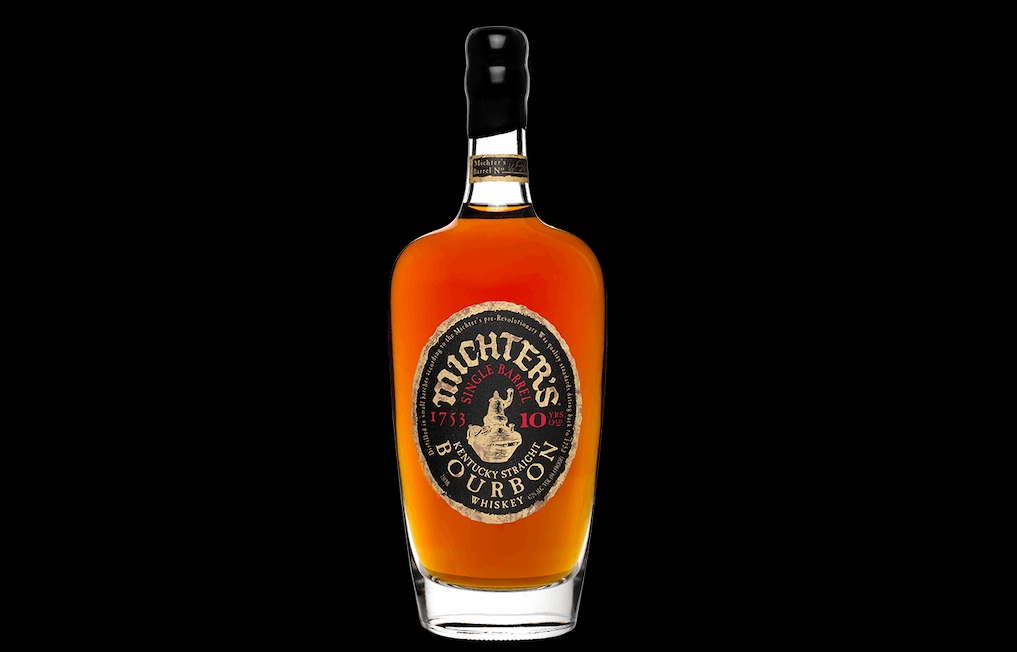 ABV: 47.2%
Average Price: $185
The Whiskey:
The whiskey barrels sourced for these single-barrel expressions tend to be at least 10 years old with some rumored to be closer to 15 years old (depending on the barrel's quality, naturally). Either way, the whiskey goes through Michter's bespoke filtration process before a touch of Kentucky's iconic soft limestone water is added, bringing the bourbon down to a very crushable 94.4 proof.
Bottom Line:
This might as well be a three-way tie for first place. The only reason I knowingly pinged Michter's 10 from that spot is that it is a tad oaky on the nose. That can be offputting for some. I like it as it helps you adjust for the age and the insane depth this whiskey has.
In the end, this is a quintessential sipping whiskey that also makes one hell of an old fashioned.
1. (tie) Heaven's Door Aged 10 Years Decade Series Straight Bourbon Whiskey — Taste 4
ABV: 50%
Average Price: $95
The Whiskey:
This is the first release in the new series from Bob Dylan's Heaven's Door Tennessee whiskeys. The juice is a 10-year-old straight bourbon that was made in Tennessee but wasn't charcoal filtered before or after aging. The sourced barrels were blended and just proofed down before bottling without any other fussing.
Bottom Line:
This was simply delicious. It was so vibrant and classic while taking you on a journey. And hey, at least I knew it was a Tennessee bourbon.
1. (tie) Eagle Rare Kentucky Straight Bourbon Whiskey Aged 10 Years — Taste 7
ABV: 45%
Average Price: $51
The Whiskey:
This might be one of the most beloved (and still accessible) bottles from Buffalo Trace. This whiskey is made from their very low rye mash bill. The hot juice is then matured for at least 10 years in various parts of the warehouse. The final mix comes down to barrels that hit just the right notes to make them "Eagle Rare." Finally, this one is proofed down to a fairly low 90 proof.
Bottom Line:
Again, simply delicious. I know this well because this is my go-to whiskey bar order (usually over a large rock) — most good whiskey bars will have it and it's not outrageously expensive while still delivering a delectable whiskey-sipping experience. I also love this stuff in whiskey-forward cocktails. It's as versatile as it's delightful.
Part 3 — Final Thoughts on the 10-Year-Old Bourbon Whiskeys
This was a hell of a lineup of whiskeys. If you're really into refined Scotch whisky, I'd say try the Henry McKenna first. There's some real connective tissue there.
Outside of the top three, it's really the dealer's choice. Find the tasting notes that speak to you and go with your gut.
As for those top three, they're all stellar pours of bourbon. You can generally find them as well, which is a nice bonus.
So when my editor asked about the best 10-year-old bourbon, my answer was Eagle Rare without any hesitation. I told you up top it was a "banger." And it looks like my palate stands by me on that front. Eagle Rare 10 really is just a winner all around. Moreover, I 100% would have said Michter's 10 next. Damn, those are two great bottles of whiskey. Give 'em a shot, I promise you won't be disappointed.