A bottle of bourbon for $200 is… kind of a crazy ask. You can get a great bottle of bourbon for $50, there's no getting around that. So when you start looking at price points around $200, it's important that you're talking about something ~more~ than your average tasting bourbons. Whiskeys at this price (SHOULD!) go beyond charred oak barrels or whether or not we're talking about wheated bourbons, like Pappy Van Winkle (which doesn't even appear on this list). This is about finding something extra and truly special from the bourbon scene.
To help you find those special bourbon bottles, I'm going to call out 12 bourbons that actually do merit the high price tag.
When it comes to which of these bourbons to drink, well… that depends on you. Read through my tasting notes and find the whiskey that piques your interest or sounds enticing. Then click on those price links to see if you can find that whiskey in your region. Okay, let's dive in!
Also Read: The Top 5 UPROXX Bourbon Posts Of The Last Six Months
12. Hardin's Creek Jacob's Well Kentucky Straight Bourbon Whiskey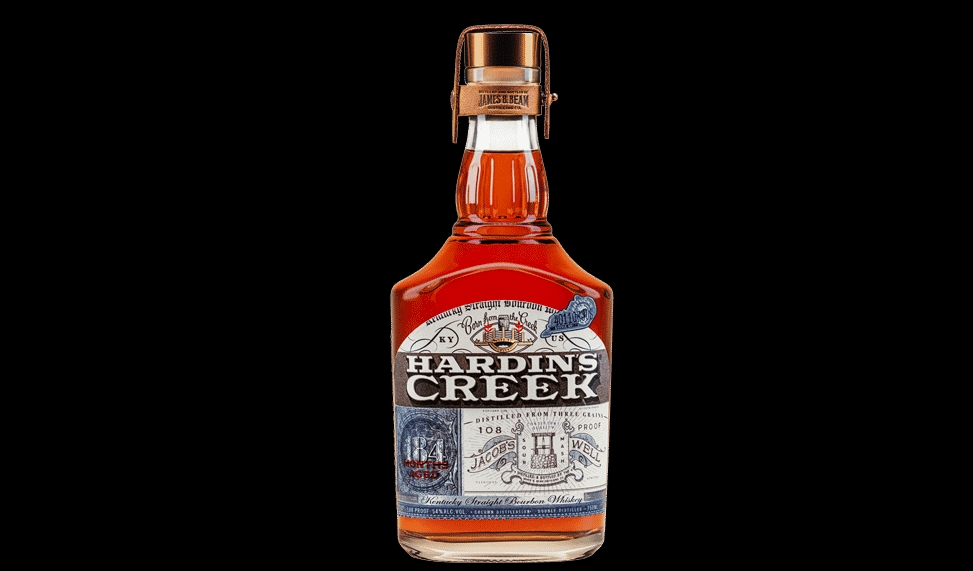 ABV: 54%
Average Price: $189
The Whisky:
This new expression from Jim Beam is about highlighting the beautiful high-end barrels from Beam's vast rickhouses. The whiskey in the bottle is a classic low-rye Beam that rested for 16 years and a 15-year-old high-rye bourbon. Once batched, that whiskey goes into the bottle as-is.
Tasting Notes:
Nose: The nose draws you in with a rich spice mix of woody cinnamon, soft nutmeg, almost bitter cloves, and dusty allspice with a hint of black licorice leading to a buttery caramel sauce with a flake of salt, twinge of vanilla oil, and whisper of cherry tobacco in an old cedar humidor.
Palate: The palate builds on that classic foundation with layers of old boot leather, hard sultanas, meaty dates, stewed plums, and rum-soaked Christmas cake with candied orange rinds and cherries.
Finish: The end soaks the raisins and candied fruit in maple syrup with a hint of sour cherry laced with ancho chili peppers and woody spices.
Bottom Line:
This whiskey has really grown on me over the last few months. It's a damn fine Jim Beam whiskey that highlights its spicier edge while still holding onto the dark fruitiness the brand is known for. Basically, if you're looking for an older age statement Jim Beam at cask strength, then this is the bottle for you.
11. Joseph A. Magnus Cigar Blend Straight Bourbon Whiskey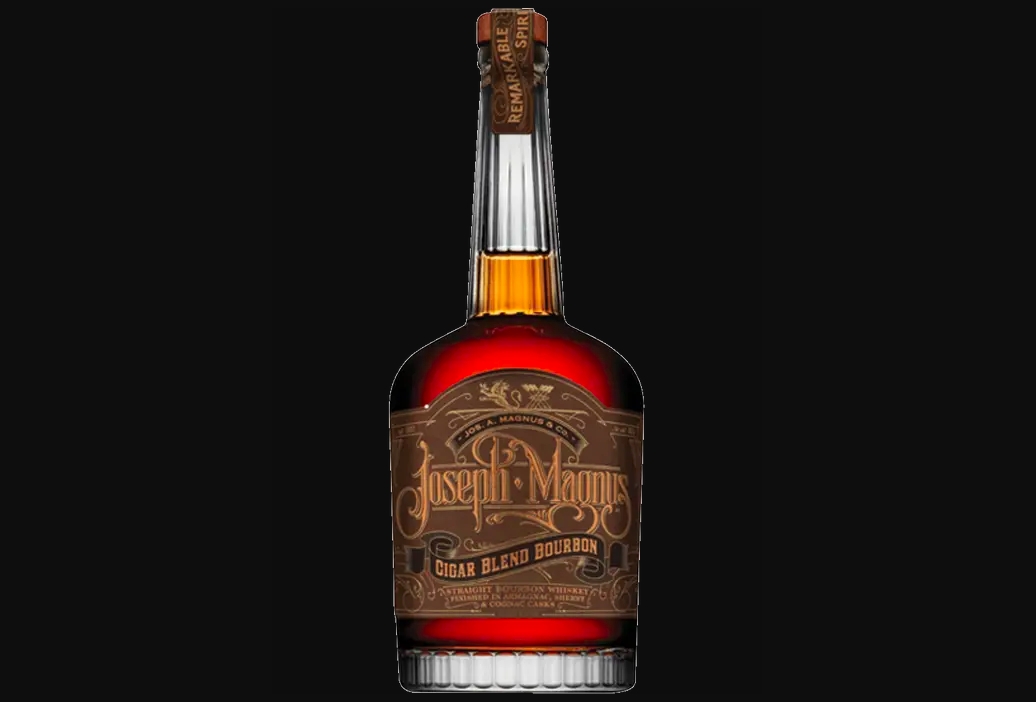 ABV: 50.35%
Average Price: $194
The Whiskey:
This sourced bourbon is built from 11 and 18-year-old bourbon barrels. The real star of the show with this whiskey is that those bourbons were finished in Armagnac, Cognac, and sherry casks before vatting and bottling as-is.
Tasting Notes:
Nose: This opens with sticky toffee pudding that really amps up the cinnamon and nutmeg next to black-tea-soaked dates next to some stewed prunes wrapped in chili-chocolate-laced tobacco leaves and dripped in honey and then walnuts.
Palate: A savory fruitiness opens the palate with figs and pumpkin that leads towards an apricot jam with a hint of clove and cinnamon next to light touches of old library leather and funk.
Finish: A faint hint of dark berries arrives on the mid-palate before the finish luxuriates in burnt toffee, almond shells, more of that leather, and dried-out apricots.
Bottom Line:
This is a deep bourbon with a classic feel that's dailed up to 11. It's sharp yet 100% approachable as a slow sipper. It also has a nice stone fruit feel at the end, which adds a nice extra layer of nuance. Overall, this is the bottle you grab when you're looking for a classic that goes the extra mile.
10. Old Carter Straight Bourbon Whiskey Very Small Batch 3-KY
ABV: 58%
Average Price: $180
The Whiskey:
Old Carter is a hidden-away bottler right off Whiskey Row in Louisville. It's still very insider. Their process is all about finding great barrels of whiskey, blending them, and bottling them for whiskey lovers in the know. In this case, that was a very small batch blend that yielded only 1,116 bottles.
Tasting Notes:
Nose: A thickness comes through on the nose with creamy vanilla and maple syrup vibe with a buttery underbelly accented by old corn husks, woody cinnamon, allspice, and lush nutmeg with a hint of hazelnut.
Palate: Thick salted caramel sauce vibes with a black-tea-soaked date feel as cinnamon syrup and smoldering orchard wood leads to a big mid-palate Kentucky hug.
Finish: That warmth fades quickly as hints of dried cranberry tobacco and cedar braids filled with wicker and sweetgrass end the sip on a dry note with a touch of floral honey lurking underneath it all.
Bottom Line:
Old Carter's team just cannot miss. Their sourced barrels are kind of magical and these releases always deliver. This will be harder to find outside of Kentucky, but worth the hunt, especially if you want to have a real in-the-know bourbon on your shelf.
9. Frank August Case Study: 01 Mizunara Small Batch Kentucky Straight Bourbon Whiskey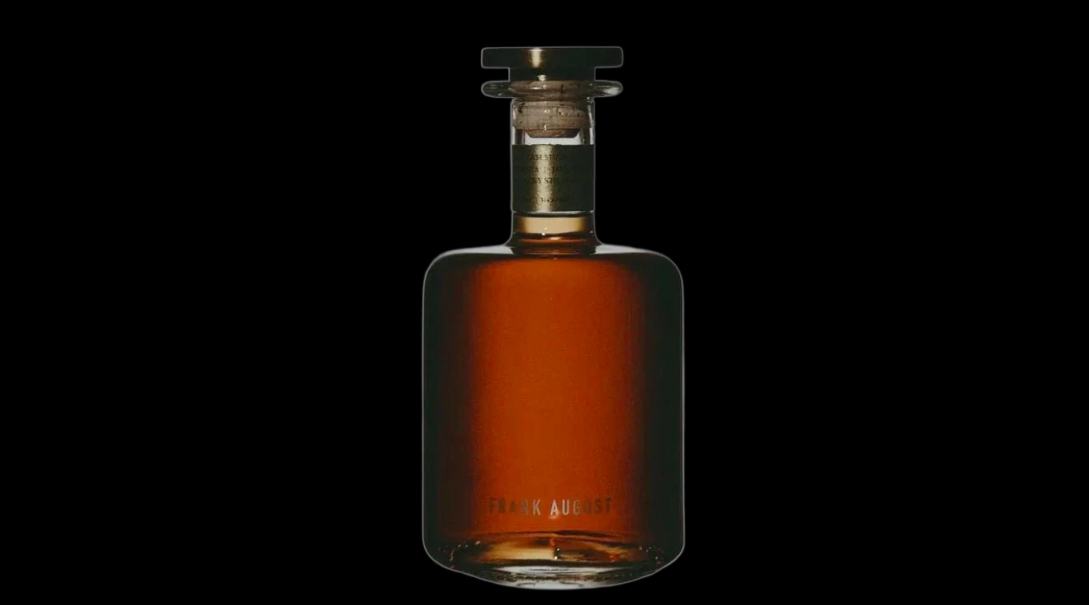 ABV: 62.2%
Average Price: $165
The Whiskey:
For this first "case study," the team at Frank August picked five bourbon barrels to finish in Japanese Mizunara casks. While those barrels were finishing the elixir within, the team checked the whiskey every 30 days to assure they batched and bottled the whiskey at just the right moment.
Tasting Notes:
Nose: There's a rich sense of butterscotch candy on the nose with freshly fried sourdough doughnuts dusted in brown sugar, cinnamon, and maybe some spearmint next dusting of white pepper.
Palate: The taste starts off creamy and full of toffee as apple pie filling with plenty of cloves and cinnamon leads to peppery mint chocolate and salted caramel drizzle with a twinge of pine resin.
Finish: The end is lush and spicy with a hint of caraway-encrusted rye next to cinnamon bark and clove buds next to warm menthol tobacco dipped in dark chocolate and wrapped with cedar bark and wild sage.
Bottom Line:
This is a whiskey that goes somewhere new with its bourbon profile. It's funky and fun with a hint of malt whisky in the mix. Get this if you're looking for a bourbon with subtle hints of malted whisky — definitely a win for anyone eager to expand their palates!
8. Kentucky Senator Bourbon 15 Years Release #1 Kentucky Straight Bourbon Whiskey
ABV: 53.5%
Average Price: $199
The Whiskey:
This sourced whiskey celebrates both Kentucky's bourbon heritage and U.S. Senators from the Bluegrass state. The juice is made with a mash of 78.5% corn, 13% rye, and 8.5% malted barley. The whiskey is left alone for 15 years before the team at Kentucky Senator Spirits blends and bottles this one, without filtering or proofing.
Tasting Notes:
Nose: This whiskey opens with a medley of dry cedar, black cherries, burnt toffee, buttered sourdough pancake, old leather, cinnamon bark, and spiced chewy tobacco.
Palate: The palate leans into the woody spices with cloves and anise taking center stage as soft maple syrup and pecan-cinnamon-butter create a spiced/sweet/creamy vibe on the palate.
Finish: In the end, more woodsy spices mingle with rich cherry tobacco as old oak, salted caramel, and vanilla cream pie round everything out.
Bottom Line:
This is a great, nutty Kentucky bourbon that feels like a warm hug on a cold day. It's sweet, quintessential, and a bourbon lover's bourbon.
7. The Prideful Goat 15 Years Kentucky Straight Bourbon Whiskey Cask Strength
ABV: 57.1%
Average Price: $194
The Whiskey:
This whiskey is a sourced masterpiece of Kentucky bourbon that's bottled down in Texas. The mash bill is corn heavy with 78.5% corn next to 13% rye and 8.5% malted barley. That hot juice is left in barrels in Kentucky for 15 long years before they're shipped to Texas, blended, and bottled as-is at cask strength.
Tasting Notes:
Nose: This is classic bourbon with a deep sense of buttery toffee next to dark cherries with a sour edge, slightly tannic oak, a hint of worn boot leather, and a spicy tobacco leaf.
Palate: The palate hits on a soft ginger snap with sharp cinnamon and freshly ground nutmeg leading to a handful of allspice berries before wet brown sugar and maple candy kick in and mellow the mid-palate toward dark cherry tobacco wrapped up with old wicker canes and pine needles.
Finish: The end subtly drops toward old oak staves, the cellar floor, and caramel/cinnamon syrup with a dash more of that tobacco.
Bottom Line:
This is a spicy and woody bourbon with a nice creaminess, especially when you add a little water. If you're looking for something more oak and spice-forward, then this is the bourbon for you.
6. Knob Creek Small Batch Kentucky Straight Bourbon Whiskey Aged 18 Years
ABV: 50%
Average Price: $183
The Whiskey:
This limited-edition release celebrates the 30th Anniversary of Knob Creek, which started back in 1992 during the darkest days of bourbon. The whiskey is Beam's standard mash bill that's distilled at a slightly different temperature and treated with a little more care during aging by placing barrels in very specific locations throughout their vast warehouses. After 18 long years, the best of the best barrels are small batched, and just proofed before bottling.
Tasting Notes:
Nose: Dark molasses and pecan clusters with salted dark chocolate lead to brown butter, old figs, and salted caramel with a woody sense of cherry and apple bark next to cinnamon-laced cedar sticks with burnt orange.
Palate: The palate is full of lush vanilla notes next to singed cherry bark and apple-cider-soaked cinnamon sticks, star anise, salted black licorice, and dark chocolate-covered espresso beans with a hint of dried red chili spice turning up the heat on the mid-palate.
Finish: The end has a floral honey sweetness that balances everything toward orange blossoms and bruised peaches, cherry tobacco, and clove tobacco.
Bottom Line:
This is a masterpiece of bourbon. It's endlessly sippable and one of the purest examples of well-aged Kentucky bourbon that you can actually find (for the most part). If you're even remotely a fan of Knob Creek, then this is a must-have. If you love a really good bourbon… then this is a must-have as well.
5. Bardstown Bourbon Company Chateau de Laubade Blended Straight Bourbon Whiskies Finished in Armagnac Casks
ABV: 53.5%
Average Price: $159
The Whiskey:
This bourbon is a blend of 12-year-old, low-rye bourbon from Kentucky and 10-year-old, very-low-rye bourbon from Tennessee. The whiskeys were re-barreled into Armagnac casks from the famed Chateau de Laubade. One set spent two years mellowing on the bottom floor of the rickhouse while another set spent 16 months mellowing on the top floor. After that, the barrels were vatted and bottled as-is.
Tasting Notes:
Nose: This hits on complex notes on the nose from old leather, dried sage, cellared oak, roasted almonds rolled in toffee, sultanas, and then deep winter spice: freshly ground nutmeg, mace, cardamom, sharp cinnamon.
Palate: The palate has a silky vanilla foundation with more sultanas over top, fresh and meaty dates, ginger snaps, and prunes mingle.
Finish: The end has a gingerbread vibe next to cherry bark and grape must with more of those spices pouring into an old cedar humidor that used to hold tobacco.
Bottom Line:
This is the best brandy-driven bourbon you can buy in 2023. The balance of the armagnac barrels on the bourbon is pretty much as lush as you can get. In short, this is the brandy-finished bourbon profile that all the other brands are chasing.
4. Booker's Small Batch Bourbon Collection Kentucky Straight Bourbon Whiskey 2022-03 "Kentucky Tea Batch"
ABV: 63.25%
Average Price: $179
The Whiskey:
The latest Booker's is a nod to "Kentucky Tea" which isn't tea at all. It's when you add a little whiskey to a glass of water and then that looks like tea. The whiskey in this case is a blend of bourbon barrels from seven locations across six different warehouses. The final product was bottled without any fussing at cask strength.
Tasting Notes:
Nose: There's a clear sense of sour cherry and vanilla cookies on the nose with a supporting cast of dark tobacco packed into old cedar boxes with a rough and worn leatheriness tying everything together.
Palate: The palate opens with a vanilla white cake frosted with cherry and chocolate — a bit like a Black Forest cake — that leads to orange oils, clove, and old pine boards with a touch of sap.
Finish: The end has a fruitiness that leans towards a spicy star fruit with a fresh vibe next to light pear tobacco with a pine humidor edge.
Bottom Line:
This was my favorite Booker's release last year. It's pure Kentucky bourbon through and through with a nice sweetness that's countered by a hint of pear and spiced tobacco to balance things out wonderfully. This is a great sipper to have on hand. It also makes one hell of a Manhattan.
3. Jack Daniel's 10 Years Old Tennessee Whiskey
ABV: 48.5%
Average Price: $199
The Whiskey:
This age statement released from Jack Daniel's is a throwback to a bygone era in Tennessee Whiskey. The whiskey is aged for at least 10 years before batching. During that time, the barrels spend time in the "Buzzard's Roost" at the top of the rickhouse. Once they hit the right flavor profile, those barrels are moved to the bottom floors of other warehouses to slow the aging down. Finally, the whiskey is batched, proofed, and bottled.
Tasting Notes:
Nose: This opens with a rich matrix of cherry syrup, apple cores, sticky toffee, vanilla ice cream, and a bold line of wet and sweet wood.
Palate: The palate opens up towards the dark fruit but dries it out and marries it to a woody and spicy tobacco leaf alongside toasted cedar soaked in salted caramel paired with dry corn husks that are just singed.
Finish: The finish really takes its time as the cherry attaches to an old cinnamon stick and the tobacco takes on a sticky chewiness with an almost smoked oak woodiness.
Bottom Line:
Batch 2 of this whiskey was just released, meaning that you might actually be able to find this right now. Batch 2 is far woodier than Batch 1. So, if you're looking for an oak-forward whiskey with a bright fruitiness as a counterpoint, then grab this while you still can.
2. Russell's Reserve Kentucky Straight Bourbon Whiskey 13 Years Old
ABV: 55%
Average Price: $173
The Whiskey:
This whiskey was made by Eddie Russell to celebrate his 40th year of distilling whiskey with his dad, Jimmy Russell. The blend is a collection of a minimum of 13-year-old barrels that Eddie Russell hand-picked. Those barrels were married and then bottled as-is with no proofing or filtration.
Tasting Notes:
Nose: Sweet and dried fruits invite you on the nose as a touch of fresh, creamy, and dark Black Forest cake mingles with mild holiday spices, dried almonds, and a sense of rich pipe tobacco just kissed with sultanas.
Palate: That dark chocolate and cherry fruit drive the palate as a hint of charred cedar lead towards vanilla tobacco with more of that dark chocolate and a small touch of honey, orange blossom, and a whisper of dried chili flake.
Finish: That honey leads back to the warmth and spice with a thin line of cherry bark smoke lurking on the very backend with more bitter chocolate, buttery vanilla, and dark cherry all combining into chewy tobacco packed into an old pine box and wrapped up with worn leather thread.
Bottom Line:
This is one of the best Wild Turkey releases of all time. It's on shelves now and still (kind of) gettable. Basically, if you're a fan of Wild Turkey in any way, this is a no-brainer addition to your bar cart.
1. Michter's Single Barrel Kentucky Straight Bourbon Whiskey 10 Years Old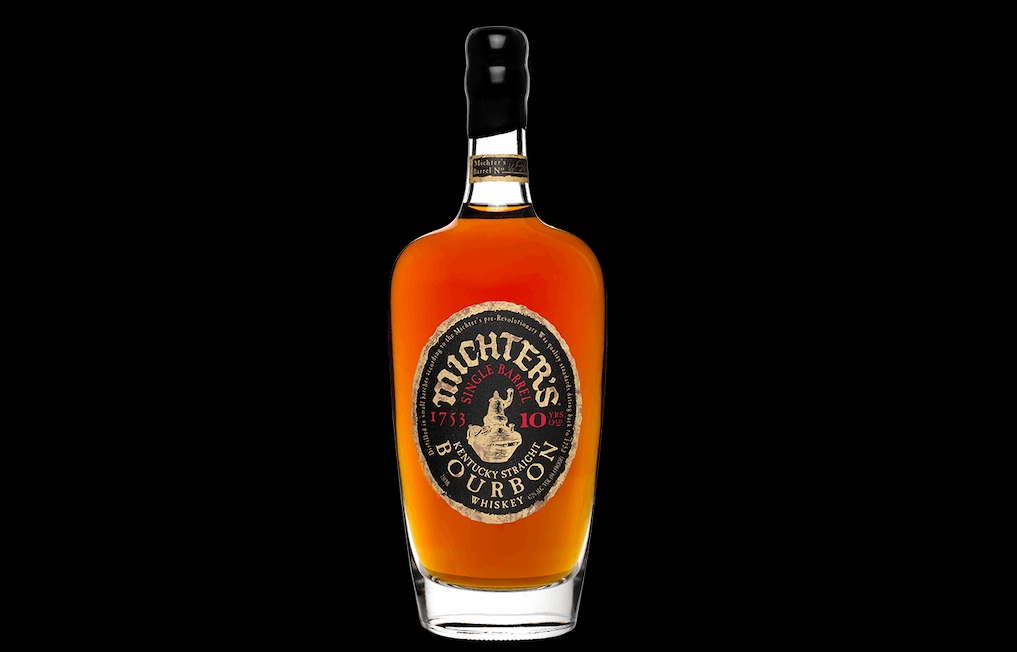 ABV: 47.2%
Average Price: $185
The Whiskey:
The whiskey barrels sourced for these single-barrel expressions tend to be at least 10 years old with some rumored to be closer to 15 years old (depending on the barrel's quality, naturally). Either way, the whiskey goes through Michter's bespoke filtration process before a touch of Kentucky's iconic soft limestone water is added, bringing the bourbon down to a very crushable 94.4 proof.
Tasting Notes:
Nose: There's a peppery sense of cedar bark and burnt orange next to salted caramel and tart red berries with a moist and spicy sticky toffee pudding with some brandy butter dancing on the nose.
Palate: The palate blends vanilla tobacco with salted dark chocolate-covered marzipan while espresso cream leads to new porch wicker and black peppercorns.
Finish: The end has a pecan waffle vibe with chocolate chips, maple syrup, blackberry jam, and minced meat pies next to old tobacco and cedar with a sweet yet toasted marshmallow on the very end.
Bottom Line:
This is classic Kentucky bourbon and the essential sipper that most other bourbons are measured against (that few actually live up to). Although this whiskey wasn't released last year, 2023 bottles are hitting shelves right now. That means that you might be able to find this at MSRP right now. Start hitting those bourbon streets. You might get lucky and find one or two of these out there!